Global markets and S&P futures rebounded overnight, continuing their advance during Monday's MLK holiday and recouping all of their Friday losses, tracking gains for shares in most of Europe and Asia on the back of frenzied buying Hong Kong shares by mainland China investors, as traders awaited a speech by Treasury Secretary nominee Janet Yellen in which she's expected to call for expansive government action to bolster the U.S. economy.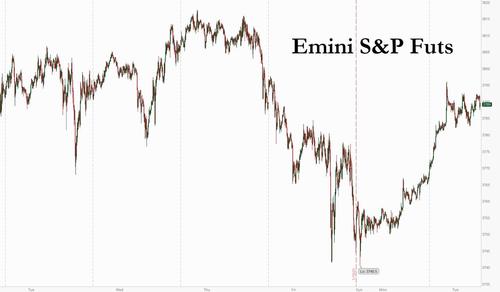 In today's main event Yellen is expected to speak before the Senate Finance Committee at 10 a.m. – a speech for which we won't collect $200,000/hour from Citadel – in a discussion likely to cover topics including President-elect Joe Biden's $1.9 trillion Covid-19 relief plan. She will tell lawmakers that low borrowing costs mean it's time to "act big," according to her prepared remarks because apparently doubling the Fed's balance sheet to $7+ trillion in a few months is not "big enough."
"Yellen is a positive," said Mohit Kumar, strategist at Jefferies International. "We should have greater co-operation between the Fed and the Treasury, with both the monetary and fiscal policy working together and supportive. This is a good backdrop for risk sentiment."
Investors have been "buoyed by the $1.9 trillion fiscal stimulus announced by Biden, the Federal Reserve's willingness to support markets, the new president's multilateral trade agenda and his plans for stepping up the vaccine rollout," said Nigel Green, the founder and chief executive officer of financial-advisory firm deVere Group.
After gaining almost half a percent at the open, the pan-European Stoxx 600 index rose just 0.1% at 7am ET while Germany's DAX and London's blue-chip index rose 0.2% each. Tech stocks gained 0.4%, led by Logitech, which jumped 2.5% as it raised its 2021 sales growth and profit outlook for the third time, benefiting from a pandemic-driven boost in demand for work-from-home products and gaming accessories. UK-listed shares of Rio Tinto was flat despite reporting a 2.4% rise in fourth-quarter iron ore shipments, helped by industrial activity in top consumer China. Swiss chocolate maker Lindt & Spruengli fell 2.2% after it said organic sales fell 6.1% in 2020, with only a lukewarm improvement in the second half as COVID-19 restrictions and the absence of travel weighed.
The prospect of longer lockdowns in Europe kept investors on edge, with German Chancellor Angela Merkel set to agree with regional leaders to extend a lockdown for most shops and schools until mid-February, sources told Reuters. "With the extension of lockdowns, Q1 GDP growth will be negative, in Germany and euro area as well," said Matthias Bausch, senior cross asset strategist at Commerzbank. "However, the current situation is not the important driver for equity markets. If investors realise that lockdowns might be extended into Q2 or Q3, there is a much bigger risk."
European gains were fuelled by Asian stocks closing in on all-time highs as investors wagered China's economic strength would help underpin growth in the region after data confirmed the world's second-largest economy was one of the few to grow over 2020. Indeed, Asian stocks shook off recent doldrums and rose, with key indexes in South Korea and Hong Kong climbing more than 2% each. Tech stocks including Samsung Electronics and TSMC were the biggest boosts to the MSCI Asia Pacific Index, which was set to close at a new record high. The Hang Seng Index advanced to its highest level since May 2019, helped by continued inflow from Chinese investors buying national firms that had been sold off on U.S. restrictions.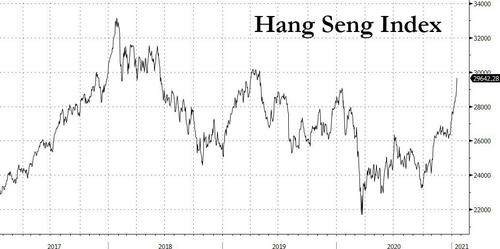 Benchmarks in China slid as investors rotated into Hong Kong. In Seoul, the Kospi surged as domestic and foreign institutional investors snapped up cyclical stocks. Samsung group shares rebounded from sharp declines on Monday after the billionaire heir of the controlling family was ordered back to prison. Vietnam's key equity gauge tumbled more than 5%, for its worst decline since July, amid record volume. Traders pointed to profit-taking after the market's strong recent performance.
In rates, Treasuries were lower as U.S. trading resumes after Monday's holiday, with 5- to 30-year yields cheaper by as much as 3.5bp. Most of the move occurred during Asia session, when risk assets rallied fueled by mainland buying flows as USD/JPY topped 104. The 10-year yield, 3.2bp cheaper on the day at ~1.12%, underperforms on the curve, cheapening 5s10s30s fly by 2bp; is also widened ~2bp vs bunds and gilts during European session. As noted above, Tuesday's market focus for rates traders will be Janet Yellen's 10am ET Senate confirmation hearing.  The hearing is expected to feature topics from foreign- exchange policy to taxes along with additional details on President-elect Joe Biden's $1.9 trillion Covid-19 relief plan
In FX, the Bloomberg Dollar Spot Index fell as the greenback weakened against all Group-of-10 peers except the yen, while Scandinavian currencies led gains. The euro advanced for the first time in a week versus the dollar, rising to a session high after Germany's ZEW survey beat estimates.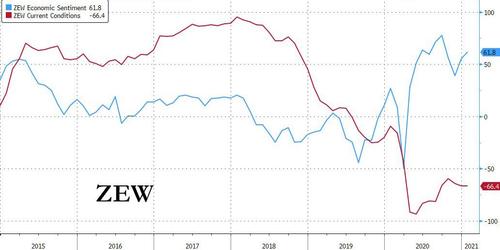 Hedging costs in the euro are low on a relative basis, even as a plethora of risks are set to unfold in coming days such as monetary policy meetings by the European Central Bank and the Federal Reserve, President-elect Joe Biden's inauguration, U.S. Treasury Secretary nominee Janet Yellen's hearing at the Senate, as well as Italian political risks and the earnings season. The yen fell while the Australian and New Zealand dollars rose, bolstered by a rebound in risk appetite as stocks advanced.
In commodities, Brent oil rose past $55 a barrel — with some assistance from a weakening dollar — as the growing popularity of commodities outweighed signs that a resurgence of the coronavirus in Asia is starting to impact demand. The International Energy Agency lowered forecasts for global oil demand for this quarter by 600,000 barrels a day, as renewed lockdowns to contain the pandemic temper the recovery expected this year.
Looking at the day ahead now, and one of the main highlights will be Janet Yellen's confirmation hearing as Treasury Secretary before the Senate Finance Committee. Earnings releases will include Bank of America, Netflix, Charles Schwab and Goldman Sachs. From central banks, the Bank of England Chief economist Haldane will be speaking, and data releases include the German ZEW survey for January.
Market Snapshot
S&P 500 futures up 0.6% to 3,784.75
MXAP up 1.2% to 210.41
MXAPJ up 1.5% to 705.90
Nikkei up 1.4% to 28,633.46
Topix up 0.6% to 1,855.84
Hang Seng Index up 2.7% to 29,642.28
Shanghai Composite down 0.8% to 3,566.38
Sensex up 1.8% to 49,411.86
Australia S&P/ASX 200 up 1.2% to 6,742.62
Kospi up 2.6% to 3,092.66
Brent futures up 0.9% to $55.22/bbl
Gold spot up 0.1% to $1,843.77
U.S. Dollar Index down 0.2% to 90.59
STOXX Europe 600 up 0.1% to 409.12
German 10Y yield rose 1.0 bps to -0.517%
Euro up 0.3% to $1.2114
Italian 10Y yield rose 1.8 bps to 0.52%
Spanish 10Y yield fell 0.4 bps to 0.074%
Top Overnight News from Bloomberg
U.S. Treasury Secretary nominee Janet Yellen on Tuesday steps into a new role following more than a quarter-century in government: salesperson for economic policy after years of defending Federal Reserve thinking and actions
The European Union will unveil its plan on Tuesday to strengthen the international role of the euro as it seeks to erode the dominance of the U.S. dollar and to insulate the bloc from financial risks, including U.S. sanctions
France racked up record orders for its first sale of half-century debt in nearly five years, highlighting the continued strength of investor demand for euro-area bonds in 2021
German Chancellor Angela Merkel is holding talks on a possible extension of the country's lockdown to Feb. 15
Prime Minister Giuseppe Conte waged a charm offensive Tuesday in the Italian Senate ahead of a vote that will decide whether his coalition can survive
Bitcoin's recent wobbles have turned the cryptocurrency spotlight onto other digital coins including Ether, whose gain this year has outstripped the performance of its bigger rival
A quick look at global markets courtesy of Newsquawk
Asian equity markets mostly rallied with risk appetite spurred as trade picked up from Monday's holiday lull owing to the absence of US participants for MLK Jr. Day. ASX 200 (+1.2%) was lifted in which miners, industrials and financials spearheaded the broad gains across sectors, with quarterly production updates adding to the constructive mood after Rio Tinto reported higher Pilbara iron ore output and shipments Y/Y and OceanaGold guided stronger FY21 production. Nikkei 225 (+1.4%) was boosted as exporters benefitted from currency outflows and despite sources suggesting the BoJ is to consider scaling back ETF buying at the March review, as the reports also noted the central bank will look into making its ETF buying more flexible and that there was no consensus on how best to tweak guidance on ETF purchases, while KOSPI (+2.6%) was among the biggest gainers with the index helped as Samsung Electronics and its affiliates nursed yesterday's losses that were triggered by the sentencing of the group's de facto chief. Hang Seng (+2.7%) and Shanghai Comp. (-0.8%) were mixed with Hong Kong conforming to widespread optimism amid strong southbound Stock Connect flows which recently hit record highs and after the PBoC upped its liquidity efforts, although mainland China lagged on lingering tensions after China's Foreign Ministry decided to impose sanctions on US officials for actions related to Taiwan affairs and with President Trump issuing an executive order instructing agencies to prioritize the removal of Chinese-made drones for government fleets. Finally, 10yr JGBs were choppy with prices initially subdued by the gains in stocks which also pressured T-note futures overnight, although JGB prices were later supported following the 20yr auction which showed a firmer bid-to-cover and higher accepted prices.
Top Asian News
Blackstone, Meituan Are Among Bidders for China Logistics
Hong Kong Stocks at 20-Month High as Record China Cash Floods In
Hong Kong Unemployment Rises to Highest Since 2004
European bourses experience mixed trade (Euro Stoxx 50 +0.2%) following on from a mostly optimistic APAC handover where mainland China was the only major underperformer on the back of heightened US-Sino tensions. Markets thus far remain tentative and await more concrete catalysts as US players are set to return from their long weekend and will bring along with them more corporate earnings (Bank of America – 12:00GMT, Goldman Sachs – 12:30GMT, Netflix – 21:00GMT), and Incoming Treasury Secretary nominee Yellen's confirmation hearing at 15:00GMT (full primer can be found here). Back to Europe, the FTSE MIB (+0.4%) modestly resides as one of top gainers after Italian PM Conte won a vital confidence vote at the Chamber of Deputies – but he faces a more difficult test at the Senate on Tuesday. Meanwhile, Germany's DAX (Unch) gave up some gains after reports via Bild suggested German Chancellor Merkel is reportedly looking to extend the German lockdown to February 15th (vs. current end-Jan expiry). That being said, the paper quoted Merkel last week floating an 8-10 week extension, thus some argue this was shorter-than-expected, but does not omit the chance of another extension in the future – the meeting on further restrictions is poised to take place today at 13:00GMT according to Bild. Sectors are mostly higher with Tech and Banks leading the gains amid supporting demand and yields respectively. On the other end of the spectrum, Auto names are dented as EU27 December car registrations fell YY whilst the 2020 figure slumped 24% amid COVID-19 – the largest drop on record. Travel & Leisure meanwhile sees lacklustre trade as the sector balances vaccine rollouts with reports US President-elect Biden's adviser stated the incoming administration does not intend to lift travel restrictions on Europe or Brazil on January 26th. In terms of individual movers, HSBC (+2%) is bolstered by the yield environment coupled with comments from its chairman Tucker who said the group is mulling revising its strategy and will focus on Asian expansions. Additionally, Tucker said they are looking at resuming dividends as soon as possible. Elsewhere, Rio Tinto (Unch) was firmer after reporting Y/Y increases in Q4 Pilbara iron ore production, shipments and aluminium output, albeit copper output fell modestly. The miner said China's buying remains robust despite localised impacts from COVID-19 in some regions. Finally, Danone (+1.5%) is supported by reports activist investor Bluebell Capital has taken a stake in the Co. and is seeking the removal of Chairman and CEO Faber due to their underperforming share price.
Top European News
Jailed Kremlin Critic Navalny Urges Sanctions on Putin Allies
Europe's Firms Face $720 Billion Capital Gap to Fund Rebound
Italy's Conte Wins First Crucial Vote for Government's Survival
In FX, buck bulls have been impeded by a broad upturn in risk sentiment first and foremost, but the fact that the index failed to sustain gains through a key technical level in the form of the 50 DMA at 90.931 on Monday vs 90.927 today, and extend beyond 91.000 may also be telling. However, the DXY is holding around 90.500 on the way back down to keep chart proponents encouraged and it would be far too premature to suggest that the Dollar is set for a complete turnaround Tuesday in terms of its overall recovery from worst levels, barring a further, deeper retreat or something more detrimental from US Treasury Secretary nominee Yellen at her confirmation hearing – for a full primer of the event check out the headline feed at 8.30GMT.
EUR/AUD/XAU – The Euro and Aussie are vying for top spot among the non-Usd G10 currencies, with the former back above 1.2100 after breaching the 50 DMA at 1.2091, and the latter retesting 0.7700 where big option expiries reside (1.2 bn). Eur/Usd may also be deriving some traction from Italy following PM Conte's vote of confidence from the Chamber of Deputies, though tonight's Senate result will likely be a much tighter call as he needs 161 votes to survive vs current expectations of 154-158 in his favour. For the record, only modest upside in reaction to a firmer than forecast ZEW survey towards 1.2135 as Germany looks set to extend its lockdown until mid-February from the end of this month. Meanwhile, Aud/Usd could be gleaning support via Capital Economics contending that the RBA may stop QE in April as a counter to a 5.5% decline in payrolls over Xmas and New Year, per Australia's Bureau of Statistics. Elsewhere, Gold is also benefiting from the Greenback's retreat and a rebound in real yields as it eyes the 200 DMA just shy of Usd 1845/oz.
NZD/CHF/GBP/CAD – Also paring recent losses vs their US rival, as the Kiwi regains 0.7200+ status, also with headwinds from Capital Economics that expects the RBNZ to hike rates in 2022, but acknowledging a significant improvement in Q4 NZIER business confidence as well. Similarly, the Franc has rebounded firmly from sub-0.8900 amidst less deflationary y/y and inflationary m/m Swiss producer and import prices, Sterling is back over 1.3600 and the Loonie has recovered from its close encounter with 1.2800 to trade nearer 1.2700 in advance of Canadian manufacturing sales and wholesale inventories before CPI and the BoC on Wednesday. Note, housing starts surpassed consensus by 1.3k in December according to data out yesterday.
JPY – The major laggard due to its safe haven standing and closer correlation with US Treasury/JGB yield differentials, with the Yen trying to contain declines circa 104.00 in the run up to trade, CPI and the BoJ.
SCANDI/EM – All drawing comfort from the more constructive market tone, though to varying degrees as the Sek outperforms and Zar is sufficiently buoyed by spot bullion to shrug off significantly weaker than anticipated SA mining production.
In commodities, WTI and Brent front month futures are grinding higher in the run up to the US entrance. Prices initially coat-tailed the softer buck and broader gains across stocks heading into the European open before being briefly knocked off-course by the IEA monthly report. The report lowered the IEA's Q1 2021 demand growth forecast by a sizable 600k BPD followed by a 300k BPD downgrade to the overall 2021 view – amid resurgence of COVID-19 cases and slowing oil demand rebound. This report chimes more with the EIA STEO release whereby the agency cut its forecast for 2021 world oil demand growth forecast while OPEC kept theirs unchanged. Brent Mar resides just north of USD 55.50/bbl (vs high 55.45/bbl) while its WTI counterpart hovers above USD 52.50/bbl. It's also worth bearing in mind that there are discrepancies between the WTI and Brent price changes an account of no WTI settlement yesterday due to MLK holiday, whilst Brent settled lower by USD 0.35/bbl. Elsewhere, gains in precious metals are carried by the weaker Buck coupled with some reflationary sentiment heading into incoming Treasury Secretary nominee Yellen's confirmation hearing in which she is to sell the USD 1.9tln fiscal bazooka. Spot gold has rebounded from its 1835/oz low to hover in close proximity to its 100 DMA (1844.85/oz) ahead of its 50 DMA (circa 1859/oz) and 21 DMA (circa 1875/oz). In terms of base metals, LME copper is firmer and back above USD 8,000/t amid the weaker Dollar and ahead of Yellen's speech. UBS expect copper prices at USD 9,500/T by mid-2021 and look for a short-term pullback. The bank notes that subsequently market conditions and reducing exchange inventories indicate an upward move. Elsewhere, Dalian iron ore pulled back from 4-week highs amid reported weakening steel margins in China.
US Event Calendar
4pm: Net Long-term TIC Flows, prior $51.9b
DB's Jim Reid concludes the overnight wrap
I took advantage of the US holiday to watch a film on a week night last night. I can't remember the last time I'd done that. Showing how up to date we are we watched the Oscar winner from two years ago, namely Korean film Parasite. It was completely different from what I expected. What a crazy film though. I can't remember seeing anything like it. It was a bit like a British 1970s sitcom farce in some respects but overall was brilliant. An uncomfortable but great watch.
With the US out on holiday it was a pretty subdued session for markets yesterday with no Oscars for outstanding moves in either direction. Investors will now look forward to earnings season gathering momentum and the arrival of the Biden administration tomorrow. By the close in Europe, risk assets had made modest gains, with the STOXX 600 (+0.20%), the DAX (+0.44%) and the CAC 40 (+0.10%) all moving higher. And US equity futures followed a similar pattern, with S&P 500 futures paring back their morning losses to move into positive territory by the European close.
Overnight in Asia, markets are largely trading higher with the Nikkei (+1.40%), Hang Seng (+3.10%), and Kospi (+3.03%) all posting gains. An exception to this pattern is the Shanghai Comp which is down -0.11%. Futures on the S&P 500 are up +0.69% while yields on 10yr USTs are +3.1bps higher to 1.115%.
The week will get going today with earnings that include Bank of America, Goldman Sachs and Netflix but there will also be a lot of interest in Yellen's confirmation hearing as the new Treasury Secretary before the Senate Finance Committee. Her prepared remarks include the line "Right now, with interest rates at historic lows, the smartest thing we can do is act big". Expect lots of questions about debt sustainability and the role the Fed will likely play in that given her background.
The main news yesterday happened after European markets closed, as the Italian government won a confidence vote in the lower House of Parliament as expected. The bigger challenge for Prime Minister Conte will be today in the Senate however, where the government is short of a majority following the departure of former PM Renzi's Italia Viva party from the coalition. This means that Conte will need the support of MPs outside the government if he's to win. There is some talk of Italia Viva abstaining which will make the arithmetic easier. Should Conte fail, then according to our European economists, the Democratic Party and the Five Star Movement would likely need to find a new PM and probably seek a compromise with Italia Viva, which currently appears difficult following their departure last week. Another option would be an "institutional government" led by a technocrat, as happened from 2011-13 under former EU Commissioner Mario Monti. And if that were to also fail, then early elections would come onto the table, although the likelihood of that is still low since it's not in the interests of any of the government parties.
Ahead of the Italian vote, sovereign bonds sold off across Europe, although there was little movement in spreads, with 10yr yields on bunds (+1.4bps), OATs (+1.5bps) and BTPs (+1.7bps) all seeing similar moves higher. There was also a further rise in market-based inflation expectations, with German 10yr breakevens up to 1.03%, their highest level in almost a year, while Italian breakevens hit a 2-year high of 0.99%.
Other haven assets also performed reasonably, with gold (+0.70%) and silver (+2.36%) both making gains, while the Japanese Yen was the strongest-performing G10 currency, strengthening +0.15% against the US dollar.
Turning to the coronavirus pandemic, Chancellor Merkel will be meeting state premiers today to discuss lockdown measures, which could be extended until mid-February, amidst concern over the new variants. Elsewhere there was some positive news however, with the number of Italian cases falling beneath 10k for the first time this year, while in the UK, the 7-day case average fell below 45k for the first time since New Year's Eve. The UK continues to be one of the fastest on the vaccine rollout, with over 4m having now had their first dose, including a majority of the over-80s. Furthermore, the vaccine minister said yesterday that an easing of restrictions could begin in the first or second week of March, which would be once the priority groups have had their vaccine by mid-February and immunity has had time to take effect. Elsewhere, the EU's executive arm is likely to urge member states to set a target for vaccinating at least 70% of the bloc's population by this summer. Overnight there was a bit of downbeat news on Moderna's vaccine with California's state epidemiologist recommending that distribution of more than 300,000 doses of Moderna's vaccine be paused in the state after some people who received it had possible severe allergic reactions.
To the day ahead now, and one of the main highlights will be Janet Yellen's confirmation hearing as Treasury Secretary before the Senate Finance Committee. Earnings releases will include Bank of America, Netflix, Charles Schwab and Goldman Sachs. From central banks, the Bank of England Chief economist Haldane will be speaking, and data releases include the German ZEW survey for January.