US index futures and global stocks rose for a fourth straight day, hitting new all time highs on Tuesday after the Democrat-controlled House sided with Trump and passed a bill boosting stimulus payments for most Americans from $600 to $2,000 (which will almost certainly die in the Republican-controlled senate). The dollar dropped while oil and 10Y yields rose.
At 07:30 am ET, Dow E-minis rose 129 points or 0.43%, S&P 500 E-minis gained 16 points or 0.43% and Nasdaq 100 E-minis added 46.25 points or 0.36%.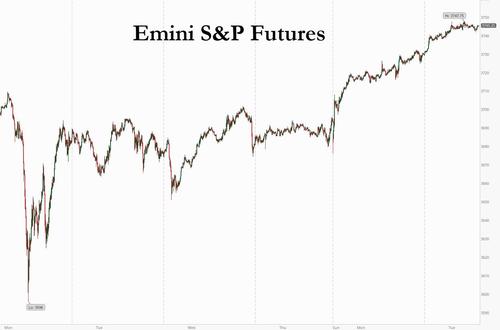 Boeing added 0.6% in pre-market trade as American Airlines was set to restart U.S. 737 MAX commercial flights on Tuesday morning. Apple was up 0.6% before the bell, set to open at $137.44 and extending a rally that has returned it near record levels. The stock rose 3.6% on Monday and closed at a record, though it fell short of an intraday peak of $137.98 set in September. The iPhone maker has gained 86% this year, and it is set to close out a second straight year with a gain above 80%
The late December rally comes just as expected, with a seasonal analysis conducted at the start of the month showing that the last 10 days of December – already the strongest month for stocks which are up 74% of the time with an average return of 1.3%…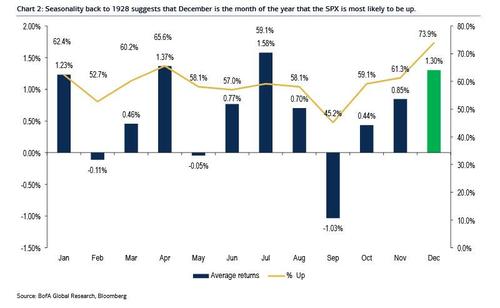 … tend to be the most bullish for stocks.

US cash indexes closed at a new all-time highs on Monday, with pandemic-battered stocks leading the gains after Trump signed a long-awaited $2.3 trillion fiscal bill, restoring unemployment benefits to millions of Americans and averting a federal government shutdown. Goldman Sachs Group Inc. upgraded its first-quarter U.S. economic growth forecast because of the measure. The S&P is looking at its best fourth-quarter performance since 2011 as investors returned to economically-sensitive stocks from the so called 'stay-at-home' plays on hopes of economic recovery.
Adding to stimulus optimism, on Monday the Democratic-led House of Representatives approved a proposal to increase the COVID-19 payment checks to $2,000 from $600, sending the measure for a vote in the Republican-controlled Senate on Tuesday, where it faces a much tougher path for approval.
"Where we are right now in the equity market is somewhat of a sweet spot," Michael Cuggino, president and portfolio manager at Permanent Portfolio Family of Funds, said on Bloomberg TV. "We've got stimulus, likely more on the way. You've got great comps on earnings going into next year with respect to equities, and you have a pent up demand situation as the economy both in the U.S. and globally comes out of Covid."
On the coronavirus front, more restrictions are being imposed to fight the spread of the new, more infectious strain. Covid-19 hospitalizations in the U.S. reached new highs, while Southern California plans to extend a regional stay-at-home order. South Korea's daily toll of fatalities rose to a record, while Thailand reported its first virus death since November.
The MSCI World Index was up 0.4% with US futures tracking broad-based gains in Europe and overnight in Asia.
In Europe, the Stoxx 600 rose 0.9%, with every subsector apart from banks in the green. The FTSE 100 rose 2.1%, on course for its fourth straight day of gains in the first session since the U.K.'s Christmas Eve trade deal with the European Union. Lenders including Lloyds Banking Group Plc and NatWest Group posted losses amid an uncertain future for the City of London. Britain's blue-chip shares led regional markets higher.
"Multinationals, who are the likeliest beneficiaries of frictionless, tariff-free trade, and overseas currency earners are generally leading the charge in the FTSE 100," said Russ Mould, investment director at AJ Bell. Propping up the London market were banks and other financial services. "This suggests that nerves remain over what deal will be struck in 2021 when it comes to financial services and indeed services overall."
Analysts have gotten more upbeat on the FTSE 100, raising their 12-month forward price target by about 2.2% this month versus about 1.6% for the DAX.
Also among the gainers was drugmaker AstraZeneca buoyed by news its COVID-19 vaccine is set to be granted emergency use approval within a few days by the UK government. The launch of the European Union's vaccination program, hoping to end the widespread lockdowns that have stalled economies across the bloc, saw that positive sentiment shared with the continent, where beaten-down travel and leisure stocks rose 2.3%.
Earlier in the session, Asian stocks also rose for a third day, helped by a rebound in Chinese internet stocks and bullish sentiment, most notably in Japan, following the passage of a U.S. stimulus bill. A recovery in shares of Tencent and Meituan, which had been falling amid antitrust scrutiny of Alibaba, helped the MSCI Asia Pacific Index gain 1%, the most since Dec. 1. Japan's Nikkei 225 rallied 2.7% to surpass the 27,000 yen mark for the first time in three decades. It was the best day for the gauge in more than six months, with gains contributed by SoftBank Group and Uniqlo operator Fast Retailing, which hit another record high. New Zealand's benchmark jumped 1.6%, while stocks in Australia also rose as both markets resumed trading after a holiday. The Philippines' benchmark index rose in its last trading day for 2020, but finished the year down 8.6%. Malaysia was among the few markets that bucked the region's rising trend, falling 0.5% as shares in glove makers dragged the index lower. Indonesian shares also declined.
In rates, treasuries were cheaper but traded inside Monday's ranges as U.S. trading got under way amid gains for stocks globally fueled by U.S. stimulus agreement and Brexit relief; S&P 500 futures set a new record. Treasury 10-year notes were cheaper by less than 2bp at 0.94%. Yields are higher by less than 3bp across the curve ahead of record $59b 7Y auction at 1pm ET, final event in this week's coupon supply cycle. Yields on European government debt edged lower, with blue-chip 10-year German bond yields at 0.57% and riskier Italian, Spanish and Portuguese yields also lower.
In FX, demand for riskier assets weakened the U.S. dollar, which is often seen as a safe-haven asset. It was down 0.2% against a basket of currencies and eyeing the 18-month low hit in November. Shorting the dollar has been an extremely popular trade, with Reuters reporting that short positions on the dollar swelled in the week ended Dec. 21 to $26.6 billion, the highest in three months. Among other currencies, sterling rose 0.4% against the dollar, reversing two days of losses, while the euro climbed for the third day in a row, up 0.3%, also buoyed in part by talk of an EU-China trade pact.
In commodities, the prospect of even more stimulus and higher demand helped boost oil prices with Brent crude futures and U.S. West Texas Intermediate both up around 1.2%.  A sluggish dollar bolstered gold prices, which rose 0.4%.
No major economic data releases or U.S. company earnings are expected
Market Snapshot
S&P 500 futures up 0.5% to 3,745.75
MXAP up 1% to 196.89
MXAPJ up 0.5% to 645.95
Nikkei up 2.7% to 27,568.15
Topix up 1.7% to 1,819.18
Hang Seng Index up 1% to 26,568.49
Shanghai Composite down 0.5% to 3,379.04
Sensex up 0.5% to 47,608.42
Australia S&P/ASX 200 up 0.5% to 6,700.29
Kospi up 0.4% to 2,820.51
Brent Futures up 0.9% to $51.32/bbl
Gold spot up 0.5% to $1,882.77
U.S. Dollar Index down 0.3% to 90.08
STOXX Europe 600 up 1.1% to 403.06
German 10Y yield fell 0.6 bps to -0.571%
Euro up 0.2% to $1.2241
Brent Futures up 0.9% to $51.32/bbl
Italian 10Y yield fell 4.6 bps to 0.428%
Spanish 10Y yield fell 0.9 bps to 0.041%
Top Overnight News
Republicans will likely block Democrats' attempts to have the Senate follow the House in boosting stimulus payments for most Americans to $2,000, even though President Donald Trump backs the bigger checks.
The trade deal that both sides of the English Channel say reflects a new era of cooperation is essentially a sideshow for the City of London, which is still awaiting its own seal of approval from the European Union.
European governments are planning to track the number of people getting Covid-19 vaccines to help chart a path out of the crisis.
US Event Calendar
9am: S&P CoreLogic CS 20-City MoM SA, est. 1.0%, prior 1.27%; YoY NSA, est. 6.95%, prior 6.57%