Submitted by Christopher Dembik, head of macro analysis at Saxo Bank
Summary:  France is ranked last in Bloomberg's worldwide Covid vaccine tracker with only 516 people vaccinated since the campaign vaccination started on 27 December, 2020. Confronted with harsh criticism over its strategy, the French government has recently announced its intent to accelerate the process, but it is unlikely that it will be able to reach its target of around 23-25 million people vaccinated in June – which would imply an average of 140,000 people vaccinated on a daily basis seven days a week.
With France already lagging behind in distributing the vaccine and prospect of supply hurdles and logistics failures, the risk is increasing that the country will have no other choice but to enact tougher restrictions for longer that will weight on the recovery.
What is wrong with France's vaccine strategy?
The supply of vaccines appears to have been mismanaged with preference for the vaccine developed by a local player, the French pharmaceutical company Sanofi, that will not be ready until the end of 2021 after interim results showed a low immune response in older adults.

The implementation is bottlenecked through GPs instead of setting up mass vaccination centers, like in Germany and in Israel. To make things worse, it takes about 5 to 6 days to get vaccinated due to the introduction of a slow procedure of informed consent. People first need to see their GP for a pre-visit during which they are informed of all the aspects and consequences of the vaccine, which takes about 45 minutes to one hour, then they have four days for withdrawal.

Due to logistics failures recently observed, especially regarding the storage at ultra-low freezing temperatures, it is estimated that roughly 25% to 30% of the 200 millions doses purchased by France could be definitively lost.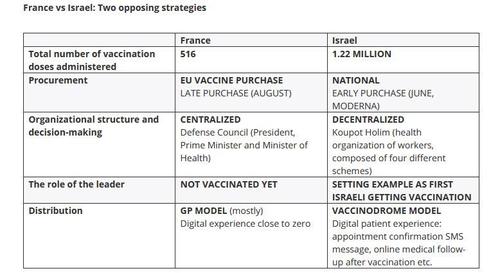 What should be done ?
France's vaccination strategy has consisted of pandering to anti-vax. There is undeniably a strong distrust in vaccination in France, which reflects a broader problem of confidence in the health system after a series of scandals that have left a lasting stain on its reputation over the past thirty years. A study from IPSOS released in October showed the extent of the problem: only 54% of the population is willing to get vaccinated against Covid versus 87% in India and 67% in Germany.
To get around this problem, the government opted for a slow protocol that will be costly economically and that is unlikely to increase public confidence in the vaccine. In fact, it is even the opposite that is currently happening. The slow rollout of the vaccine reinforces the idea, among vaccine-skeptics that there is something to hide or at least that the authorities are afraid of potential unexpected side-effects of the virus.
Economically, this strategy, that is unique among developed countries, will be very costly. Assuming that France manages to reach its June vaccination target, which is not enough to achieve herd immunity, its means that some forms of restrictions will probably prevail at least until September/October this year. This is the optimistic scenario.
The pessimistic scenario is that France may need to resort to tougher lockdown or to extend overnight curfew if the new mutations recently discovered in the United Kingdom and in South Africa spread further in the country, reviving the specter of a new recession. The sad reality is that there is no time to waste. The longer we wait for herd immunity (which might be around 70%-75% of the total population with the new mutations according to recent studies versus prior 60%), the higher the probability for a non-segmented RNA virus evolving and rendering the vaccine ineffective. France has already lost precious weeks in the covid battle and it will certainly takes time to deal with the supply hurdles that are emerging.
But by speeding up the vaccination process, via the adoption of the "vaccinodrome" model (like in Israel), and opting for a more coercive strategy, which could consist in linking the access to social benefits/tax loopholes  to the vaccination (following the example of Latin America for child vaccination), France could certainly escape faster from the pandemic mess and at lower economic cost than with the current inadequate strategy.