By Tyler Durden
For the first time, millions of Americans waited in food bank lines this year, unlike anything seen since the Great Depression of the 1930s.
According to AP, as the pandemic rages on, with more than 20 million still claiming unemployment benefits, food banks are dishing out more meals than ever.
The one place millions of Americans found themselves this year, as readers may recall, really starting in mid-March, have been food bank lines. We highlighted this phenomenon sweeping across the country as the pandemic wrecked the working poor as they grappled with food insecurity.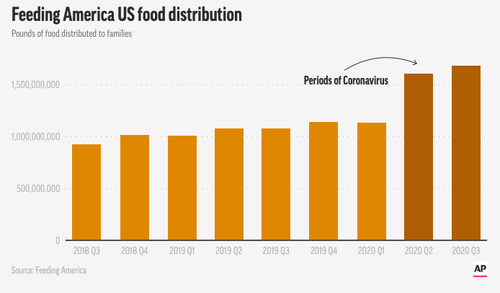 Among some of the most memorable sights this year, reminiscent of the Depression-era, were mile-long food bank lines. Huge traffic jams captured by civilian drones documented large lines in San Antonio, Texas to Toledo, Ohio to Pittsburgh, Pennsylvania to Orlando, Florida, where thousands of vehicles carrying hungry people waited for care packages. 
Feeding America, a nationwide network of more than 200 food banks, was overwhelmed with demand as 20% of the organization's food banks were at severe risk of running out of food earlier this year.
Demand at food banks has been so high, that Feeding America handed out 4.2 billion meals from March through October, the most ever.
The organization reported a 60% average increase in food bank users during the pandemic – and at least 30% are first-timers.
Data from Feeding America showed 181 food banks in its network distributed nearly 57% more food in the third quarter than the same period in 2019.
Estimates from the food bank suggest 1 in 6 Americans, from 35 million in 2019 to more than 50 million by the end of this year, will have food insecurity problems. The problem is worse for children – nearly 1 in 4 will go hungry as the pandemic deeply scarred the economy.
Shockingly, Feeding America found that 1 in 5 residents in Mississippi, Arkansas, Alabama, and Louisiana could not put food on the table.
AP interviewed Donna Duerr, 56, who said she must "either pay bills or get food." She said food bank donations have greatly helped her as she struggles to survive.
Many of the folks attending food bank lines are the working poor who once had jobs in the service industry. Because of permanent job loss, many of their jobs will be completely wiped out.
For communities of color, such as those in the inner cities, the pandemic has been disastrous. Blacks and Latinos are dealing with high rates of infections and deaths from the virus, along with high joblessness. For example, just look at the food bank demand soaring in Chicago: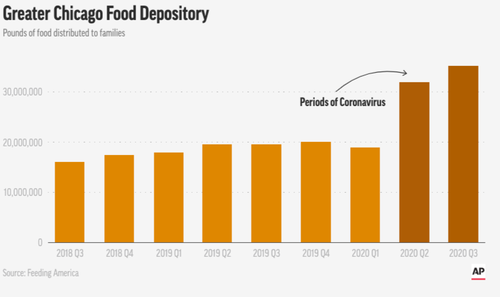 If food demand continues to soar – Feeding America, in a separate report from October, warned that it could face a deficit of "10 billion pound shortfall between now and June of 2021 – the equivalent of 8 billion meals."
Watch: Many Americans 'worried about their next meal'
Source: Zero Hedge
Subscribe to Activist Post for truth, peace, and freedom news. Send resources to the front lines of peace and freedom HERE! Follow us on SoMee, HIVE, Parler, Flote, Minds, MeWe and Twitter.
Provide, Protect and Profit from what's coming! Get a free issue of Counter Markets today.