Summary:
University of California system to return to in-person classes in the fall
Federal officials warn that
US COVID deaths top 400K
Cases decline across US; NY releases latest data
US nears 400K COVID-linked deaths
Global cases: 95.7MM
UK vaccinates 6% of population
Brazil approves US, Chinese vaccines
Israel opens vaccinations to people in their
UK considering "all possible measures" as deaths spike
Germany extends lockdown to Feb. 14
California deaths down day over day
NY saw second straight daily drop over weekend
Swedish PM couldn't rule out further restrictions
* * *
Update (2035ET): As cases decline across all four regions of the US, while Joe Biden holds a public memorial for the 400K people who have now died from COVID over the past year since the start of the pandemic, the head of the University of California system (located in a state with one of the most pro-lockdown stances), has seemingly bucked the trend by announcing the return to in-person education.
In a statement, the office of the president said the university system intends to conduct 100% of its classes in person in the fall.
The University of California Office of the President announced that it intends to hold Fall 2021 classes in person rather than online.
The statement says that the school is making the change systemwide, and is "planning for a return to primarily in-person instruction" beginning in fall 2021.
UC System President Michael Drake stated that "current forecasts give us hope that in the fall our students can enjoy a more normal on-campus experience."
"With robust research advancements and COVID-19 vaccines soon becoming available to students, staff, and faculty, UC is preparing to welcome students back to all its campuses this fall, while remaining vigilant in all critical prevention efforts and continuing to prioritize the health and well-being of the University community," said the statement.
The news comes as Dr. Fauci insists that, with Biden in office, it will be possible to blanket the country with immunity from the virus.
A breakdown of COVID-linked deaths in Illinois shows that roughly 50% of those who succumbed were in long-term care facilities.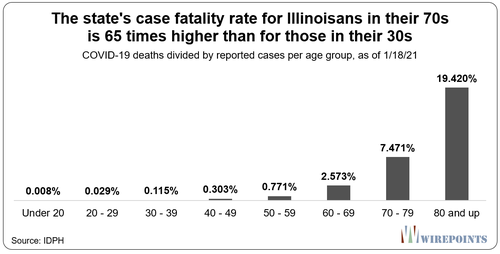 On the federal end, even as cases decline in all four regions, the presence of the more contagious mutant strain of the virus is spreading among Americans and could become dominant by March,  according to federal public health officials cited by Joe Bidem, as the endless parade of warnings continues.
* * *
Update (1450ET): US COVID deaths have officially passed the 400K mark, the largest official death toll in the world, almost exactly one year after the first cases were confirmed in the US, marking the official start of the pandemic (even though the WHO dawdled on calling it that for a week or two).
On Tuesday afternoon in New York, Johns Hopkins counted 400,002 deaths in the US, a death toll that's higher than the number of American deaths in battle of any single war, according to the Department of Veterans Affairs, and is higher than World War II, the most deadly war for Americans, by about 108,000 deaths.
* * *
Update (1350ET): New York State just reported its latest numbers, and it looks like a trend that started late last week has persisted. Instead of the post-Christmas explosion of cases promised by Dr. Fauci, cases are falling across all regions of the US.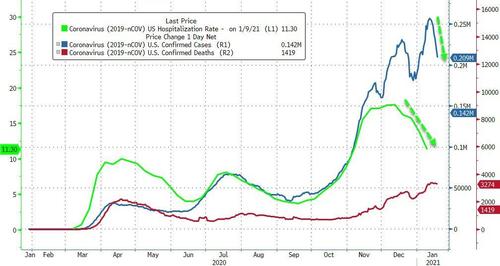 Here are the latest numbers out of NY.
Today's update on the numbers:

Total COVID hospitalizations are at 9,236.

Of the 177,269 tests reported yesterday, 12,512 were positive (7.06% of total).

Sadly, there were 167 fatalities. pic.twitter.com/Ets0DlDHTx

— Andrew Cuomo (@NYGovCuomo) January 19, 2021
Also, Moderna shares took a hit earlier Tuesday after the company revealed it didn't know how many jabs had been given from a batch of vaccines causing a higher than normal number of adverse reactions.
As we noted earlier, Dr. Fauci is again making the media rounds to proclaim that hitting 100MM Americans vaccinated in his first 100 days is "entirely feasible", and that it's also possible to bring about herd immunity in the US by the fall, before the next flu season, even though these scientists don't know exactly where the herd immunity threshold is.
* * *
As the US approaches 400K COVID-related deaths (at least, according to the official numbers) the focus Tuesday morning has shifted back to Europe, where Chancellor Angela Merkel has reached a deal with local leaders to extend Germany's lockdown until Feb. 14.
According to the latest numbers from Johns Hopkins, another 3.8K US patients in the US died of causes related to COVID-19, keeping the country on track to reach 400K deaths before Joe Biden's Wednesday inauguration. Meanwhile, even after Pfizer and Moderna missed their vaccination target for year-end 2020 by a wide margin, Dr. Anthony Fauci team Biden's promise of delivering 100MM doses of the vaccine in 100 days is "absolutely a doable thing."
A breakdown of new cases by state shows particularly harsh numbers in California, and parts of the Southeastern US.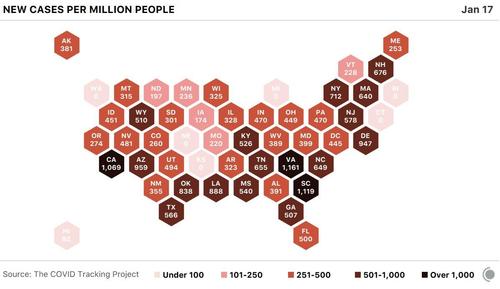 As the incoming Biden team continues to wrestle with the US vaccine rollout (as refusals climb to levels unexpected by the experts, at least among health-care workers), Israel continues to lead the world in the race to vaccinate its entire population, with eligibility expanded to those 40 and older, as the tiny Mediterranean county has now vaccinated 27% of its population.
Meanwhile, the FT is once again hyping up the UK's vaccination rollout, carefully planned by PM Boris Johnson and the NHS. According to the FT, the UK, which has "pulled ahead" of its western peers, has already vaccinated roughly 6% of its population.
In stark contrast to this message, UK Foreign Secretary Dominic Raab said Tuesday that the UK is considering "all possible measures" as deaths top 1.2K for the fifth day in a row, something that experts have attributed to the mutant strain, which purportedly makes the virus more infectious.
Meanwhile, yet another COVID strain "variant" may be emerging in Amazonia, in the Brazilian city of Manaus, which has seen a surge in younger patients dying.
As far as vaccinations are concerned, the WHO recently selected vaccine "inequality" as the theme for its new annual report, which expanded on remarks from Dr. Tedros, the chief of the WHO, who called the vaccine rollout worldwide a "massive moral failure."
This, from an organization that has once again meekly obliged as Beijing once again denied access to investigators looking to figure out how the global viral outbreak began, and what exactly Beijing did wrong. With Beijing pushing vaccines from half a dozen Chinese companies, the question of access for various countries will likely come down to whether they receive the "rich" world Pfizer and Moderna jabs, or the vaccines from China and Russia.
Underscoring all of this, Brazil has officially approved both the AstraZeneca COVID vaccine and the SinoVac jab as cases and deaths climb, and the total number of shots delivered worldwide nears 40MM, according to Bloomberg.
Here's some more COVID news from the US and Europe.
California reported 432 deaths, fewer than 669 the previous day and below the 14-day rolling average of 490, according to the health department's website. If the state were a country, its 33,392 total fatalities would rank it 16th, between South Africa and Poland. California added 42,229 new cases yesterday, surpassing the 2.94 million mark. The state's 14-day positivity rate was 12.5%, little changed from the 14-day average (Source: Bloomberg).
France reported 16,642 new cases on Sunday, the lowest daily increase in six days and less than the previous seven-day rolling average of infections of 18,148 (Source: Bloomberg).
Virginia destroys its record for new infections Sunday, rising to a new daily high of 9.9K, state health data show (Source: Bloomberg).
New York state reported 13.8Knew cases Sunday, the second daily drop after infections climbed to a record of just below 20K on Friday. Hospitalizations, a growing concern, fell slightly to 8.8K, as did the positive test rate, to 5.61% statewide, Governor Andrew Cuomo said in a statement. Another 172 people in the state died (Source: Bloomberg).
Sweden's Prime Minister Stefan Lofven says he can't rule out further restrictions under a temporary new law (Source: Bloomberg).