At the end of 2020, Steven Mnuchin created a mini media tempest (in a teapot) when he demanded that the Fed return tens of billions in unused funds backstopping the central bank's various emergency, 13(3) programs. While the news spark a mini furore in financial circles and in Congress where reps and Senators scrambled to understand just what had happened and grilled Mnuchin over the request, with far too much drama to list since then everyone promptly forgot about this until today when the Fed announced on its website that it has returned $42 billion to the U.S. Treasury, and will soon transfer another $20 billion in excess funds connected to emergency lending facilities that stopped offering new loans last month.
According to Bloomberg, which first reported on the remittance, the transfers will fulfill the promise made by Jerome Powell on Nov. 20 to comply with Steven Mnuchin's "controversial demand" that the programs be terminated.
As a reminder, the Treasury had committed $195 billion from its Exchange Stabilization Fund to provide a backstop for the four programs and had transferred $102.5 billion to the Fed. The programs are retaining about $40 billion to protect against potential losses on the credits the programs extended before their closure.
The four programs that expired at the end of the year were the Term Asset-Backed Securities Loan Facility, the Municipal Liquidity Facility, the primary and secondary corporate credit facilities, and the Main Street Lending Program (the termination of the Main Street was delayed until Jan. 8 to allow time to finish processing a late surge of loan applications). As shown, in the table below, another 8 emergency programs remain active.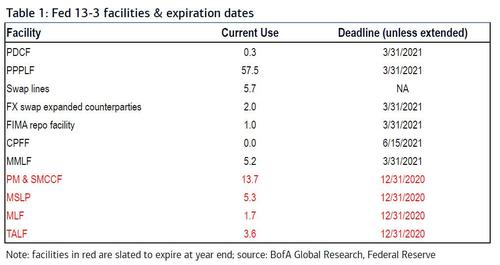 As of Jan 6, there was just over $130BN outstanding on the various 13(3) programs.