The Lockheed Martin F-35 stealth fighter jet has 871 software and hardware flaws that could affect combat operations, according to Bloomberg, citing a report from the Pentagon's testing office.
"The F-35 continues to have many flaws. Many of those flaws have already been discovered during the development and testing phase, which ended with 941 flaws in April 2018," Robert Behler, the director of operational testing, said in a new assessment seen by Bloomberg.
The assessment outlines the long list of flaws – down two from 873 that Behler reported last year.
Ten out of the 871 unresolved deficiencies found by Boehler are "potentially serious issues," Bloomberg writes. These "Category 1" issues could endanger the pilot or aircraft safety or diminish combat effectiveness against Chinese or Russian stealth fighters. 
At least 70% of the flaws are considered "low priority."
To date, 970 F-35s have been built are being used by the US and eight more countries, including the Netherlands, UK, and Japan. The flaws will be addressed over time, much of which will come from software updates.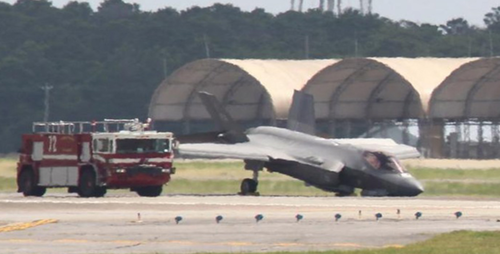 One of the flaws include a "stalled one-month simulation exercise required to certify the plane is combat-ready against the toughest Russian or Chinese threats and thus ready for a decision on full-rate production," said Bloomberg. 
Here are other unresolved glitches of the F-35 program (the partial list via Defense News):
When the F-35B vertically lands on very hot days, older engines may be unable to produce the required thrust to keep the jet airborne, resulting in a hard landing.
After doing certain maneuvers, F-35B and F-35C pilots are not always able to completely control the aircraft's pitch, roll and yaw.
Supersonic flight in excess of Mach 1.2 can cause structural damage and blistering to the stealth coating of the F-35B and F-35C.
Cabin pressure spikes in the cockpit of the F-35 have been known to cause barotrauma, the word given to extreme ear and sinus pain.
The spare parts inventory shown by the F-35's logistics system does not always reflect reality, causing occasional mission cancellations.
If the F-35A and F-35B blows a tire upon landing, the impact could also take out both hydraulic lines and pose a loss-of-aircraft risk.
Possible maneuvering issues when the aircraft is operating above a 20-degree angle of attack.
The F-35's logistics system currently has no way for foreign F-35 operators to keep their secret data from being sent to the United States.
And yes, did we mention the F-35's 25 mm Gatling-type rotary cannon has "unacceptable" accuracy of hitting ground targets?
An independent cost analysis shows the F-35 program will need tens of billions of dollars more over the next several years for upgrades, research and development, aircraft procurement, operations and maintenance. 
Behler wrote, "the overall number of open deficiencies has not changed significantly" since early 2019, adding that "due to ongoing problems with initial software quality" and "limited lab and flight test capability, resulting in a high rate of problem discoveries" found in the field.
Currently, the F-35 program is undergoing a "Block 4" upgrade costing at least $12 billion to correct some of the flaws. 
Behler warned that the Block 4 process "is not working." He said, "it's causing significant delays to planned schedules and results in poor software quality, containing deficiencies."
Bloomberg noted defense officials who have seen the Behler assessment said many of the flaw will be resolved with production changes and software upgrades.