While many have focused on the ongoing collapse of the dollar, a big reason for the persistent weakness in the greenback, which is now below the Nov 9 "Pfizer vaccine" level…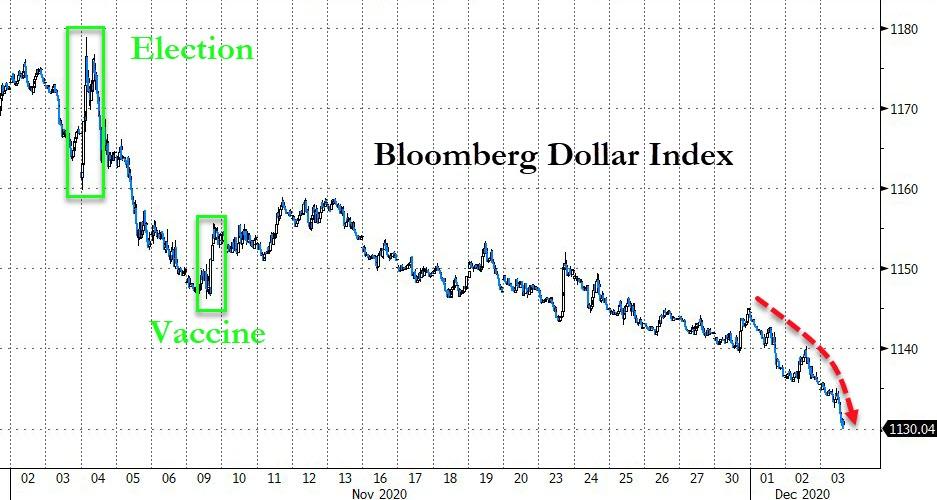 … is the grind higher in the EURUSD which this morning hit 1.2168, the highest since April 2019, and a level well above the 1.20 which ECB economist noted was a line in the sand in early September, when he said that the central bank was uncomfortable with the strengthening Euro.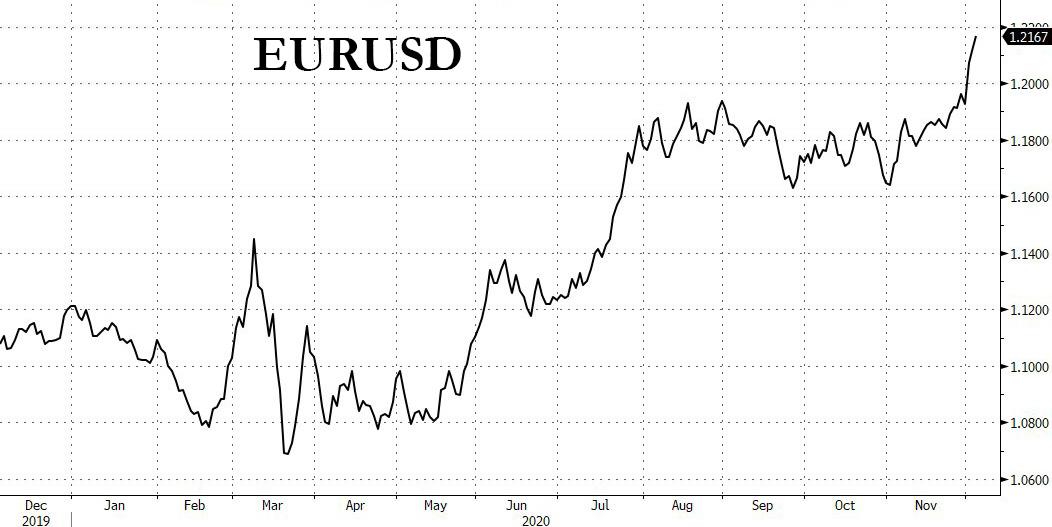 Furthermore, since the ECB introduced negative rates in June 2014, a EURUSD level of 1.2 has served as a ceiling and the level has rarely been breached for more than three months.
What is different this time is that unlike three months ago, there was no similar pushback from the ECB, which prompted Mizuho chief market strategist Daisuke Karakama to suggest overnight that the euro's recent gains "have been fueled by the view that the European Central Bank has run out of policy tools" and the currency's upside is seen at $1.22 heading into the year end, a level which may be reached as soon as today at this rate.
According to Karakama, the main supporting factor for the Euro's strength is "the region's large trade surplus which reflects real demand for the currency and this stands out in a zero-rate world."
But his most surprising observation is that EUR's rise despite the ECB's balance sheet being the world's biggest since June and the bank flagging more easing at next week's meeting suggests that "there is a growing view that further QE won't help stop the currency from strengthening and the bank has run out of policy tools."
As a result, only aggressive, potentially spot currency intervention, is likely to check the euro's surge which is occurring in spite of the deployment of super-easy monetary policy.
Then again, one should never underestimate the ECB, especially since Lagarde may have no choice but to stake her "whatever it takes" claim very soon to keep the EUR at a level that does not cripple European exports, arguably the only thing going for Europe at a time when its economy is already entering a double dip recession.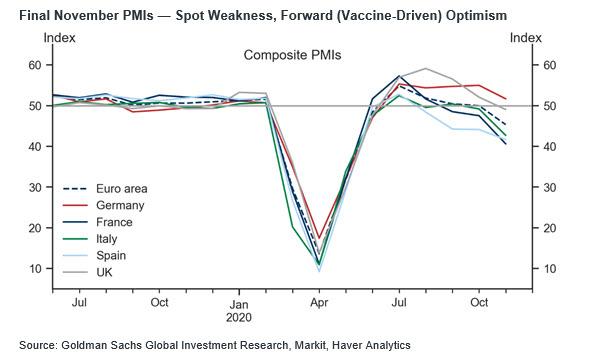 Finally, not everyone agrees with Mizuho's assessment, and according to Morgan Stanley the EUR is still not quite at levels that would concern the ECB: