European Commission President Ursula von der Leyen informed President-elect Joe Biden ahead of today's inauguration that Silicon Valley CEOs have no authority to decide on laws and rules, according to RT News. 
Von der Leyen said in a speech on Wednesday to the European Parliament that the incoming Biden administration must begin to regulate big tech companies. 
"This political power, unbridled power held by the big internet giants must be reined in," she said. 
European lawmakers are in the process of formulating new digital privacy and antitrust regulation that would have severe implications for Apple, Google, and Facebook.
Von der Leyen said tech giants that moderate themselves is a red flag, adding that it's more critical than ever for governments to intervene now. 
"This kind of decision must be taken in accordance with laws and rules…not by an arbitrary decision in the power of Silicon Valley CEOs," she said. 
Von der Leyen tweeted Monday morning that "hate and fake news can no longer spread unchecked," referring to the recent attack on the US Capitol complex that was spurred by President Trump. She also said, "We want clear rules and responsibility for internet companies for the content they distribute on the internet."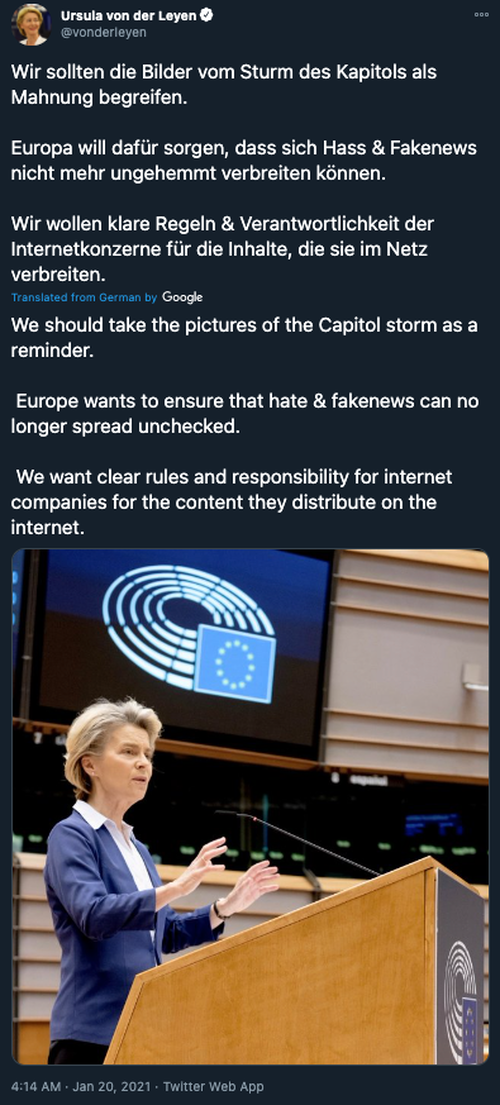 She proposed a new forward-looking transatlantic plan, adding that the EU-US Common Technology Council would draw up a global digital regulation template that would be standard worldwide. 
"From regulating artificial intelligence to complex algorithms based on vast amounts of data, the EU wants restrictions that would not at the same time limit the benefits of technology, such as self-driving cars or sharing data to fight diseases," said Reuters. 
EU has moved to rein in tech giants more than once. Google has been a top target of the EU's antitrust body, with the California-based search engine company slapped with over $9 billion in fines. Other tech firms such as Amazon, Apple, and Facebook are pending fines. 
Relations between the EU and the US deteriorated during Trump's presidency. Von der Leyen said a "new dawn" for Europe and the US could be ahead with Joe Biden's inauguration.