Authored by Simon Veazey via The Epoch Times,
Some experts are worried that England's rollout of rapid test kits for people without COVID-19 symptoms could backfire due to the limited accuracy of the technology – especially if government messaging is not clear.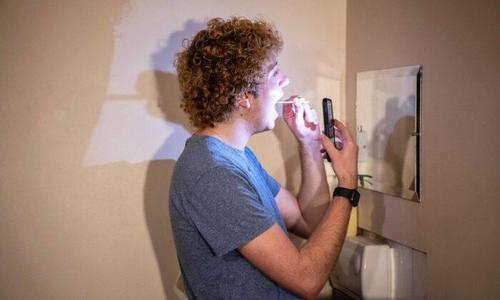 The UK government announced on Sunday that the lateral flow testing kits as piloted in Liverpool in the autumn would be available for people who can't work from home, starting this week.
Health Secretary Matt Hancock said that targeted asymptomatic testing and subsequent isolation is "highly effective in breaking chains of transmission."
The measure has been endorsed by public health officials and many scientists.
The government says that it has identified kits with 70 percent sensitivity and that they're designed to help reduce asymptomatic transmission, not to declare people as safe.
However, some experts point to a study in the British Medical Journal that shows the pilot in Liverpool missed 60 percent of cases and 30 percent of those with the highest viral loads.
They're concerned that people will interpret the meaning of tests the wrong way.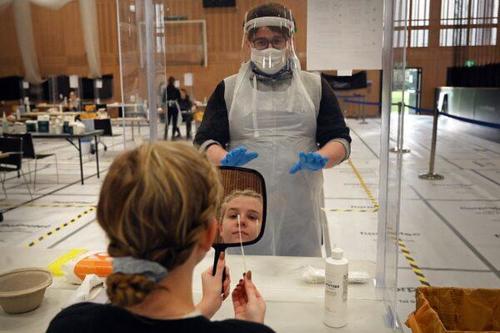 A 20-year-old sports rehab student at Hull University takes a swab for a lateral flow COVID-19 test at the campus sports facilities on Jan. 4, 2021. (Paul Ellis Paul/AFP via Getty Images)
"The government's plans to roll out mass testing using the Innova lateral flow test brings a real risk that it will increase rather than decrease the spread of COVID," Jon Deeks, professor of biostatistics at the  University of Birmingham, said in a statement.

"The government only appears to focus on benefits of testing—that of detecting previously undetected asymptomatic cases—and not the harms which are caused by misinforming people that they do not have COVID-19 infection when in fact they do."
His view is echoed by Angela Raffle, a consultant in public health and honorary senior lecturer at the University of Bristol Medical School, who says that testing at Birmingham University showed the test may pick up as few as 2 in every 100 cases.
"For the government to claim that these tests are accurate, reliable, and 'hugely successful' is dangerously misleading," she said.

"It could undermine the already struggling test and trace system, because people are likely to choose to get a lateral flow test rather than attending for PCR when they have symptoms."
Local authorities are encouraged to prioritise people who can't work from home during the lockdown in their community testing drive, the Department of Health and Social Care said in a statement.
Proponents of the testing scheme argue that it's not meant to create bubbles of people guaranteed as safely free of the virus—but rather to simply filter out more people carrying the virus who have no symptoms.
Alexander Edwards, an associate professor in biomedical technology at the University of Reading, said,
 "This mass asymptomatic testing is not supposed to help people check if they are 'safe'. Instead, it aims to pick up more cases to support contact tracing and isolation of people at high risk of transmitting the virus before they know they are infected. People must be told clearly that a negative test does not rule out being infected."
Other experts sounded a similar note of caution about messaging.
Simon Clarke, an associate professor in cellular microbiology, said, "Increased testing in the wider population has the potential to suppress viral transmission if done it's right. It is often claimed that they worked to drive down infections in Liverpool, which is highly questionable."
Many other experts support the measure.
"This is most welcome and long overdue," said Jose Vazquez-Boland, chair of infectious diseases at the University of Edinburgh, in reference to the announcement of the rapid testing scheme.

"We must be clear that the only way to control the coronavirus and attempt its eradication is to immediately identify asymptomatics, as close as possible to 'real-time', to rapidly isolate them and progressively reduce the prevalence and spread of the virus across the population."