For the better part of the last year, we have speculated in numerous pieces as to how long the cozy relationship between Elon Musk and the Chinese government would last. One thing is for sure: the Chinese ass-kissing tour by Musk has continued in full throttle over the last 12 months, with the Tesla CEO praising China while backhandedly taking swipes at the U.S. with what seems like every chance he gets. 
And the ass-kissing tour is more than just public relations: Musk needs China, the world's largest auto market, to continue to be a powerful source of production and sales, if he wants to meet the growing metrics that Wall Street expects of Tesla. In fact, one could argue that Musk needs nothing short of mass adoption in China. 
So far, Musk has been able to sidestep some ugly press in China, including out of control Tesla vehicles, forced recalls, constant price cuts and disgruntled customers. So far, Musk is holding it together in China.
But now Bloomberg is starting to ask a lot of the same questions we have. Namely, "how long can the good times last?"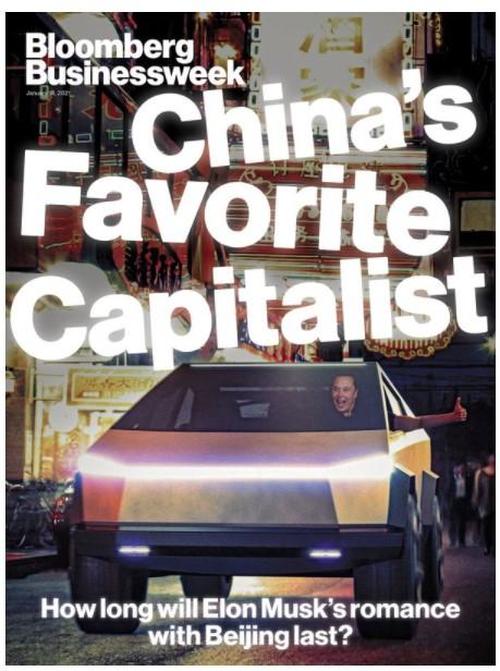 The piece starts by highlighting the preferential treatment Tesla got in early 2020 when it was one of the first to be get back to production during the early stages of the Covid pandemic.
In its first week after resuming production, with Toyota Motor Corp., Volkswagen AG, and other foreign carmakers still unable to fully reopen, Tesla Shanghai made about 1,000 cars. By March it was up to 3,000 a week, a higher rate than before the shutdown. Around that time, according to people familiar with the conversation, an executive remarked in an internal discussion that Tesla didn't just have a green light from the government to get back to work—it had a flashing-sirens police escort.
The feature in Businessweek attributed this to the company's great relationship with the government. Among other things Tesla has been able to obtain from China have been "tax breaks, cheap loans, permission to wholly own its domestic operations, and assistance constructing a vast facility at astonishing speed," the report says. 
And obviously, this support has helped Tesla hit key metrics, like its 2020 deliveries numbers, which was helped along by its new factory in Shanghai. The company said it delivered 180,570 EVs in the fourth quarter, which beat its previous record and Wall Street's expectations for the quarter, which averaged 174,000. It produced 170,757 vehicles during the same period.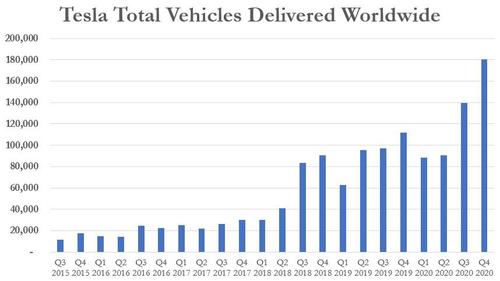 Musk has "done all the right things" for China, too, Bloomberg says, including praising the country and aligning itself with President Xi's policy goals:
Musk, who didn't respond to requests to be interviewed for this story, has effusively endorsed China's talent pool and its ambitious plans for EVs, remarks that go a long way in a country whose leaders are intensely sensitive to foreign judgments. Tesla's local unit has also aligned itself explicitly with President Xi Jinping's economic policy goals and forced China's vast array of EV manufacturers to up their game, a crucial step in the government's efforts to dominate the age of electric mobility.
James McGregor, the chairman for Greater China at government relations firm Apco Worldwide, said: "Under Xi's economic strategy, foreign companies are going to have pretty good opportunities, but they have to be aware that the ultimate plan is for all the advanced technologies to be Chinese. I hope that Elon is going in there with both eyes open."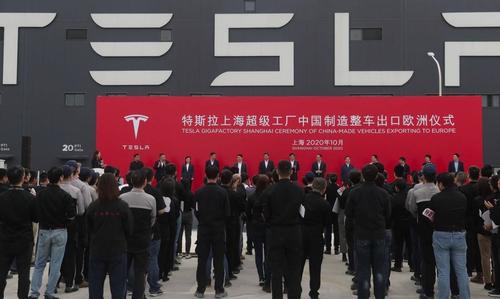 The article also notes that discussions about production in China included "intense scrutiny" over dealings with Chinese suppliers or partners due to concerns about intellectual property and the integrity of supply chains. Additionally, Tesla may have abandoned its concerns about the environment when sourcing OEMs in China, according to three former senior managers:
Tesla executives, two of the managers say, often didn't feel they knew enough about the environmental records of some Chinese vendors—for example when it came to graphite, a critical battery component whose mining can cause severe pollution.
Musk's ties to China seemed to start in 2017 when Tencent Holdings took a 5% stake in Tesla and Musk announced their would be "an investor and advisor". 
As the trade war bubbled in the coming years, "China was looking for headlines to say that U.S. companies still want to come here," said Kenneth Jarrett, a former U.S. consul general in Shanghai and now a senior adviser at the Albright Stonebridge Group. Tesla knew it could take advantage of this and bargain for a great deal, the report says:
Musk held out for full control, and in April 2018 he got it. That month the powerful National Development and Reform Commission announced that the 50% foreign ownership cap for automotive businesses would disappear by 2022, with operations devoted entirely to EVs exempted almost immediately. Three months later Tesla sealed an agreement with the Shanghai government for a factory capable of producing 500,000 vehicles a year.
Musk then started making plans for his factory in Shanghai in 2019. "Several state-backed banks finalized a deal with Tesla for as much as $521 million in construction financing," and he was off to the races, despite some of the questionable terms of these financings that we noted in April 2020.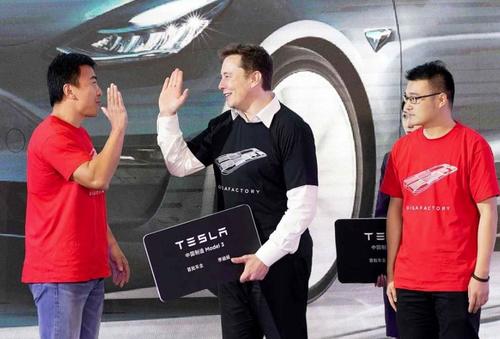 Later in 2019, the minister of transport, Li Xiaopeng, announced all Teslas would be exempt from a 10% purchase tax on new vehicles. Around the same time, Tesla was structuring its business in China to be an "independent division" that reported to U.S. headquarters. By then, "Tesla's local operation was beginning to look like a domestic entity" and Tom Zhu, a Chinese-born executive, was put in charge of the factory. Zhu soon asked all emails to be written in Chinese and for most departments to report only to him. 
This also gave more power to Chinese communication rep Grace Tao, who reportedly had a top priority of retaining support from the top of the Chinese state.
How Musk is scratching the backs of the Chinese state, in addition to repeated praise, remains to be seen. All the while, Tesla has been cutting prices and is now exporting from its Shanghai factory – a sign that domestic demand may not be as robust as expected. 
Meanwhile, the market for EVs in China continues to expand and evolve. Major players like Alibaba, Baidu, Nio and Geely are now heavily involved in EV production – and are arguably much closer to the Chinese state than Musk is. EV sales from January to November of 2020 were up 4.4% this year versus a decline of 7.6% in overall passenger cars during the same period. Chinese auto sales had seen a full V-shaped recovery by October of this year, we noted at the time.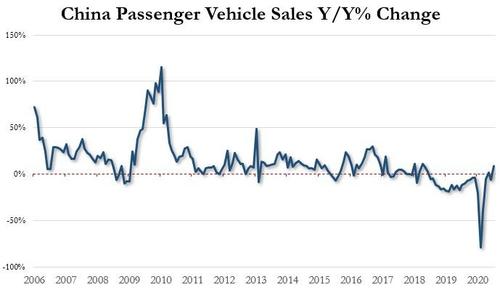 Recall, we noted in November that NEVs will be 20% of China's new car sales by 2025. The "new energy" category includes battery electric, plug-in hybrid and hydrogen fuel-cell vehicles. Sales will rise as the country's "NEV industry has improved their technology and competitiveness," according to a new policy paper reviewed by Reuters.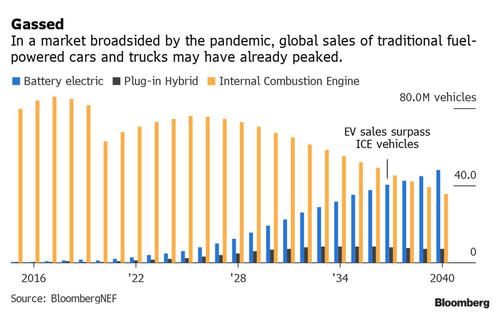 In the country's 5 year plan to 2025, the State Council has pushed for improvements in EV technologies, building more efficient charging and implementing battery swapping networks. The Chinese government will also adopt quotas and incentives to to "guide automakers" (i.e. force them) to make EVs after Federal subsidies end in two years.
How much of a role will Tesla play in this expansion – especially when more domestic Chinese names get up and firing?
Recall, in April 2020, we wrote an article called "Does Elon Musk Risk Becoming A Chinese Asset?", raising pointed questions about Musk's cozy relationship with the Chinese government. In August, we noted that "Elon Musk's distaste for the U.S. appeared to be palpable after Musk said on a podcast that people of China were "smart" and "hard working" while at the same time calling U.S. citizens "entitled" and "complacent"."
Finally, just days ago, Musk said that the Chinese Government was "more responsible" to its citizens than the U.S. government. Musk – who had previously said that "China rocks", said during a new interview that China's government had been "very responsive" to its people's needs and happiness and suggested they could be "better" than the U.S., according to Express UK. 
Musk's allegiance to China during a time of heightened tensions with the superpower seems to (so far, at least) not have lost him any credibility in the U.S., either. However, with a new administration taking hold in just days, that may change as Musk – a self proclaimed libertarian – may wind up in Democrat crosshairs.
You can read Bloomberg's full write-up here.