One of the biggest lies that has bizarrely persisted over the past century is that central banks are somehow working on behalf of "the people." Nothing could be further from the truth, unless of course one's definition of "people" are those high net worth individuals with a net worth in the millions.
And while we have repeatedly documented the often illegal sharing of inside information between the Fed and a handful of ultra-wealthy asset managers, today we get another confirmation that the ECB is no different.
According to the WSJ, the European Central Bank's chief economist made "dozens of private calls" to banks and investors after policy meetings this year in what the ECB called "an unusual attempt to buttress the central bank's sometimes-puzzling public communications."
According to the report, the calls began in March, after the ECB's commpletely clueless and communications-challenged President Christine Lagarde, whose most recent "success" was crushing the reputation of the IMF which lost tens of billions in its latest "bailout" of Argentina, stunned traders by suggesting at a news conference that the central bank wouldn't prop up Italy's bond market. And since it is borderline illegal for a central banker to spark any selling, and since Italian stocks and bonds slumped after her comments, this sparked a panic at the ECB where hours later the chief economist, Philip Lane placed separate calls to 11 banks and investors in which he sought to "clarify" Lagarde's message.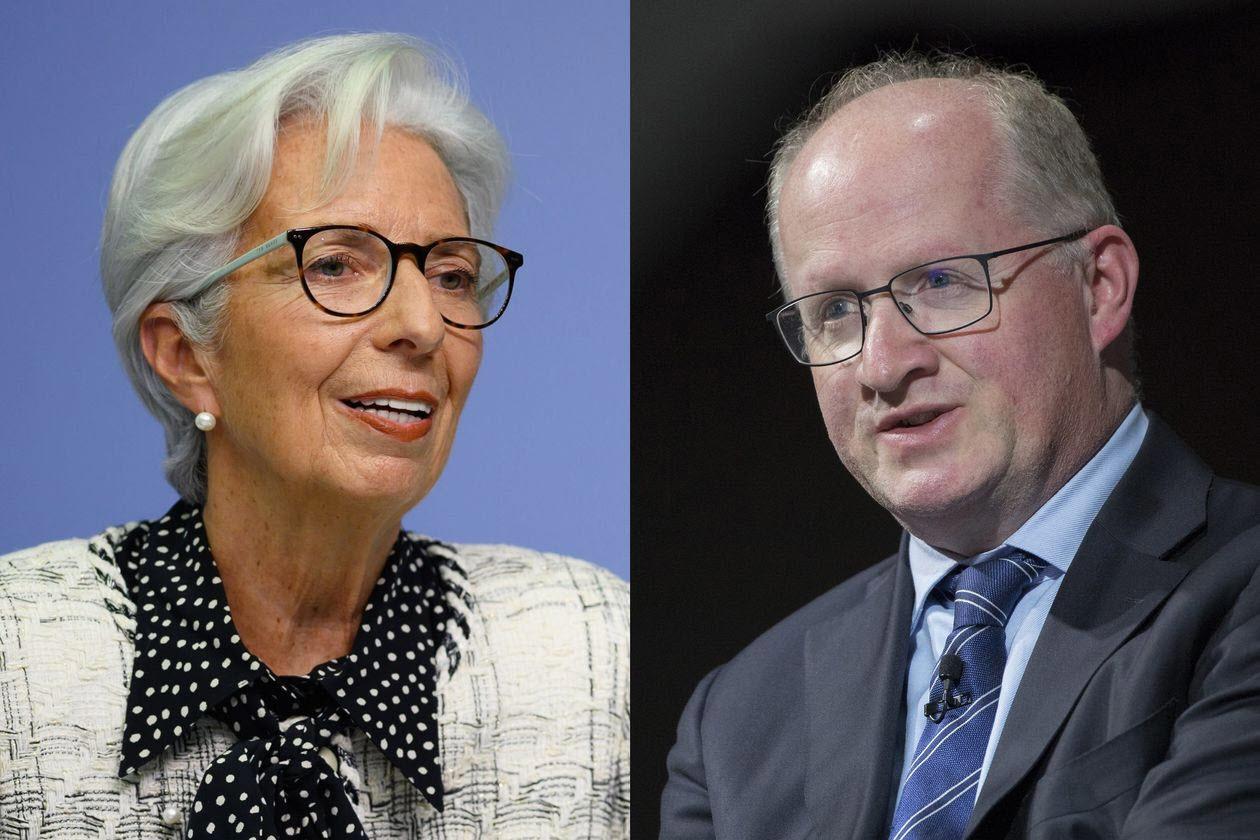 Translation: he "explained" to a highly privileged group of ultra-wealthy investors not to sell their bonds because Lagarde had no idea what she was saying, and that he would make it clear to her what she "meant to say."
Of course, this is hardly the first time the ECB has gotten in trouble for sharing market-moving confidential information with a group of "close friends." It's merely the last time… and the optics are as horrible as ever.  Indeed as the WSJ writes, citing former central bank officials – odd how it's always former central bank officials who tell the truth, never current ones – said "the calls risked privileging big investors with sensitive information."
Whereas central bankers carefully control their utterances and try to make sure all market participants get information at the same time – at least in public – diaries show that neither Lagarde's predecessor, Mario Draghi, nor his chief economist, Peter Praet, made similar calls during their last two years in office. That's because back then they were smarter: they would only share confidential, inside information face to face. Even so they still got caught, and in 2015, the ECB tightened its communication rules after a board member gave a closed-door speech to investors at a dinner that revealed changes to its bond-buying program.
Since then, the ECB was especially careful not to get caught leaking central bank flow information… until the inexperienced Lagarde took over and immediately found herself in a historic crisis, where every word mattered. The problem is that she had no idea how to calm markets and that's why her chief economist had to follow through with just a handful of key accounts and explain that everything is ok and the ECB would stabilize the selloff "whatever it takes."
"You don't just pick up the phone and talk to the select few," said the always aptly named Panicos Demetriades, a former member of the ECB's rate-setting committee as head of Cyprus's central bank. "Talking only to the big players is what you're not supposed to be doing as the central bank. It's not helpful for relations with the public."
Alas the point where the plutocratic ECB cared about relations with the public is long past, and an ECB spokesman confirmed the calls. He said the bank decided in September 2019 to start the briefings after policy meetings—when Mr. Draghi was preparing to hand over the reins to Ms. Lagarde—but only began them in March. The briefings were set up shortly before Ms. Lagarde's news conference on March 12, the spokesman said.
"In line with our transparency policies, we publish the names of the institutions where they work and ensure there is a rotation between institutions," the spokesman said. "The purpose is to hear the views of economists who are ECB watchers and address any technical questions. The calls only touch on public information and their only focus is on the policy decision published beforehand."
In short, the ECB admits that there is a select group of ultra VIPs who are privy to information that the rest of the world has to only guess at. A closer look at these VIPs:
On each occasion, Mr. Lane discussed the ECB's recent decision with officials—often the chief economist—at a subgroup of 18 institutions, according to his public diary. They included investors such as AXA SA, BlackRock Inc. and Pacific Investment Management Co., and banks such as Citigroup Inc. Deutsche Bank AG , Goldman Sachs Group Inc, JPMorgan Chase & Co. and UBS Group AG .

The calls lasted 10 or 15 minutes, according to people who received them. Mr. Lane took questions on the ECB's policy decisions and economic forecasts, but spent most of the time listening, they said. He clarified and fine-tuned the ECB's message, and answered technical questions. Some of the people said they don't recall that Mr. Lane divulged much new information. At least one other ECB staff member was on the calls too.

…

An AXA spokesman said Mr. Lane had spoken to the company's chief economist following the ECB's press conferences earlier this year, saying the conversations gave the group a chance to "digest the ECB's announcements and ask any of the more technical questions we may have."
"It would be desirable for all players to have access to relevant information at the same time. Otherwise, it's not a level playing field," said Stefan Gerlach, former deputy governor of Ireland's central bank, pointing out the blatantly obvious.
So what does one have to do to get on that list? Well, according to the ECB "to get on Mr. Lane's call list, the institution had to be a close follower of ECB policy."
Being a close follower of the ECB, we have asked the ECB to put us on said list.
Hey @ecb we are close followers of your policy. Can we get on your private inside information distribution list?

"To get on Mr. Lane's call list, the institution had to be a close follower of ECB policy, the spokesman said."https://t.co/N9DEGsFeTZ

— zerohedge (@zerohedge) December 1, 2020
We will keep you updated on how "successful" we are. Sarcasm aside, what is disgusting about all this is that Lagarde has recently positioned herself as a huge backer of erasing the wealth divide (which central banks are responsible for) and just yesterday congratulated the new Treasury Secretary Janet Yellen whose motto is to restore the American Dream.
Congratulations to my friend Janet Yellen on her nomination as US Treasury Secretary. Her intelligence, tenacity and calm approach make Janet a trailblazer for women everywhere. I look forward to tackling yet again the global economic challenges we are facing, together. pic.twitter.com/p6M1neCeoK

— Christine Lagarde (@Lagarde) November 30, 2020
One wonders just how bringing power to the people works by only making a handful of "close ECB followers" richer with material, non-public information.
We are confident the "uncorrupted, independent" media will promptly ask Lagarde all these questions during the next ECB press conference (spoiler alert: they won't).