After collapsing to critical support levels, the USDollar has soared overnight – its biggest spike in six months…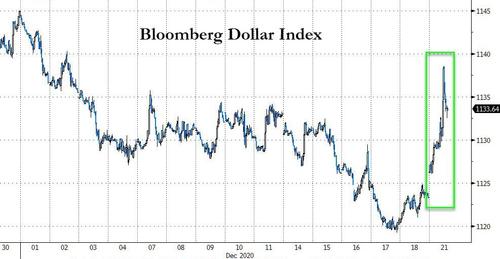 Source: Bloomberg
Various reasons for the move include the fact that the USD sits at the epicenter of macro right now (everybody 'short' it through various expressions) but between cable weakness (on mutant COVID strain fears as well as Brexit), and desk chatter about a Bloomberg article focused on potential Biden admin Treasury Secretary Janet Yellen, the move was dramatic and, as Nomura's Charlie McElligott, has forced traders to accelerate year-end de-grossing to protect P&L.
Cable has been clubbed…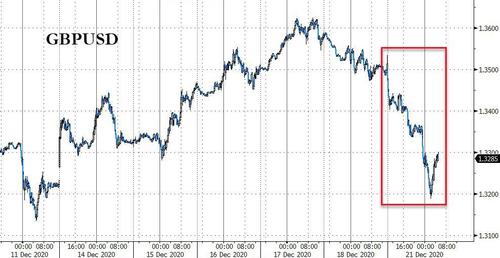 Source: Bloomberg
The Bloomberg story "Yellen Pressed to Back Strong Dollar in Reversing Trump-Era Tone" suggests that Janet Yellen once touted the benefits of a weaker greenback for exports, but as the incoming Treasury secretary, she faces pressure to return the U.S. to a "strong-dollar" policy – and may cause trembles on Wall Street if she doesn't. The greenback's tumble this year – it's heading for the second-biggest drop in the past decade and a half — has already stoked foreign policy makers' concerns, thanks to the competitive advantage it gives the U.S. Even a tacit endorsement of a weakening dollar could spur tensions with trading partners.
"Yellen as a Fed person can talk about the benefits of a weaker dollar with regard to inflation and exports," said Brad Bechtel, global head of foreign exchange at Jefferies LLC.

"But as a Treasury secretary the typical stance is a strong dollar policy."
And as McElligott notes, it's not just FX getting hit.
We are seeing said reversals of crowded trades, as stocks are getting properly hit lower (thematically with Min Vol / Defensives / Mega-Cap / Duration-Sensitives outperforming Cyclical Value / High Beta / Small Cap all of which is being hammered early). The Quad-Witch expiration leaves stocks vulnerable, with McElligott highlighting 3550 for the S&P 500 as a possible "flip" level…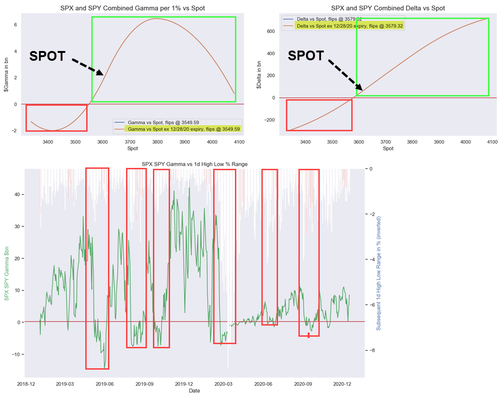 Additionally, US Treasuries rally sharply / bull-flatten…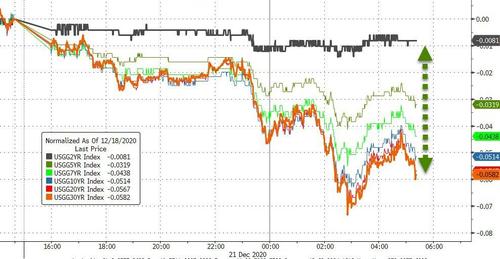 Source: Bloomberg
Commodities are crushed (CL1 -6.0% at worst levels, HGA -2.1%) and gold clubbed after some string overnight gains…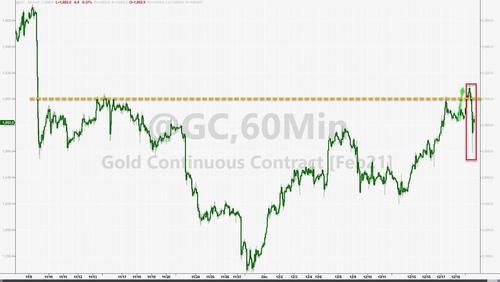 …and Vol squeezes sharply higher…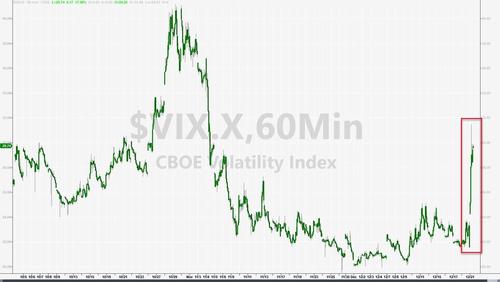 Interestingly, crypto is also getting monkeyhammered…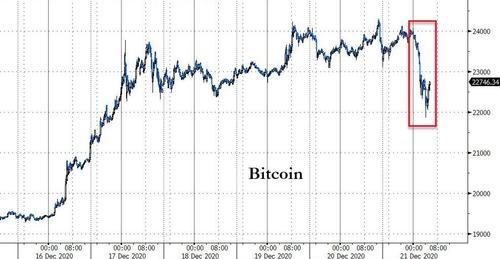 Source: Bloomberg
All of which may explain why this is about to happen…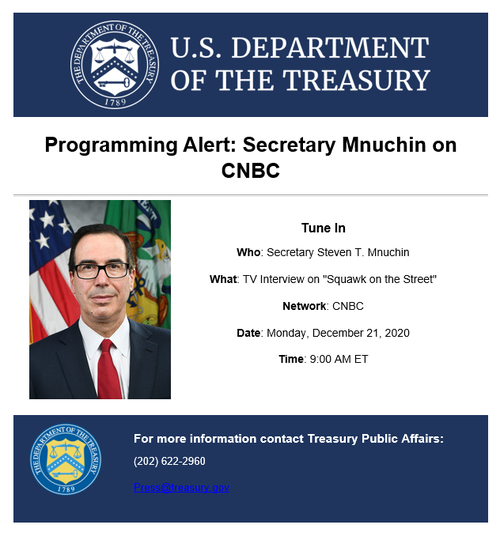 Somebody do something!!! Stocks are down 1-2% and we just promised to give them $900bn!