Despite Dr. Fauci's cries about how all vulnerable Americans should make sure to get their flu shots to protect against a deadly vortex of a COVID-19-supercharged flu season "twindemic", it appears influenza-related infections, hospitalizations and confirmed cases over the past couple of months have been much, much lower than the 'experts' had anticipated.
And on Tuesday, one day after publishing an editorial written by bossman Michael Bloomberg where the billionaire urged Joe Biden to "lead" on the fight against climate change (he even suggested Biden mandate sleepy ESG-focused financial disclosures), the financial news behemoth has decided to boldly question the accepted "science" (accepted by Bloomberg and many of its competitors, at least) about the brutality of the 2020-2021 flu season.
Scientists initially feared the most vulnerable people might be infected with both viruses simultaneously, prompting deaths to explode. Instead, rates of confirmed flu cases have plummeted – not just this winter, but earlier in the spring as well (though some have posited that the overwhelming impact of COVID may have had an impact) as COVID hammered the US, and particularly cities like NYC.
In an "Opinion" piece (though, we must confess, these sound more like facts to us), Bloomberg writer Justin Fox declares that the "Twindemic" can be relegated to the scrap heap of inaccurate projections related to COVID-19.
He starts by pointing out that by virtually every measure, flu cases in the US (and also in Europe, Australia and elsewhere) have fallen substantially since the beginning of the pandemic.
NYC, which keeps some of the best records on ER-related flu visits, has seen a startling drop.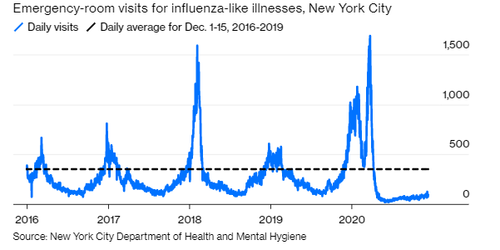 Other hospitals appear to have seen something similar.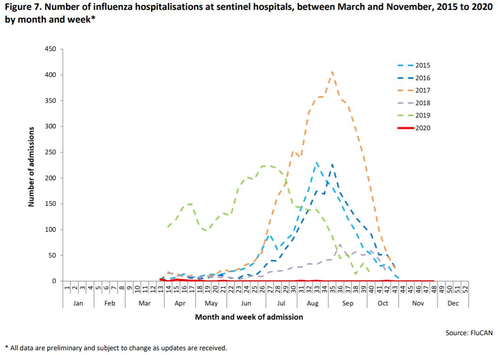 The slump in the number of positive tests would seem to confirm that cases are down across the country.
At one point in the article, Fox lists the fact that people may be afraid to seek treatment, or get tested, if they have the flu, and that this could be one reason for the drop. But given the similarity in symptoms, we imagine most people who get the flu will probably panic and get tested, and that – doctors being doctors – they will get tested for COVID, and, failing that, the flu (and given what we know about the massive false positive farce in PCR testing), the "lack" of flu 'cases' seems quite oddly coincident with the "surging wave" of COVID 'cases'. Some among the more vulnerable might panic and seek emergency care, only to learn that what they're suffering from is a mild case of the flu, not the onset of a potentially lethal bout with COVID.
Comparing this flu season to the last few years, it's worth noting that, for whatever reason, overall deaths were higher during the winter of 2017-2018 than they have been so far this winter. While it's important to remember that correlation is not causation and there are probably multiple factors at play here, if nothing else, it's a reminder that COVID-19 deaths must also be looked at in the context.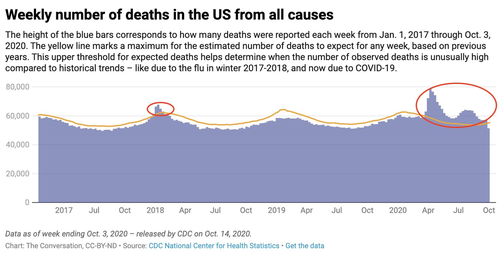 Offering up a revised forecast in its own piece pointing out the obvious reality that the spike in flu cases hasn't been nearly as bad as feared, the NYT quoted a source saying "it looks like the Twindemic isn't going to happen."
Here's what readers can expect according to a forecast based on the numbers through the first week of December.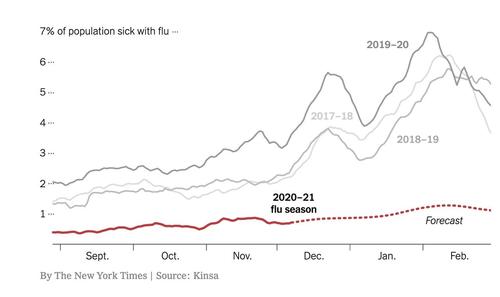 One wonders just how much of that vast gap between a 'normal' flu season and 2020 is filled by false-positive-PCR-Test-based COVID cases?
Circling back to the Bloomberg piece, Fox offers up what he says is probably the most convincing explanation for the drop in flu cases: recommendations like social distancing and mask-wearing (however effective, marginally effective, or ineffective it actually may be) have been even more effective at preventing influenza than Covid because influenza is so much less contagious than Covid.
Well, folks. There you have it.
Now, are we supposed to believe Dr. Fauci & Co. weren't able to anticipate this back in the summer?
Or were the warnings about the "twindemic" instead pushed subtly by big pharma to keep sales growing and, perhaps, provide more "buffer" to pour into development of the new COVID-19 vaccine…or at least maybe that's what they would like you to believe.
Paul Craig Roberts from the IPE expanded on all of this in a recent piece:
Is there no flu this year or is flu "the second wave of Covid?" Don't expect any honest answer from health authorities. They have the fear running strong, so strong that people are submitting to needless lockdowns that are causing economic havoc to their lives and to mask mandates that do more harm than good.

What is it all about?

Is it simply about vaccine profits for Big Pharma?

Or is it about getting people accustomed to arbitrary orders unsupported by legislation? Isn't what we are experiencing a takeover of our lives by the executive part of government?
Or is it about reducing human fertility? Experts report that the American vaccine contains anti-fertility elements that will make a percentage of the female population infertile. Why is there no public discussion of this? There are also expert concerns about the novelty of the way the vaccine is supposed to work. It is an approach never before used and has not had sufficient trials to know the consequences.
Just some food for thought.