Shares in once-legendary Polish gaming studio CD Projekt Red plummeted further on Friday after Sony removed the long-awaited, and botched, Cyberpunk 2077 from the Playstation store. What's more, the company is facing an internal revolt as employees are fuming over the studio's decision to push the glitch-plagued game out long before it was ready.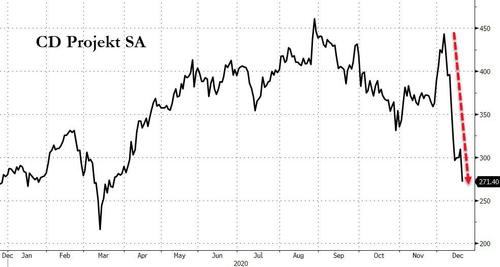 On Thursday, Sony Interactive Entertainment (SIE) announced that Cyberpunk 2077 would be removed from their online store, and promised refunds to those who already purchased the game after Playstation 4 (and Xbox One) console players discovered the game is virtually unplayable in its current form – despite the studio claiming it worked 'surprisingly' well on both platforms (while enforcing a strict embargo on pre-release reviews until 24 hours before it went live).
Of note, the company – which made the legendary Witcher 3, has promised to fix the glitches through a series of upcoming patches for the highly-anticipated game which had over 8 million pre-orders.
The PS4 version has a 3.1 Metacritic user score, while IGN gave it a 4 out of 10.
Bugs aside, people who are actually able to play and complete the game (mostly PC gamers), say the final product is hollow, boring, and did not live up to the hype. What's more, CD Projekt Red appears to have flat-out lied about several long-promised elements of the game, including:
– NPCs which were supposed to have 'next gen AI' which have daily routines, a high degree of interaction with the player, and unique reactions to events. Instead, they virtually ignore the player and have set, repetitive routines. Many complaining have compared it to Rockstar Games' 2018 Red Dead Redemption II, whose NPCs had all of the bells and whistles promised by CDPR (up to and including your horse's balls shrinking in the cold).
For comparison, here's how good AI is deployed in a game from 2016:
– Traffic AI is absolutely stupid:
– Character customization is another thing CD Project Red lied about.
See here for a much longer list of complaints.
And for an in-depth and perhaps the most honest review of the game to date, see here.
Meanwhile, CD Projekt Red employees are livid – lobbing angry questions at the board during an internal video meeting on Thursday, according to Bloomberg.
Developers asked blunt questions about the company's reputation, the game's unrealistic deadlines and the relentless overtime in the months and years leading up to the game's Dec. 10 release.

The meeting took place before Sony Corp.'s shocking announcement that it was pulling Cyberpunk 2077 from the PlayStation Store and will offer full refunds to any customer who requests one. During the staff meeting, CD Projekt's directors said they had come to an arrangement with Sony but didn't offer specifics. In a Twitter post on Friday, the company said that "following our discussion with PlayStation, a decision was made to temporarily suspend digital distribution" of the game.
One employee asked the board why they announced in January that the game was "complete and playable" when that wasn't true, to which the board said they would 'take responsibility.' Another developer asked if the board felt like hypocrites for creating a game about corporate exploitation while expecting extreme overtime from developers.
"Several current and former staff who worked on Cyberpunk 2077 have all said the same thing: The game's deadlines, set by the board of directors, were always unrealistic. It was clear to many of the developers that they needed more time."