Summary:
Cuomo to close NYC restaurants if hospitalizations don't fall
Merkel weighs new 1-week lockdown
Dr. Fauci warns people not to gather for Christmas, post-Thanksgiving surge still a week away
Sets new lockdown target
Merkel warns Germany needs new lockdown
Canada commits to buying 20MM more doses of Moderna vaccine
UK COVID vaccinations to begin Tuesday
US 7-day cases hit new record
38 states seeing rising daily case numbers
Global cases top 67MM
Biden announces top public health appointees
India reports less than 33K cases
Japan sends military nurses to help out in Osaka
South Korea confirms 615 cases
Germany should tighten measures in hot spots
* * *
Update (1125ET): Dr. Fauci joined NY Gov Andrew Cuomo on Monday for the governor's latest press briefing, where the governor warned that he would move to expand hospital capacity by 25% and set new targets for when additional restrictions would kick into gear across the state. Specifically, if hospitalizations don't stabilize, Cuomo warned, additional restrictions will be imposed. Indoor dining capacity could be reduced to 25% – from 50% – across the Empire State, while dining rooms could again be shuttered entirely in NYC.
NEW: If after 5 days a region's hospital rate has not stabilized, indoor dining will close or be reduced.

-In NYC, indoor dining would close entirely.

-In rest of the state, indoor dining would be reduced to 25% capacity.

— Andrew Cuomo (@NYGovCuomo) December 7, 2020
Dr. Fauci added that the upcoming winter, particularly the middle of January, "could be a really dark time for us without substantial mitigation"…
Dr. Fauci makes an appearance at NY Gov. Cuomo's press conference with a warning:

"… the middle of January could be a really dark time for us." pic.twitter.com/Lx1BvBZuuK

— The Recount (@therecount) December 7, 2020
…a ten-person gathering limit for the Empire State "could still be too much", continuing on from his earlier warnings urging Americans not to gather with family this Christmas. He also warned the expected surge in cases caused by Thanksgiving-related travel was still at least a week away.
Watch the rest of the live briefing below:
Dr. Fauci is joining today's COVID briefing.

Watch Live:https://t.co/O3sa1g6AT4

— Andrew Cuomo (@NYGovCuomo) December 7, 2020
In other news, Merkel is now reportedly aiming to close retail shops from between Dec. 27 and Jan. 3, according to local press. On a completely different topic, Biden's transition team has yet to have talks with the WHO.
* * *
Update (1015ET): After warning earlier that Germany would need to tighten its lockdown measures as world's largest economy has struggled to repeat – or, in fact, come anywhere close to replicating – its successes from the first springtime wave of the virus.
To help underscore the Chancellor's demands for a more formidable response, comments from a meeting with party colleagues have leaked out expressing an increasingly dire outlook on the country's situation, with Merkel warning that the current measures "will not get us through the winter."
To be sure, Germany's health-care system and economy are more advanced and durable than what's available to many of its European peers. And Germany also is home to one of the largest anti-lockdown movements in Europe.
Earlier, Merkel also doubled-down on her insistence that the developed world must work together to ensure poorer nations have equitable access to vaccines = something that Bill Gates has also cited as a top priority.
"We must never forget that the pandemic can only be truly beaten when everyone in the world has equitable access to effective vaccines," German Chancellor Angela Merkel said during remarks at a special EU summit.
Meanwhile, as we await more news on the vaccine, Canada has reportedly committed to buy another 20MM doses of Moderna's product.
* * *
Britain's big day is almost here. After the first shipments of the Pfizer COVID-19 vaccine doses arrived in the UK on Sunday (stored in their specialty temperature-sealed containers, of course), the country's health-care system is preparing to start doling out the first jabs on Tuesday.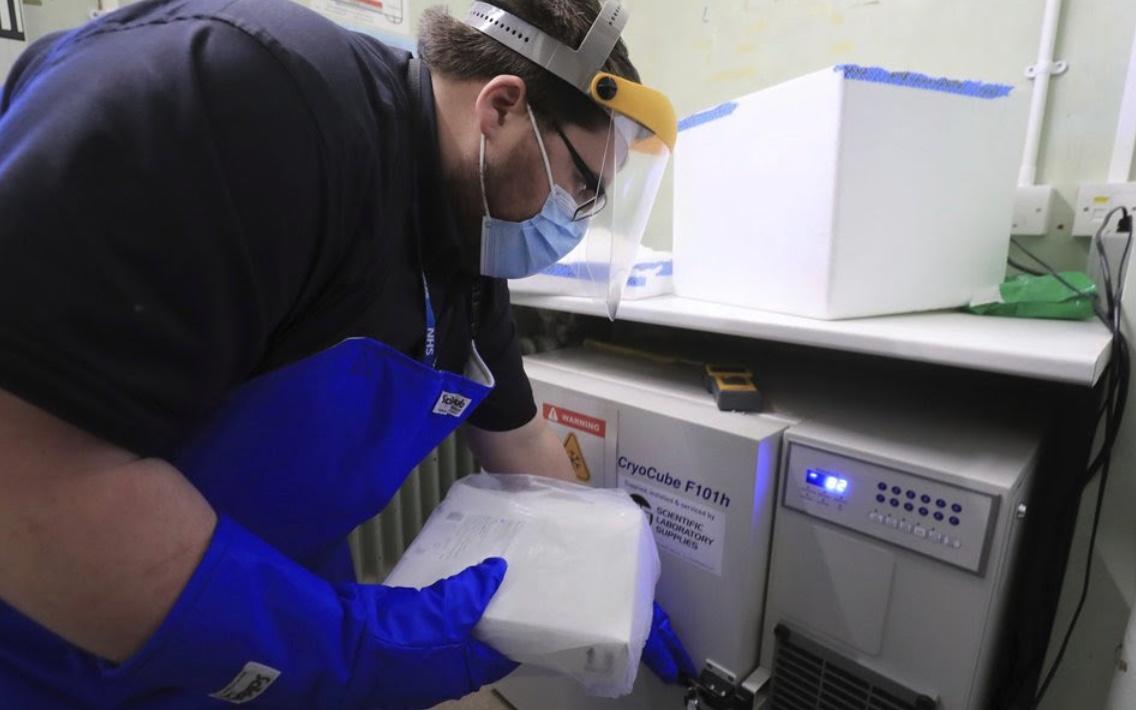 In an attempt to underscore the importance of this day, Health Secretary Matt Hancock has branded it "V-Day," a reference to Britain's triumph in WWII. An NHS pharmacist who was among the first to receive supplies of the vaccine told the AP that the situation was "just amazing".
"To know that they are here, and we are amongst the first in the country to actually receive the vaccine and therefore the first in the world, is just amazing," said Louise Coughlan, joint chief pharmacist at Croydon Health Services NHS Trust, just south of London. "I'm so proud," she added. Vaccinations will be administered starting Tuesday at around 50 hospital hubs in England. Scotland, Wales and Northern Ireland will also begin their vaccination rollouts the same day.
According to the AP, health agencies and governments around the world will be closely monitoring the British vaccination programs, which will take months to finish. They will be closely noting any successes or failures, as the British people essentially become a type of guinea pig for new mRNA vaccines.
Britain is planning to continue researching the efficacy of several alternative COVID vaccines as the WHO on Monday weighs the ethics of proposed "human challenge" trials that involve  deliberately infecting young health patients with the virus to directly test the efficacy of various products, and compare them to one another.
Russia on Saturday began vaccinating thousands of doctors, teachers and others at dozens of centers in Moscow with its Russian-made Sputnik V vaccine, which was approved over the summer after being tested in only a few dozen people.
The excitement in Britain, which has Europe's highest virus-related death toll at more than 61,000, was palpable.
"Despite the huge complexities, hospitals will kickstart the first phase of the largest scale vaccination campaign in our country's history from Tuesday," said Professor Stephen Powis, the national medical director of NHS England.
Meanwhile, in the US, DHHS head Alex Azar said Sunday that the FDA could grant its emergency approval to the Pfizer vaccine as soon as Thursday, allowing the first vaccinations to begin in a matter of hours. Azar added that he believes any American who wants a vaccine should have access to one by the end of Q1. In Germany, which has been slightly more cautious with its approvals, said Monday that it aims to vaccinate 10 million people by the end of the first quarter.
Global confirmed COVID cases topped 67MM on Monday, driven by more record numbers out of the US. In the US, confirmed cases surpassed 14.5MM late Sunday, while confirmed COVID deaths near the 275K mark. The 7-day average for new cases in the US climbed to a new record Sunday as the US reported another 176.8K new cases, breaking below 200K for the first time in five days. Still, the 7-day average climbed to 191K.
Daily deaths topped 2K once again, while hospitalizations hit 101.5K, yet another record.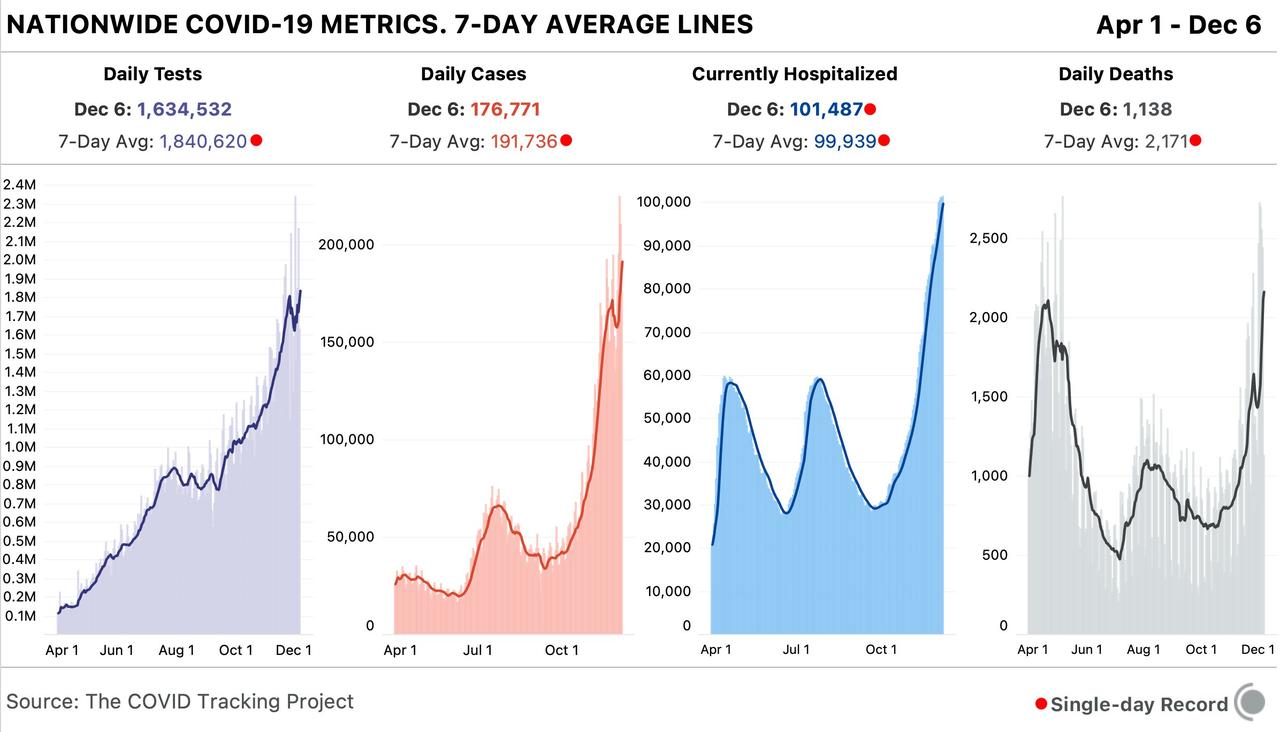 As temperatures drop in the northeast and frigid midwest and plain states, hospitalizations per capita in the Northeast have outpaced the peak from the worst of the Sun Belt's outbreak over the summer.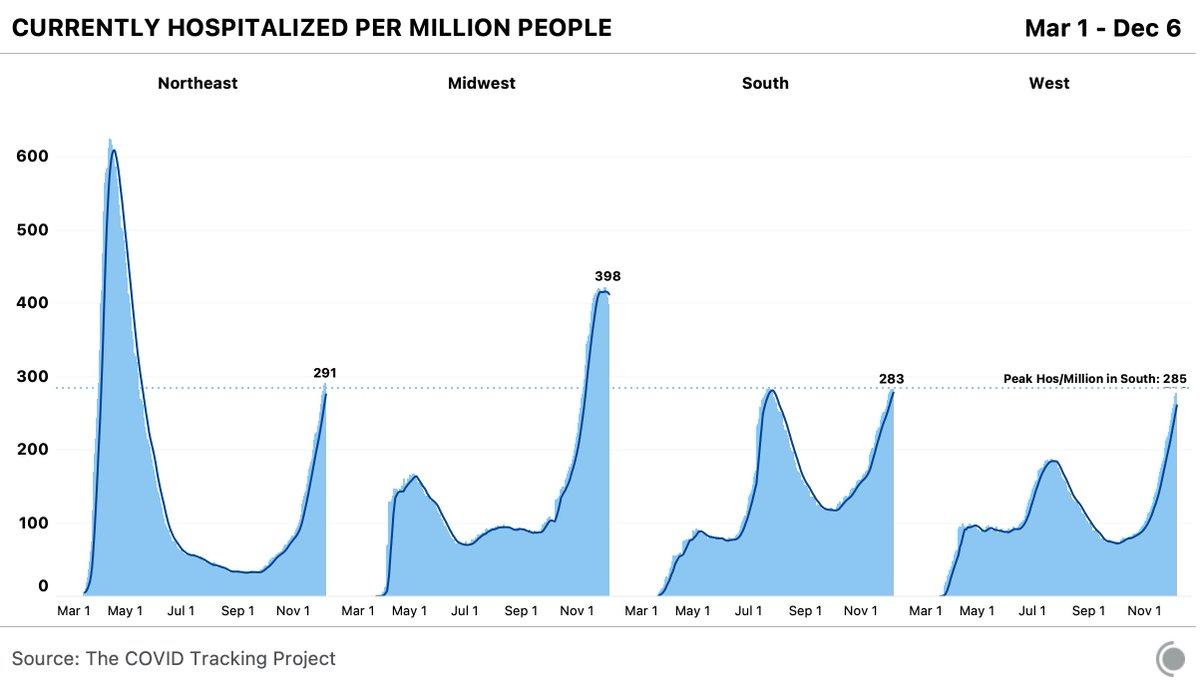 38 states are reporting rising daily case numbers, though badly hit states like ND, SD, IL, WI & IA.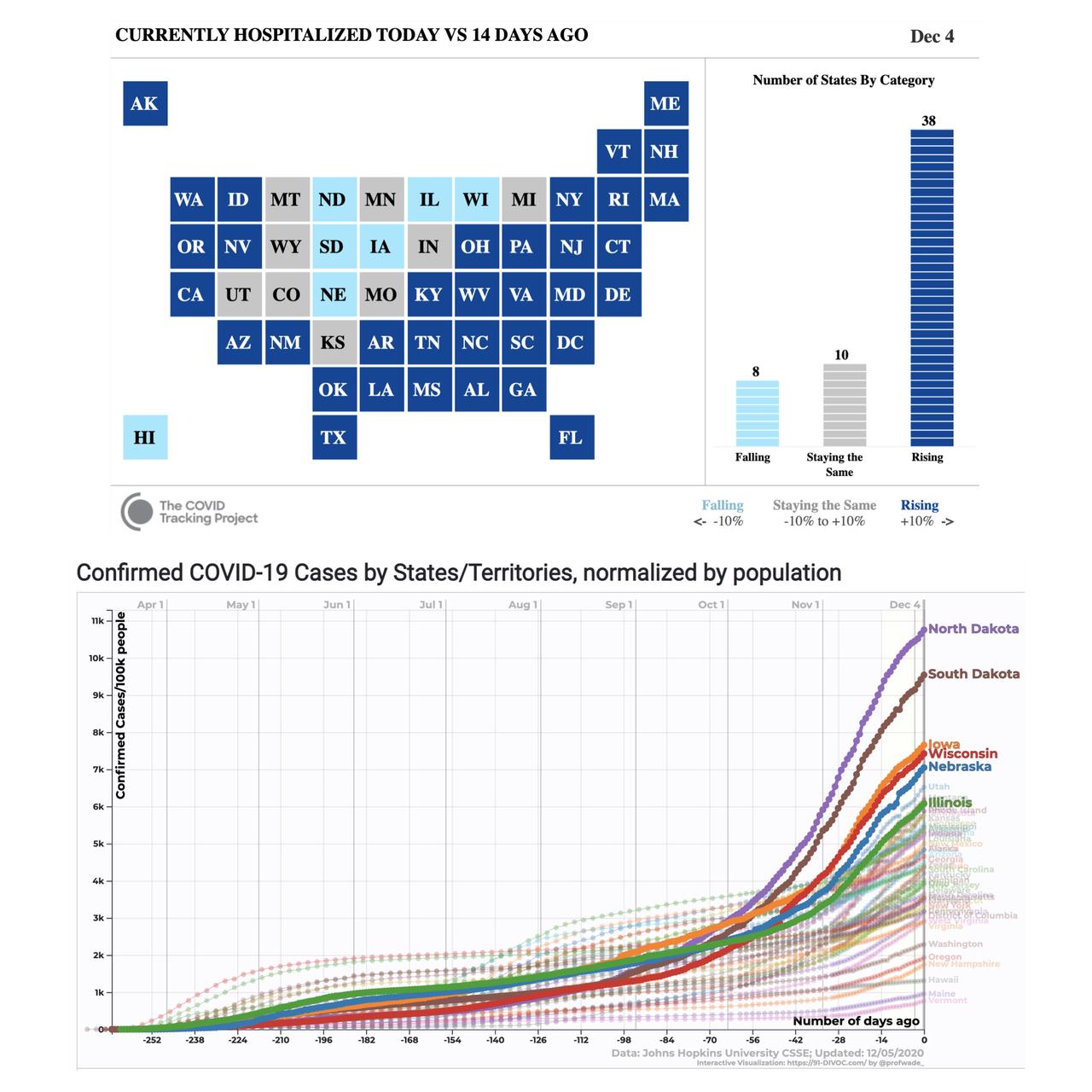 Here's some more COVID-19 news from overnight and Monday morning:
US President-elect Biden is expected to nominate Massachusetts General Hospital Chief of Infectious Diseases Rochelle Walensky to run the CDC, while he is also to nominate California Attorney General Becerra as HHS Secretary (Source: Newswires).
China's Sinovac said it secured approximately USD 500mln in funding for COVID-19 vaccine development and expects to be able to manufacture 300mln COVID-19 vaccine doses annually, while it seeks to complete the construction of a 2nd facility by year-end which its targets to double its capacity (Source: Newswires).
India reports 32,981 cases in the last 24 hours, down from 36,011 the previous day, bringing the country total to 9.68 million. Deaths jumped by 391 to 140,573 (Source: Nikkei).
Osaka Gov. Hirofumi Yoshimura tells reporters he has asked the central government to send nurses from the Self Defense Forces to help operate the prefecture's new COVID-19 treatment facility for seriously ill patients. Chief government spokesman Katsunobu Kato had said Monday morning that Japan was prepared to send SDF nurses to Osaka and Hokkaido (Source: Nikkei).
Two leading coronavirus vaccine developers – Pfizer Inc. and AstraZeneca Plc – have applied for emergency use authorization in India, according to the Press Trust of India (Source: Bloomberg).
South Korea confirms 615 cases, down from 631 a day ago, bringing the country's total to 38,161 with 549 deaths. The government will tighten social distancing rules in greater Seoul from Tuesday, closing karaoke bars, gyms and indoor sports centers (Source: Nikkei).
Germany should tighten measures in hot spots, Helge Braun, Chancellor Angela Merkel's chief of staff, said in an online talk with Bild newspaper (Source: Bloomberg).