Connecticut Gov Ned Lamont is showing Gov Andrew Cuomo the error of his attention-seeking ways. While Lamont has been more than comfortable playing a supporting role in the alliance of northeastern governors led by Cuomo, Bloomberg pointed out in a recent piece that tiny Connecticut had surpassed the neighboring Empire State by taking a different, significantly looser approach to vaccinating its most vulnerable residents.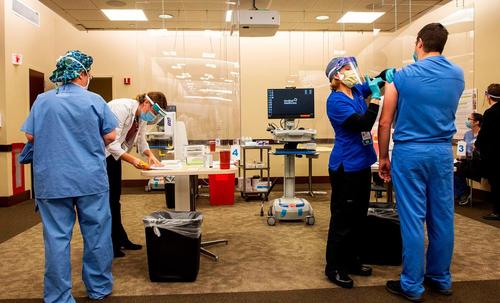 As we reported yesterday, after enduring a torrent of criticism, Cuomo has finally reversed his strategy for vaccinating New Yorkers in a truly "equitable" manner, after discovering that his tight restrictions and hefty penalties was forcing hospitals to slow the pace of vaccinations to a crawl. 
After finally relenting, Cuomo said the other day that New York would start scheduling vaccination appointments for seniors, teachers and first responders, as well as New Yorkers 75+.
Bloomberg's vaccination tracker shows New York has administered just 38% of the shots it has received from the US government as of Jan. 7. Connecticut has worked through 46% of its supply.
Connecticut has given 3.26 doses per 100 people in the state, while NY has given 2.46 doses per 100 people.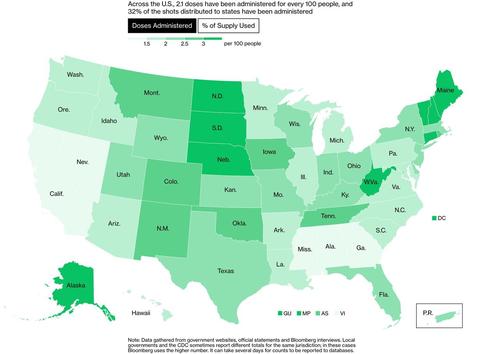 High-risk hospital workers (emergency room and intensive-care staff) were first in line in the Empire State, while other health-care personnel such as independent doctors were set to be vaccinated later, though Cuomo opened vaccination to them Monday.
Cuomo on Friday said the guidelines were designed to protect the people treating coronavirus patients, but they ultimately caused frustration among some health-care workers. Jana Dehovitz, a pediatrician in Brooklyn, unsuccessfully tried to get vaccinated for weeks. She said she was frustrated hearing stories of politicians and specialists at large health systems who don't see patients receiving their shots.
"Are they going to come see our patients for us since they'll be protected?" Dehovitz said. She got the first of a two-course shot Thursday.
Of course, the US rollout has fallen short of projections set months ago by Operation Warp Speed. While the initial round of shots through early January has been doled out primarily via hospitals, the next phase will draw more on pharmacies and health clinics (ie places where vaccines are more traditionally administered) and will broaden the pool of people eligible to get the shots).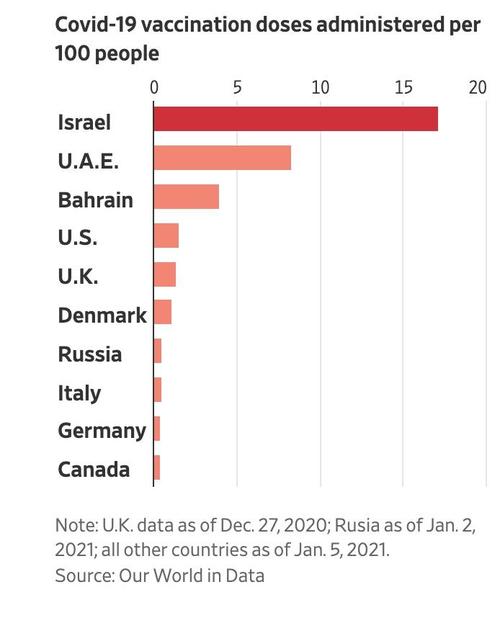 Source: WSJ
As the chart above shows, Israel is leading not only the US, but most of Europe and the Middle East as well. Still, we look forward to watching CNN, MSNBC and the rest of the medi