Authored by Frank Fang via The Epoch Times,
Beijing is looking forward to a new U.S. administration after Chinese foreign minister Wang Yi said Democratic presidential nominee Joe Biden represented a "new window of hope" for the Sino–U.S. relationship.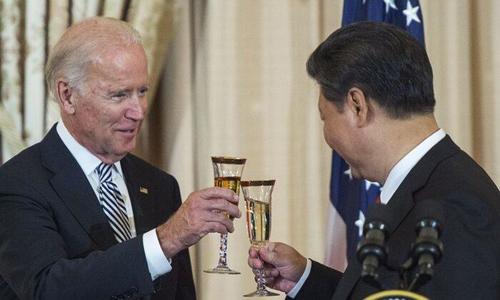 Wang made the remarks last week in an interview with Chinese state-run media Xinhua and China Media Group. He also expressed hopes that the incoming U.S. administration will "return to a sensible approach," according to a government transcript.
He took a swipe at the Trump administration, saying that in recent years, the United States has tried to "suppress China and start a new cold war." The Chinese regime has frequently used this rhetoric, especially during the 2018–2019 trade war, to criticize the administration's China policies.
He also accused U.S. policymakers of having "serious misconceptions" about China and called on the United States to "respect" China's social system.
Wang concluded his interview by saying that the two countries could resolve their differences "as long as the United States can draw lessons from the past and work with China in the same direction."
The Trump administration has confronted the Chinese Communist Party (CCP) on a range of issues, including unfair trade practices, espionage, malign influence in the United States, security threats posed by Chinese technology, and its human rights abuses against religious minorities and Hong Kong residents.
Biden's critics have expressed concerns that an administration under him would be soft on China, and Chinese state-run media have openly stated their preference for Biden.
Most recently, China's state-run media Global Times, in an article published on Jan. 5, used the sudden decision by the New York Stock Exchange (NYSE) not to delist three Chinese telecom companies as a sign that a more "flexible" administration under Biden would be more friendly toward Beijing. The NYSE has since reversed course again, saying on Jan. 6 that it would go ahead with delisting them.
"Chinese experts translated the move as a voice of reason from some in Wall Street and US political circle [sic], who wish the incumbent US president won't hamstring the incoming Biden administration in making decisions related to China," the article stated.
It also cited a Chinese professor who said U.S. politicians and businessmen would prefer "flexibility" under Biden over Trump's "boundless style of bullying."
On Dec. 31, 2020, the NYSE announced that it would begin the process of delisting China Mobile, China Telecom, and China Unicom, in compliance with Trump's executive order, as the three companies were found by the Pentagon to have ties to the Chinese military.
In a commentary article published in the Chinese-language Epoch Times last month, Zhong Yuan, a researcher focused on China's political system, explained that the CCP preferred a Biden presidency because he would implement a policy of engagement with Beijing.
The CCP's favorable stance toward Biden was reflected in an opinion article published by Xinhua on Dec. 19, 2020, according to Zhong. The article stated that the Trump administration had left behind "a mess" and considered what his successor should do.
Zhong said there was an urgency for the CCP to start working with Biden because there's internal division within the Party about how to handle deteriorating Sino–U.S. ties. Zhong said the division was evident in another Xinhua opinion article published in December 2020, that denounced "certain people" for spreading "favorable comments" about the United States.
The division threatened the position of Chinese leader Xi Jinping within the Party, Zhong said, and was likely the reason Chinese state-run media took up the position of supporting Biden.