The developing China-Australia trade row which initially sprang out of Australia's joining other countries in criticizing Beijing's handling of the coronavirus crisis has just taken a bizarre and sinister turn.
It started early Monday when China's foreign ministry spokesman Zhao Lijian posted a disturbing image to Twitter depicting an Aussie soldier about to slit the throat of a child in Afghanistan. The grinning soldier held a bloody knife to the distressed child, who is seen holding a lamb, which is a symbol of innocence.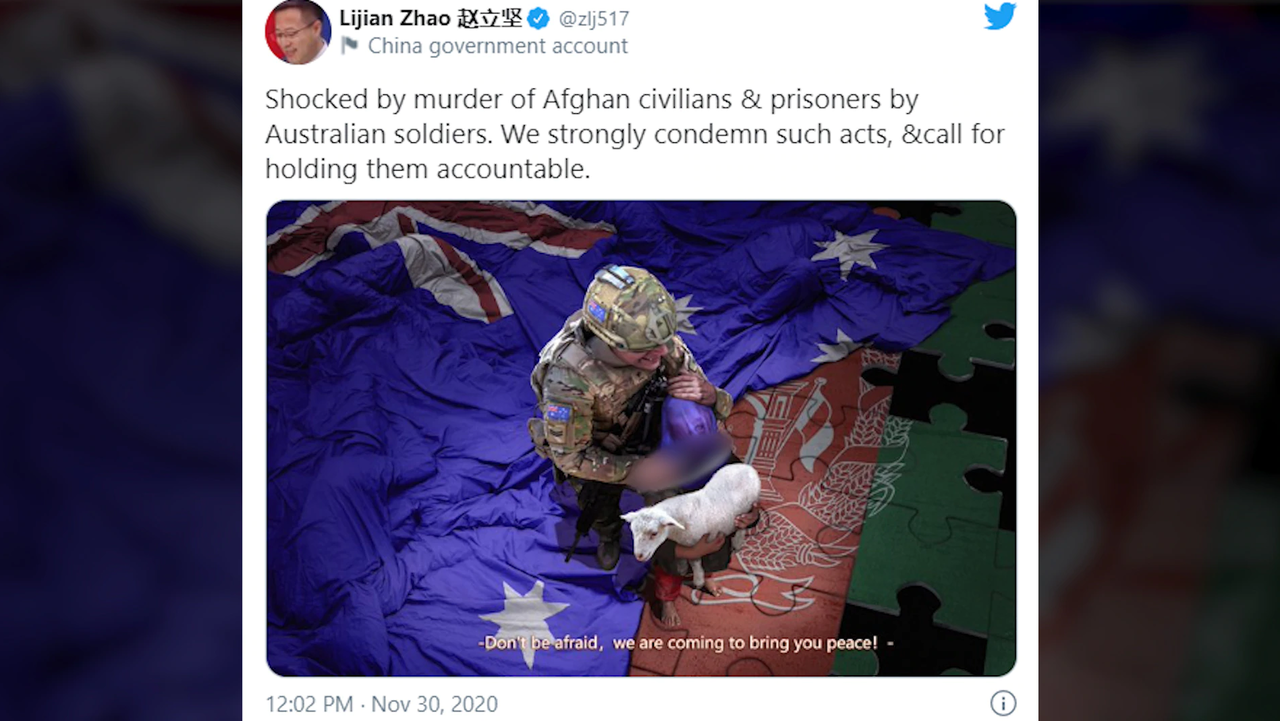 Australian leaders and media were quick to point out it is a doctored or "fake" image and demanded that Lijian remove it immediately, and that Twitter take action over the account. 
"It is utterly outrageous and cannot be justified on any basis," Australian Prime Minister Scott Morrison said. "The Chinese government should be utterly ashamed of this post. It diminishes them in the world's eyes."
Morrison and others demanded a formal apology out of China over the "repugnant" image and tweet. But China's foreign ministry refused calls to apologize, instead doubling down on its charge that Australia appears less ashamed over its egregious war crimes in Afghanistan and more concerned over public embarrassment based on a tweet.
It comes after earlier this month Australia was rocked by scandal when a detailed investigation known as the Brereton War Crimes report revealed that Aussie special forces were implicated in up to 39 or more "unlawful killings" of Afghan civilians and prisoners. At least 13 Australian soldiers are facing criminal charges after horrific details emerged that they were killing random civilians essentially for sport, in something they called "blooding" – or initiating a special forces new join into war by orchestrating their first kill and then covering it up.
I don't typically follow Zhao Lijian's posts. Someone might need to teach @ScottMorrisonMP about the Streisand effect

I'm confused how ScoMo seems enraged at Tweets more than his military slaughtering 39 Afghanis for fun

Priorities of politicians I guess are different from mine pic.twitter.com/V5V7TKGiUu

— Shaun Rein, Founder of CMR (@shaunrein) November 30, 2020
Here's how China responded to the demands for an apology:
"It is the Australian government who should feel ashamed for their soldiers killing innocent Afghan civilians," said Hua Chunying, China's foreign ministry spokeswoman, when asked about Morrison's comments.

The image posted by her colleague shows people's "indignation," said Hua, speaking at a regular news conference in Beijing on Monday. Whether it will be taken down is a matter between Twitter and the Australian government, she said.
Australia demands apology frm China for Chinese Spokesperson tweeting a political cartoon depicting real war crimes that Australia committed against Afghan civilians 👀 pic.twitter.com/afJ3Hlhykg

— Carl Zha (@CarlZha) November 30, 2020
It is indeed clear that the tweet was meant to highlight the shocking history of well-documented war crimes by Australia in central Asia, and is the latest in Canberra being forced to play on the defensive with China, after major commodities exports earlier this month were blocked and/or were hit with huge tariffs by China.
Zhao had written on Twitter alongside the image: "Shocked by murder of Afghan civilians & prisoners by Australian soldiers. We strongly condemn such acts, & call for holding them accountable."
As of late in the day Monday (local time), the tweet is still up and has not been blocked or taken down by Twitter.