China's PLA military says it tailed an American warship through the Taiwan Strait on Saturday, which makes precisely a dozen such incidents in the contested strait in 2020.
In a new statement the PLA's Eastern Theatre Command said it scrambled air and naval forces which "tailed and monitored" the US Navy vessel. 
Beijing further charged that the destroyer's provocative passage was meant as a "flirtatious" message to political forces seeking Taiwan's "independence".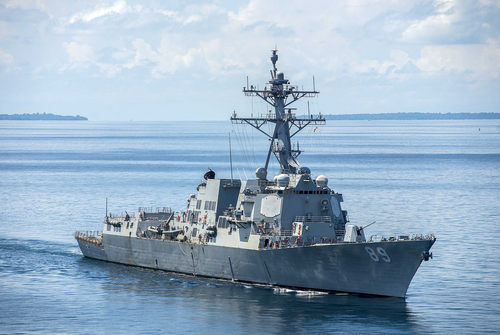 The Chinese statement said:
"[US missions] deliberately raise the temperature of the Taiwan issue, as they fear calm in the Taiwan Strait, and send flirtatious glances to Taiwan independence forces, seriously jeopardizing peace and stability in the strait", the Chinese statement said.
The US Navy confirmed the sail-through by the guided missile destroyer USS Mustin, which it considers a routine 'freedom of navigation' operation in international waters in a follow-up statement.
According to Reuters:
The U.S. Navy said the guided missile destroyer USS Mustin had conducted "a routine Taiwan Strait transit (on) Dec. 19 in accordance with international law".

"The ship's transit through the Taiwan Strait demonstrates the U.S. commitment to a free and open Indo-Pacific," it added.

This is the 12th sailing through the strait by the U.S. Navy this year.
#USSMustin conducts Taiwan Strait transit during routine @US7thFleet operations: https://t.co/SMHIqdK82g #DDG89 #FreeandOpenIndoPacific pic.twitter.com/Kx1SSAlbCV

— U.S. Pacific Fleet (@USPacificFleet) December 19, 2020
Meanwhile Taiwan's Defense Ministry said the USS Mustin's movements through the passage were legitimate and that "the situation was as normal."
Tensions are on edge during this final countdown of the last weeks of the Trump presidency, wherein the president is still ratcheting up various sanctions and punitive actions against Chinese tech companies and government officials, also related to the Hong Kong issue. Washington has also of late pursued an unprecedented number of major weapons sales to Taiwan, which Beijing considers a severe violation of the 'One China' policy status quo.