China, which a little over a year ago unleashed a global pandemic on the world which reshaped economies, global supply chains, capital markets, and societies and was directly responsible for the downfall of a US president, was hell bent on demonstrating that it was the biggest winner from said plague, and early on Monday local time, Beijing's National Bureau of Statistics announced that Gross Domestic Product in 2020 growth beat expectations of 6.2% to reach 6.5% in the fourth quarter of last year, with the economy expanding 2.3% for the full year 2020, making China the only major economy to expand last year on the back of an unprecedented multi-trillion credit expansion.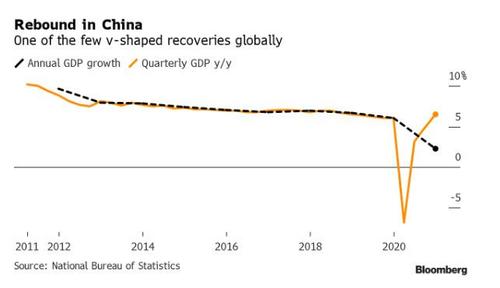 That China's sprawling economy managed to calculate all this just two weeks into the new year was perfectly normal as nobody actually believes any "data" out of China; instead all that matters is what Beijing wishes to telegraph to the outside world, and for now that message is "all is well."
The "data" underlines a rapid turnround in the world's second-largest economy, which declined in early 2020 for the first time in more than four decades after the country was hit by the pandemic and authorities imposed a harsh lockdown. 
The recovery was aided by record fiscal and monetary stimulus that boosted investment in infrastructure and real estate. Once China had virus cases under control and factories were able to resume production, growth was spurred by strong overseas consumer demand for Chinese exports, especially medical equipment and work-from-home devices.
Despite the stronger than expected GDP, overall December activity data were mixed – industrial production growth was stronger than market expectations, but retail sales and fixed investment growth were below market expectations. In particular, December industrial production came in at +7.3% yoy, above market expectations, and was faster vs. November. Based on IP by major product data, cement production decelerated to 6.3% yoy in December from 7.7% yoy growth in November; steel product production grew 12.8% yoy in December vs. 10.8% yoy in November; electricity production accelerated to 9.1% yoy, from +6.8% in November. Meanwhile, retail sales missed expectations and slowed from November – in December, retail sales growth was 4.6% yoy, vs. +5.0% in November. Automobile sales growth slowed to +6.4% yoy (vs. +11.8% yoy in November). Fixed investment growth also weakened in December. On single month basis FAI growth was +5.1% yoy in December (vs. +9.4% yoy in November), and on a full year year-over-year basis, FAI growth was +2.9%yoy in 2020, below market expectations.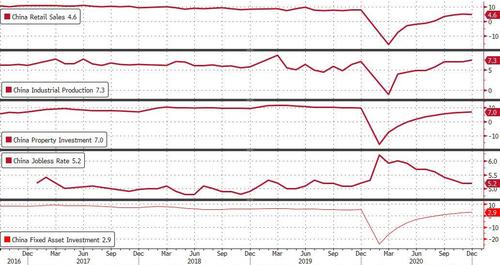 "The quarter really seems to have shown the economy ended the year on a strong note, manufacturing is doing well," said Cui Li, head of macro research at CCB International Holdings in Hong Kong said in an interview with Bloomberg Television. The softer-than-expected retail sales data in December may reflect the cooler weather and the resurgent virus in northern parts of China as some cities enforce new restrictions to control the outbreak.
Separately, the unemployment rate was unchanged at 5.2% in December, while fixed asset investment added 2.9% over the full year, while real estate investment jumped 7% .
Ning Jizhe, head of the National Bureau of Statistics, said the economy "recovered steadily" last year but added that the "changing epidemic dynamics and external environment pose a multitude of uncertainties".
China's activity was boosted by shifts in orders as other countries struggled with virus outbreaks and further lockdowns, which was evident in the continued jump in China's exports, while factory data had been encouraging during the prior quarter as November Official Manufacturing PMI printed its strongest reading in over 3 years and although it then eased in December, it still registered the 8th consecutive month in expansion territory.
The GDP figures, which beat expectations, came days after China recorded its highest-ever monthly trade surplus in December, stoked by three consecutive months of double-digit exports growth. Exports rose 18% last month compared with the same period in the previous year.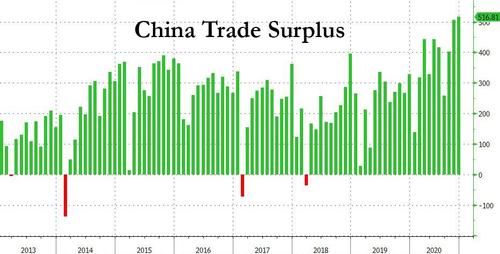 Meanwhile, global demand for Chinese-made goods is expected to remain strong as the pandemic continues to keep large parts of the world's population locked down. Already the top exporter, the value of China's goods shipments increased 3.6% in 2020, according to official data. Imports declined 1.1%, resulting in a $535 billion annual trade surplus, the highest since 2015.
Of course, there is nothing organic about China's resurgent growth and the fiscal and monetary stimulus to support the economy has been accompanied by a record surge in debt, a development that authorities are now seeking to address as the recovery takes hold. At a December meeting to lay out economic goals for 2021, the ruling Communist Party signaled that stimulus would be gradually withdrawn, although it would avoid any "sharp turns" in policy.
In terms of forecasts, economists expect China's GDP will expand 8.2% this year, continuing to outpace global peers, even as other large economies begin to recover with vaccines being rolled out. Chinese President Xi also recently touted positive growth whereby he expects China's 2020 GDP to exceed CNY 100tln after around CNY 99tln in 2019. The country's mandated return to growth last year attracted strong appetite from foreign investors, who injected about 1 trillion yuan ($154bn) into Chinese stocks and bonds  in 2020.
As with anything China related, there is always the question how manipulated this "data" is: in China, where new cases of Covid-19 slowed to a trickle in the middle of 2020, but a recent outbreak in the northern province of Hebei has prompted a renewed wave of social restrictions and lockdowns. Last week, the country reported its first coronavirus death since April.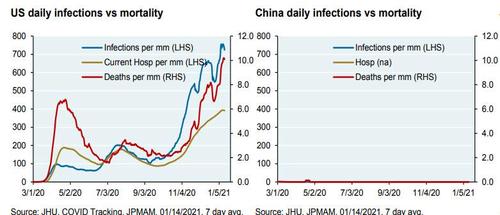 The ongoing recovery in 2021 will depend on whether China can prevent a large-scale spread of virus infections, and on whether it can pass the baton of spending from local governments and large state companies to smaller businesses and consumers. Household spending and investment by manufacturing companies has lagged overall growth in 2020.
In any case, the onshore yuan strengthened as much as 0.06% to 6.4779 versus the dollar after the release of GDP data, while the ChiNext Index of small caps gained 1.6%. The yield on the most actively traded contract of 10-year government bonds gained 2 basis points to 3.165%, set for the highest in two weeks.