As the CCP scrambles to ship tens of thousands of people out of Shinjiang into designated "quarantine centers" across Hebei province, Chinese authorities have confirmed 100+ new cases of COVID-19 for the sixth straight day on Monday as infections continue to rise in Hebei, the northeastern province surrounding Beijing, where an outbreak centered around the city of Shijiazhuang, only 300 kilometers (186 miles) from Beijing, has been festering for weeks.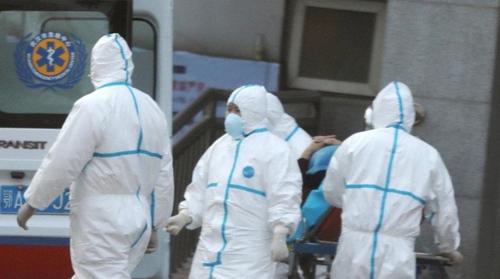 Rising infection numbers in China are unsurprisingly triggering anxieties and international media coverage as the world prepares for the Lunar New Year holiday, the travel season that helped spread the virus around the world one year ago, when the CCP failed to stop citizens from Wuhan from traveling across the country, the region and the world.
So far this year, 457 new cases have been confirmed in the region, though Beijing has long been suspected of under-reporting the numbers.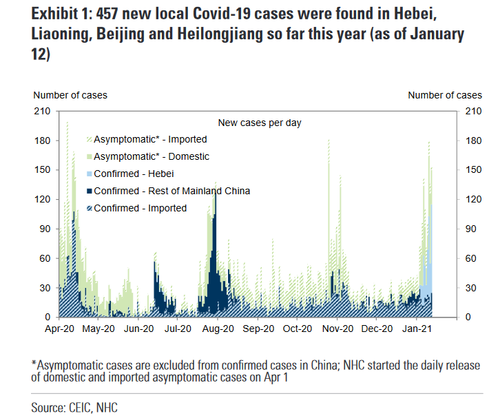 Officials have been ratcheting up travel restrictions and other social distancing rules in cities across the region, with the new controls in the city of Gongzhuling in Jilin province, which has a population of about 1MM people, brings the total number of people under lockdown to more than 29MM.
In other related news, as more questions arise about the efficacy of some of the Chinese COVID vaccines, Hong Kong's government-appointed vaccine advisory panel is seeking more data from the Norwegian and German governments on the reported deaths of elderly people after they received the Pfizer-BioNTech as fears about "adverse" health reactions.
Still, the panel recommended the shot for use in Hong Kong, though they  but would ask the government to stop administering it "as soon as we receive information that tips the balance ratio of risks and benefits". The panel is also seeking more information on the deaths from Shanghai Fosun Pharmaceutical which is marketing the vaccine in mainland China, Hong Kong, Macau and Taiwan.
Circling back to the official tally, NHC Minister Ma Xiaowei said over the weekend that outbreaks in the northeast have come from travellers entering the country or contaminated frozen food imports. China is the only country to claim COVID-19 can be transmitted via cold chain imports, even though the WHO has downplayed the risks.