The Beijing meteorological station recorded one of the coldest temperatures in decades this past week, sending power demand through the roof. 
Lei Lei, the chief forecaster for Beijing meteorological station, told China Daily that the first cold wave in 2021 features a "dramatic temperature drop," "significant wind-chill effect," and "prolonged period of low temperature."
On Jan. 7, Beijing recorded the coldest day since the 1960s while cities such as the eastern port city of Qingdao recorded the lowest temperature in history, according to Reuters.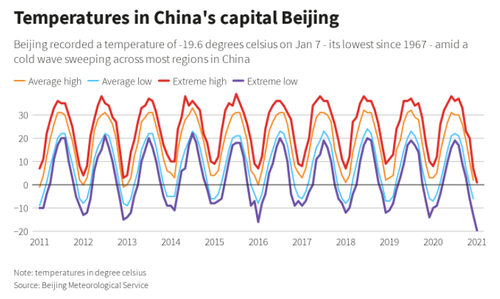 China's State Grid reports peak power load hit record highs in at least nine provincial grid systems in northern China. These areas are considered China's industrial belt, where a manufacturing recovery is underway.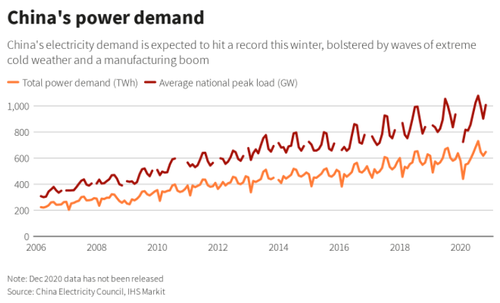 "The (latest) historic peak load came as extremely cold weather increased demand for electricity-powered heating facilities, which account for 48.2% of total load," an official from the State Grid was quoted by Reuters. 
China has spent the last several years swapping out coal-burning power stations for electricity-fueled heating devices as part of a green energy campaign to combat air pollution in northern regions. Power demand has been so high because of the severe cold that state-backed China Huaneng Group had to fire up a coal plant earlier this month to meet surging electricity demand. 
Last month, China imported a record volume of liquefied natural gas as heating fuel demand soared for tens of millions of households. 
According to Goldman Sachs, colder temperatures may increase the probability of COVID-19 outbreaks. This week alone, China implemented travel restrictions in Hebei, a province neighboring Beijing after a spike in coronavirus cases. 
A possible theory behind the wicked cold weather in China could be sudden stratospheric warming pushing colder air into Asia.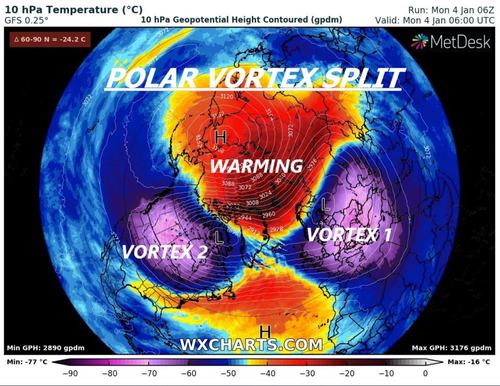 If SSW theory is correct, this would mean a weakening polar vortex would also bring colder air into Europe and the US.