Update: The hits keep coming for Jack Ma as China has formally kicked off an investigation into alleged monopolistic practices at Alibaba Group Holding Ltd., escalating a campaign of scrutiny over the country's internet giants. According to a statement by the regulator:
Recently, the State Administration of Market Supervision, based on reports, filed investigations into Alibaba Group Holdings Co., Ltd. for suspected monopolistic conduct such as "choosing one over the other".
BABA shares tumbled in after hours trading to its lowest since July…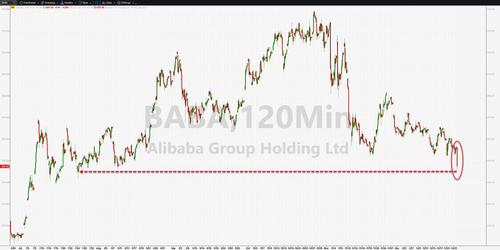 Regulators said separately they've summoned affiliate Ant Group Co. to a meeting intended to promote fair competition and consumer rights.
*  *  *
In addition to everything else that took place in the year 2020, and as we listed earlier, a lot has happened in the past 12 months including…
WW3 fears run rampant on social media as the US strikes Iranian army general Soleimani

San Francisco 49ers lose a heartbreaking Super Bowl (ok maybe that only affected me)

Black swan health event that leads to a historic equity market crash, and funding strains

Fed takes US policy rates to near 0% and institutes QE at a magnitude that puts the post GFC period to shame

Treasury institutes trillions of dollars of fiscal stimulus

Unprecedented lockdowns lead to Tiger King craze

The world learns how to school and work remotely, changing the office space landscape forever

WTI front month contract trades with a negative price

Subsequent epic equity bull market recovery rally that pierces March highs

Australia burns

Kobe Bryant tragically dies

We begin to watch sports with no fans

Pentagon releases UFO footage

Quantas offers flight to nowhere

California wildfires burn uncontrollably and wipe out parts of Napa

US social unrest turns violent

Murder hornets

We lose Chadwick Boseman and Ruth Bader Ginsberg

Overhyped US election that leads to a volatility collapse, year-end rally
… 2020 was also the year in which Chinese tech tycoons learned the hard way not to take on the dictator of a communist regime.
As the FT reports, for years Alibaba founder and China's (formerly?) richest man, Jack Ma had a safe spot at the top table of Chinese business. Members of the Chinese Entrepreneurs Association even recall an evening outing on West Lake in Hangzhou some years ago when he boasted about his close relations with the president, dating from when Xi Jinping was a provincial Communist Party secretary.
But all that ended in the first week of November, which was supposed to end with the $37BN listing of Alibaba's Ant Group financial business, instead saw China's president Xi himself pulling the plug on what was meant to be the biggest IPO ever. Some time in September, China's launched a coordinated regulatory crackdown, which in culminated with the scuttled Ant IPO and, together with tough new antitrust rules, triggered about a $140 billion, or 17%, decline in the market value of Ma's Alibaba.
This was meant to be a lesson to Ma – courtesy of Xi – who really pulls the strings in China. To be sure, while there was significant tension stemming from the titanic clash of the two gigantic egos of China's most powerful man, Xi and China's richest man, Ma, in the background regulators and banks were threatened by the rise of nimble new competitors have been lobbying hard to rein the sector in, particularly Ant and its ebullient founder.
"He had become too arrogant," said the head of Asian economics at one major international bank with close relations with regulators. "They needed to put a leash on the monster that Ant was becoming."
In the aftermath of the pulled Ant IPO, the flamboyant Ma all but vanished from public view. As of early December, with his empire under regulatory scrutiny, the man most closely identified with the meteoric rise of China Inc. was advised by the government to stay in the country, a Bloomberg source said.
So what is Ma doing now?  As Bloomberg reports, while his wealth and influence have been curbed, Ma isn't on the verge of a personal downfall. Instead, his public rebuke is a warning that Beijing has lost patience with the outsize power of its technology moguls, increasingly perceived as a threat to the political and financial stability President Xi Jinping prizes most.
As Bloomberg adds, once praised as drivers of economic prosperity and symbols of the country's technological prowess, the empires built by Jack Ma, Tencent Holdings's chairman, "Pony" Ma Huateng, and other tycoons are now suspect after amassing hundreds of millions of users and gaining influence over almost every aspect of daily life in China. "The [Communist] Party is trying to make it clear that Ma is not bigger than the party," says Rana Mitter, a professor specializing in Chinese politics at Oxford University. "But they also want to show that China is a good place to do business, and that means that the party needs to show that entrepreneurs can succeed."
So in an attempt to make amends, a beaten down Jack Ma is starting to make changes.
As the WSJ reports, Ant Group – taking a page out of US credit card companies' playbook – slashed borrowing limits for some users of its popular digital credit-card service, a sign the financial-technology giant is dialing back risk in its lending business following pressure from Chinese regulators. According to Ant, one of the fintech gian'ts consumer-lending platforms, Huabei, lowered credit limits for some younger borrowers "to promote more rational spending habits." Ant didn't provide the age range or other details about users who were affected by the changes.
Huabei – which means "just spend" – lets users of Ant's ubiquitous Alipay mobile app borrow money to make purchases online and in stores using their smartphones. Ant, which is controlled by billionaire Jack Ma, calls Huabei a digital unsecured revolving-credit product for daily expenditures. It functions very much like a credit card, letting people borrow interest free for up to 40 days, then charging interest on their outstanding balances. And since Ant is unregulated like traditional Chinese state-owned banks, the company's direct provisioning of credit has sparked concerns within Beijing that this is a critical part of China's credit infrastructure the state has little control over.
Of course, it is this lack of regulation that makes Ant's product that much more attractive: college students and working adults without established credit histories have been able to obtain loans from Huabei, which typically increases individuals' borrowing limits after they repay their loans consistently.
Ant is also a major driver behind the consumer credit explosion in China in recent years: as the WSJ notes, the ease and convenience of getting online loans has helped fuel spending among young Chinese consumers, and short-term household debt in China has soared in recent years. Many shoppers on e-commerce websites operated by Ant's affiliate Alibaba Group Holding also use Huabei to fund their purchases.
Ma's Ant Financial has another popular service called Jiebei, which means "Just borrow," and provides unsecured installment loans. Together the two digital-lending operations have been Ant's biggest growth engine in recent years. They supplied credit to around half a billion Chinese consumers, who had a total outstanding loan balance equivalent to $263 billion at the end of June.
As a result of the limitations on new borrowing, some users of Huabei recently took to social media to complain that their credit limits were reduced by half or more to as low as 2,000 yuan to 3,000 yuan, equivalent to $306 to $458. Others with much higher borrowing limits of 30,000 yuan to 50,000 yuan said their caps didn't change.
The self-imposed lending crackdown will send shockwaves across China's economy, where an exponential increase in consumer lending has sparked an unprecedented consumption spree, one which had generally been welcomed by Beijing as part of China's transformation away from a mercantilist economy, but as a result of the surge in new debt, even Beijing is starting to express concerns that there is simply too much debt sloshing around in the $46 trillion financial system, which is 125% bigger than the US banking system!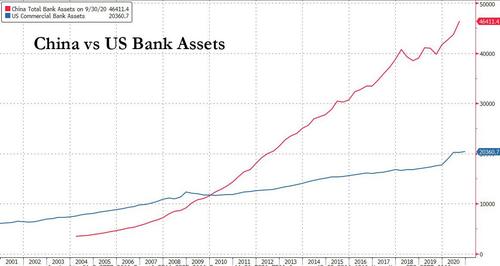 Ant, in particular, has become China's biggest facilitator of this explosion in digital consumer loans, many of which have been funded by small banks and trust companies that often lack sophisticated risk controls. The company supplied funds for just 2% of the outstanding loans it facilitated as of June. About 10% was funded by the issuance of asset-backed securities, and the rest came from banks and trust companies that bore the risk of the loans going bad. In essence loan creation in China is one giant securitization game, where Ant holds just a fraction of the risk.
It's also a big part for the feud between Ma and Beijing's political oligarchy: when China's government halted the Ant IPO in November, it released draft regulations that would force the company to cough up more of its own capital to support its lending operations, or scale them back.
It's now scaling them back.
Guo Shuqing, chairman of the China Banking and Insurance Regulatory Commission, said in a speech earlier this month that China would focus on "the new too-big-to-fail risk." He said a few tech groups dominated the micropayments business, and it was important to focus on the complexity and potential risks posed by tech giants that ventured into finance.
The implicatios of this self-imposed slowdown inside China's beating credit heart will be profound: just yesterday we explained that China's credit impulse has peaked and would shrink aggressively in coming quarters before contracting, in the process jeopardizing the global reflation wave with potentially dramatic consequences for global asset prices.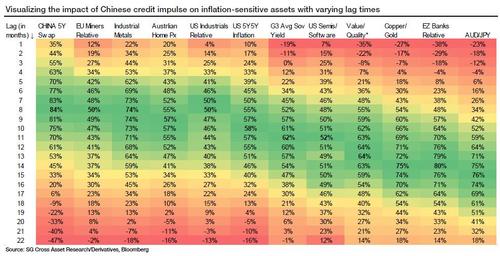 The fact that Ant has now also joined in this self-imposed credit slowdown only confirms that the reflationary wave is almost over…  ironically just as the reflation trade becomes consensus.