By Tyler Durden
According to the latest IMF forecasts, Iraq's GDP will contract 12% this year, more than that of any other OPEC member under a production quota.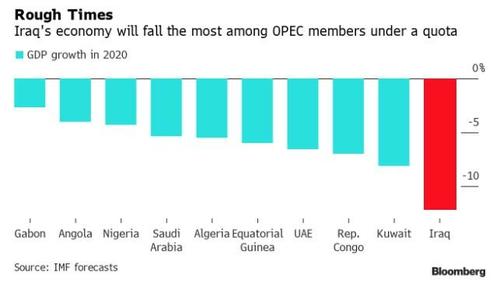 A global pandemic-induced demand slump (among other domestic issues) has pushed Iraq – under its OPEC membership – to slash oil production by over 12% year-over-year (however, Iraq, along with other nations such as Nigeria, has pumped above its quota on several occasions since then).
In the most recent sign of Baghdad's growing desperation for cash as its economy unravels, Iraq sought an upfront payment of about $2 billion in exchange for a long-term crude-supply contract as state coffers dwindle and school teachers go unpaid.
As Bloomberg reports, the letter from SOMO, the Iraqi state-owned agency in charge of petroleum exports, was first reported by the Iraq Oil Report.
"SOMO, on behalf of the Ministry of Oil, has the interest to propose a long-term crude-supply deal in exchange for prepayment for a fraction of the total allocated quantity," according to the letter, which was marked strictly confidential.
The anxiety is rising as officials fear a repeat of the upheaval last year that brought down the government and saw hundreds of protesters killed.
Iraq has taken to the streets across the country.

Risking their lives to protest their corrupt government.

This is Baghdad today👇🏻

— Joshua Potash (@JoshuaPotash) January 26, 2020
All of which has led to the decision to devalue the Dinar… drastically.
As Bloomberg's Khalid Al-Ansary reports, the central bank reduced the official rate to 1,450 dinar per dollar, the first devaluation since 2003, it said in a statement. That's from about 1,190 previously. Dollars will be resold to local banks at 1,460 dinar apiece.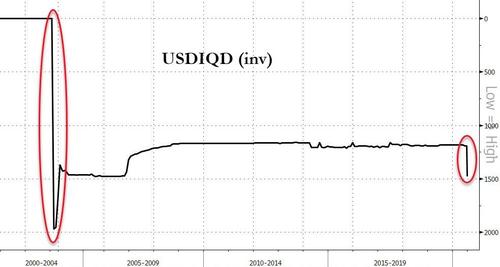 Inflation imminent? or hyperinflation?
The embattled nation's central bank is taking the steps to avoid depleting its foreign-currency reserves…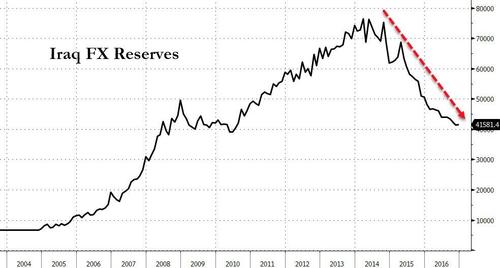 Prime Minister Mustafa Al-Kadhimi, who came to power in May, has warned that the government will struggle to pay civil servants without raising more debt.
Source: Zero Hedge
Top image: Treasury Vault
Subscribe to Activist Post for truth, peace, and freedom news. Send resources to the front lines of peace and freedom HERE! Follow us on SoMee, HIVE, Parler, Flote, Minds, MeWe and Twitter.
Provide, Protect and Profit from what's coming! Get a free issue of Counter Markets today.