Summary:
California reimposes restrictions statewide
Illinois reports another 11k+ new cases
Germany imposes new restrictions next week
UK reports 21k+ new cases
NYC hospitalizations hit new high
Philly may bar indoor gatherings ahead of TG
NYC positivity rate has climbed to 2.77%
BioNTech CEO says vaccine shipments to start in early Jan
NJ lowers limit on private indoor gatherings
More states tighten restrictions
Merkel urges more restrictions on private gatherings
Mexico passed 1 million cases
Global cases are nearing 54.5 million
Hungary reported a record jump in cases
Iran sees new record
South Korea reports most new cases in 11 weeks
* * *
Update (1720ET): California Gov Gavin Newsom has just pulled the "emergency break."
Newsom announced Monday that his state is moving away from the "watch list" system of tracking coronavirus trends and instead moving to a four-tier, color coded classification system that will decide which counties can move ahead. The new tiers are yellow, orange, red and purple. Yellow indicates minimal COVID-19 spread and allows for nearly all businesses to reopen indoor operations (as long as physical distancing and face-covering requirements are in place). Purple means there is widespread COVID-19 transmission in the county and nearly all businesses have to keep indoor operations closed or severely limited.
#COVID19 update:

– Average daily tests: 164,345

– Average test positivity rate: 4.6%

– Daily case average: 8,198

– Hospitalizations: 48% increase over last 2 weeks

– ICU: 39% increase over last 2 weeks

— Gavin Newsom (@GavinNewsom) November 16, 2020
Due to the alarming increases we are seeing in #COVID19 cases, CA is pulling an emergency break.

To slow the spread, 41 counties —94% of California's population —
will now be in purple, the most restrictive tier.

— Gavin Newsom (@GavinNewsom) November 16, 2020
Here's a quick breakdown of the tier changes courtesy of a California TV station.
Orange to Purple: Alameda, Butte, El Dorado, Napa, Nevada, Santa Clara, Siskiyou, Trinity, Tuolumne
Orange to Red: Colusa, Del Norte, Marin, Modoc, Mono, Plumas, San Mateo
Yellow to Orange: Calaveras, Sierra
Yellow to Red: Humboldt, San Francisco
Red to Purple: Contra Costa, Fresno, Glenn, Kern, Kings, Mendocino, Merced, Orange, Placer, San Benito, San Joaquin, San Luis Obispo,
Santa Barbara, Santa Cruz, Solano, Stanislaus, Sutter, Ventura, Yolo, Yuba
And a map illustrating the new threat-level designations.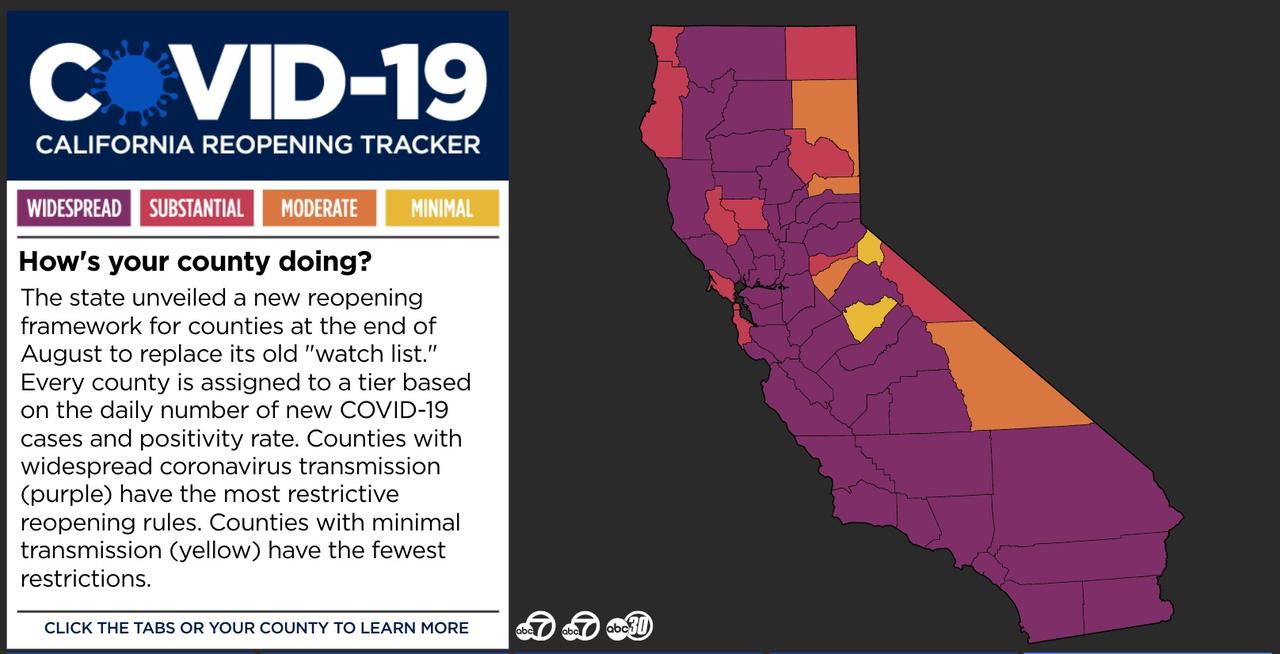 Source: ABC 7
Each color code has a different set of rules regarding which businesses are and aren't allowed to reopen, whether they can open indoors or outdoors, and at what capacity they can operate.
* * *
Update (1330ET): NY is seeing COVID-19 linked hospitalizations continue to climb to new multimonth highs as the outbreak worsens across the US.
Today's update on the numbers:

Of the 124,565 tests reported yesterday, 3,490 were positive (2.80% of total).

Total hospitalizations are at 1,968.

Sadly, there were 25 COVID fatalities yesterday. pic.twitter.com/8dZCRQxhhB

— Andrew Cuomo (@NYGovCuomo) November 16, 2020
The test positivity rate in the focus areas under NY's Micro-Cluster strategy is 4.19%.

The statewide positivity rate excluding these focus areas is 2.50%.

We continue to take strong action to respond to outbreaks and to stop the spread.

Mask Up.

— Andrew Cuomo (@NYGovCuomo) November 16, 2020
Illinois, meanwhile, reported another 11,632 new cases, while deaths declined from 72 to 37. Roughly 90k were tested. Official data show half of the 2,516 occupied ICU beds in Illinois currently are being used to treat COVID patients.
In Philadelphia, meanwhile, the city's Democratic mayor is preparing to ban all indoor gatherings the week before Thanksgiving, which would effectively be tantamount to cancelling the holiday in the city of brotherly love.
In Europe, the UK reported another 21k new cases, down from the prior day, while another 200+ deaths were also confirmed. In Germany, Chancellor Merkel just announced that Germany's partial shutdown has not been successful, so Germany will be adding restrictions next week, including urging friends to limit contacts to one regular household while avoiding private gatherings.
* * *
Update (1030ET): NYC's 7-day COVID-19 positivity rate has climbed to 2.77%, up from 2.65% on Friday. Watch his news conference below.
WATCH NOW: NYC Mayor de Blasio gives coronavirus update https://t.co/N5oZfxvFs3 pic.twitter.com/XiTk9Vpk6W

— CBS News (@CBSNews) November 16, 2020
As daily cases have continued to slide since the record daily numbers released just a few days ago, research from Bank of America appears to suggest that a pullback in testing is largely to blame. So, looks like we haven't hit the peak just yet.

Meanwhile, NJ Gov Phil Murphy shared more details of the newest restrictions imposed in NJ Monday during a cable news interview: A maximum of 10 people can gather indoors, even in private residences, down from 25 earlier, while the limit on outdoor gatherings will drop from 150 to 100.
"There's a lot of private-setting transmission," Murphy, a first-term Democrat, said Monday in an MSNBC cable television interview. Indoor restaurant dining will continue to be limited to 25% of capacity, he said.
If you're not just going to work or back, Murphy asked residents not to travel, and said that his family Thanksgiving holiday celebration had been cancelled, in favor of spending the holiday at home with his wife and kids.
Finally, BioNTech's CEO just confirmed that the company expects to start shipping vaccines in January.
* * *
Update (0800ET): After reportng back-to-back records for daily case counts in the Garden State, New Jersey Gov Phil Murphy has just announced plans to lower the state's limit on private indoor gatherings from 25 to just 10.
* * *
More US states tightened restrictions on operating hours for non-essential businesses (including restaurants and bars) on Sunday evening, including Washington State and Michigan, who imposed some of the most restrictive measures since the post-LDW surge began.
As Dr. Fauci reminded us over the weekend, more data on the leading vaccine projects in the West is expected this week, with the FDA expected to deliver its emergency-use authorization to Pfizer's vaccine, allowing the company to start selling it to the most vulnerable patients.
As some German officials propose a 4-5 month 'severe' lockdown to try and crush the virus and avoid "yo-yo" measures down the road, Chancellor Angela Merkel is reportedly pushing for more restrictions on private gatherings, after imposing new lockdown-type restrictions on businesses earlier this month. France, which imposed a similar partial lockdown to Germany, said Monday that it's finally seeing signs of progress since imposing the newest restrictions.
US cases topped 11 million on Sunday, while Mexico became the 11th country to top 1 million confirmed COVID-19 cases. Mexico is also nearing 100,000 confirmed deaths (with the accurate total expected to be significantly higher).
Mexico's government has largely ignored accepted safety guidelines and practices to fight COVID-19. Officials have gone against recommendations to wear face m
Globally, COVID-19 cases are nearing 54.5 million. New cases continued to slow over the last 24 hours as numbers in Europe started to soften a bit.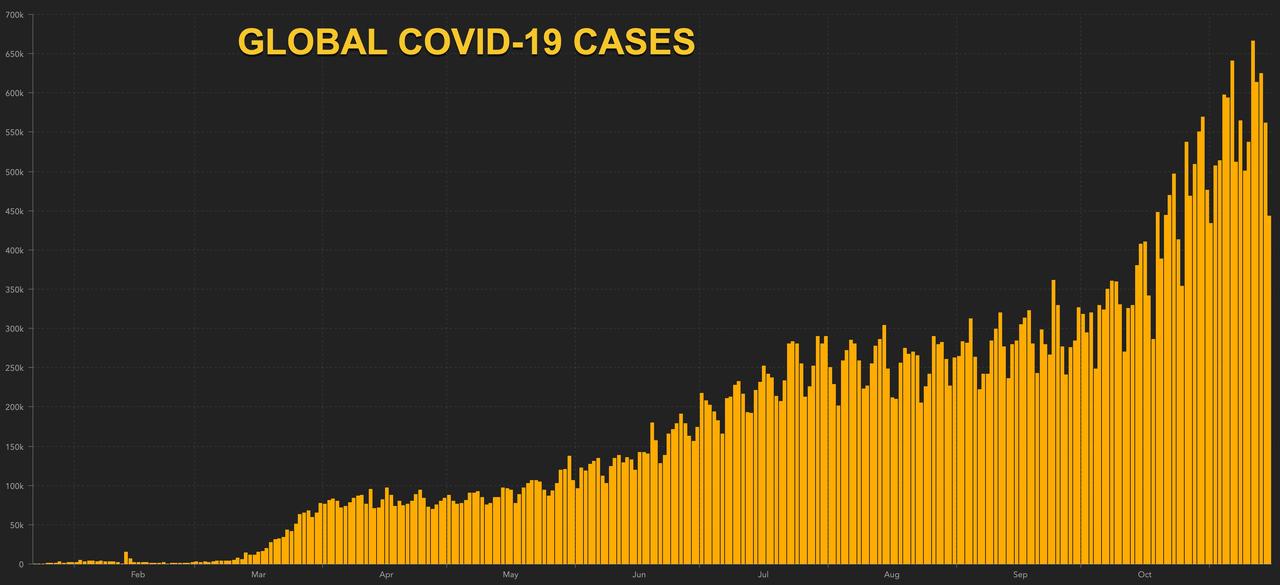 Here's some more COVID-19 news from overnight and Monday morning:
Hungary registered a record number of 6,495 new cases on Monday. While there's still great pandemic pressure after stricter measures were introduced last week, there are still almost three times as many hospital beds available as hospitalized Covid-19 patients, Premier Viktor Orban said in a video posted on Facebook. However, the number of staff remains key to capacity. The coronavirus task force has recruited university students and commanded soldiers to help out in hospitals (Source: Bloomberg).
The pre-order made to seven suppliers through Europe's ordering system would allow the vaccination of 45 million people, Les Echos reported, without citing sources. The first deliveries are slated for mid-January, with 4.4 million doses from AstraZeneca Plc and 3.5 million from BioNTech SE and Pfizer Inc. Supplies from Moderna Inc. and Novavax Inc. would follow from February (Source: Bloomberg).
UK PM Boris Johnson said he is in Johnson, 56, said in a tweet he will "continue to lead on our response to the virus." Yet the development looks set to hinder his plan to regain control of the national agenda after a chaotic week. The prime minister overcame a bout of Covid-19 in late March and April that had him in intensive care for three nights (Source: Bloomberg).
Iran reports a record 13,053 new coronavirus infections and 486 deaths over the past 24 hours as the government says it will tighten restrictions. The country totals are at 775,121 cases and 41,979 fatalities (Source: Nikkei).
Masks must be worn on Auckland public transport and on all domestic flights throughout New Zealand, effective from midnight Nov. 18, Minister for Covid-19 Response Chris Hipkins said in an emailed statement (Source: Bloomberg).
A vaccine from a unit of Johnson & Johnson is set to move to the third phase of clinical trials in the U.K. on Monday that will test the safety and effectiveness of the shot. The testing round by Janssen Pharmaceutical will include 6,000 volunteers and take place across 17 sites, according to a statement. The vaccine is the third candidate to be tested in the U.K., alongside one from an AstraZeneca Plc in partnership with the University of Oxford and another from Novavax Inc., it said (Source: Bloomberg).
South Korea reported 223 new cases in 24 hours, up from 208 a day earlier, according to data from the Korea Disease Control and Prevention Agency. The number is the biggest increase in 11 weeks (Source: Bloomberg).