Summary:
California, NY & NJ report new cases
Peru halts Siopharm vaccine trial
CDC approves COVID
Cases see new daily record
US tally nears 16MM
Pfizer vaccine approved for EUA by FDA
Hospitalizations remain elevated in west and midwest
Poland sees chance of reopening schools
* * *
Update (0820ET): More record COVID numbers were reported across the US on Saturday, with California counting more than 35K new cases for the second straight day, while New York's infections quickened and New Jersey reported record cases on Saturday.
In other news, Peru has temporarily suspended trials of Sinopharm's vaccine after an unspecified "adverse event" was reported during clinical trials in the South American country. Phase 3 trials started there in September. Once one of the worst hit countries on the continent, Peru has seen more than 980K cases and 36.5K deaths. Brazil suspended trials of a Chinese vaccine last month after a reported death involving a trial participant, though enrollment was restarted less than 48 hours later.
In the US, a panel of CDC advisors voted to recommend that people age 16 and older receive Pfizer-BioNTec vaccine, clearing one of the last hurdles for US vaccinations to begin, though director Dr. Robert Redfield must still give his blessing.
* * *
As we head into mid-December, the typical holiday lull is being punctuated this year by the worsening coronavirus pandemic in the US. As Europe's cases and hospitalizations start to decline, the US, Brazil, and a handful of other smaller countries are emerging as the primary drivers of global case numbers, which remain at record levels.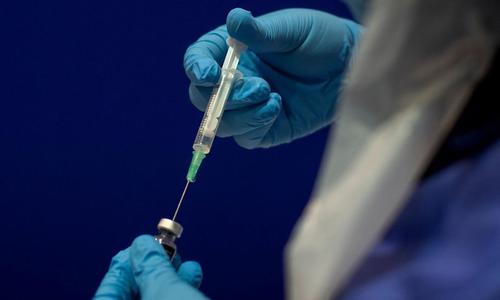 Nearly 700K new cases are being reported around the world each and every day, with the global total topping 71K, as US cases, meanwhile, neared 16MM following a record jump of nearly 300K (297.6K according to Reuters). The COVID Tracking Project had the daily number at a lower number 232K, though still a new daily record.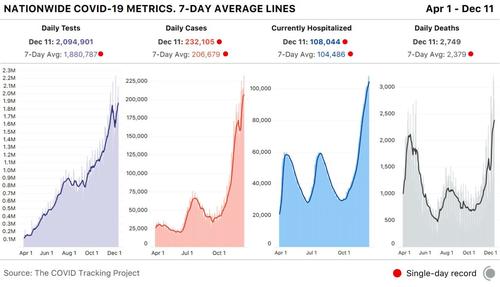 Hospitalizations rates remain the most elevated in the midwest and west.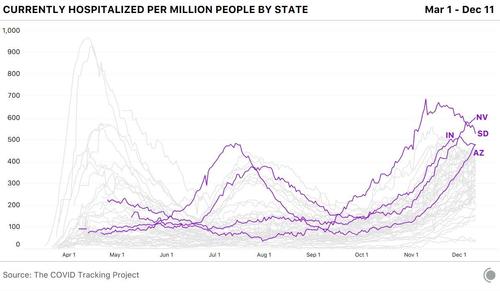 While North Dakota, one of the worst hit states during the fall-winter resurgence, has seen its death rate rise into the top five in the country.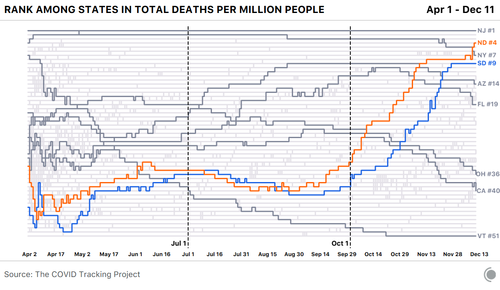 Following reports of pressure from the Trump Administration (WaPo claimed Trump's chief of staff Mark Meadows told FDA chief Dr. Stephen Hahn to either make sure the approval gets done Friday, or hand in his resignation, a story that elicited some laughs, but wasn't widely reported outside of the MSNBC/CNN cable TV matrix). Trump heralded the approval as "a medical miracle". The US is the fifth country to approve the vaccine, after the UK, Canada, the UAE and – of course – the Saudis.
As New Yorkers visit restaurants for their last hurrah as hundreds of establishments from around the city prepare to close their doors (for good) as Gov Cuomo's ban on indoor dining takes effect on Monday without offering any kind of additional support to the industry and the workers who power it. Across the country, the LA County Department of Public Health announced new cases and deaths each day, as do the independent agencies governing Long Beach and Pasadena. Not all of the agencies provide a tally of how many people have recovered from COVID-19.
"We worked quickly because of the urgency of this pandemic, not because of any external pressure," Hahn said Saturday on a call with reporters.
Looking ahead, the FDA's decision to approve the Pfizer vaccine will now kick off a complicated immunization drive, as the FDA sets standards and hands them down to the states, who will inevitably tweak them, for enforcement and execution that's likely to be as haphazard and varied as the national response to the virus.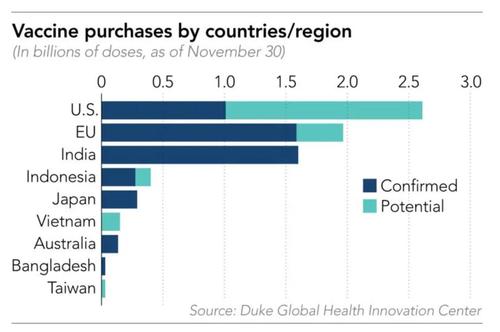 Here's some more COVID news from overnight and Saturday morning:
For the first time in decades, Mexico's Roman Catholics have been forced to abandon what many consider the world's largest religious pilgrimage, in which millions visit Mexico City's Basilica of Guadalupe on 12 December (Source: Bloomberg).
UPS will take part in the distribution of Pfizer-BioNTech's covid-19 vaccine as part of Operation Warp Speed in the U.S. The doses will originate from storage sites in Michigan and Wisconsin, transported to UPS facilities in Louisville, before being expedited "Next Day Air" to destinations including hospitals and clinics, the company said in a statement (Source: Bloomberg).
Poland sees chances for partially reopening schools from Jan. 18, provided restrictions imposed for winter holidays prove effective, Prime Minister Mateusz Morawiecki said in an interview with radio RMF FM. He also urged the European Union's agencies to speed up the vaccine registration process (Source: Bloomberg).
* * *
Meanwhile, the US is offering resources to Pfizer to help expedite the process of procuring the "raw materials" the company needs to provide an additional 100MM doses to the US by mid-2021.