Summary:
California Gov. Quarantines after COVID exposure; hints at lockdown extension
EU grants market approval to Pfizer vaccine
38K vaccinated in New York
WHO says it's "aware" of UK variant
Europe shuts doors to UK
Mutation announced last week stokes fears worldwide
US hospitalizations decline, led by Midwest
Sweden imposes travel ban
Ireland warns extension likely
Colombia capital lifts some retrictions
Tokyo mayor urges residents to stay home
Canada suspends flights to UK
Jakarta extends restrictions for another week
Clinical trials for Moderna vaccine in Japan will start in January
* * *
Update (1400ET): California Gov. Gavin Newsom has just announced that he will be quarantined after a staffer tested positive for COVID-19.
Meanwhile, he said the ICU availability in the state is stretched thin, while the state's positivity rate reaches 12%, up from 8.7%. the ICU capacity rate has fallen to 2.5%. He added that the state's stay at home order will likely be extended.
Across the country in New York, Gov Cuomo revealed that 38K people have been vaccinated (presumably all health-care workers and residents at long-term care facilities).
In other news, VP Joe Biden has fulfilled his promise to be vaccinated on film. Dr. Fauci is expected to get vaccinated shortly.
* * *
Update (1230ET): As we head into Monday afternoon during a holiday-shortened week, the EMA, the European Union's medical agency, has approved the Pfizer-BioNTech vaccine for market sale. This means the first round of emergency vaccinations will start on Dec. 27 (in just under a week) in Europe.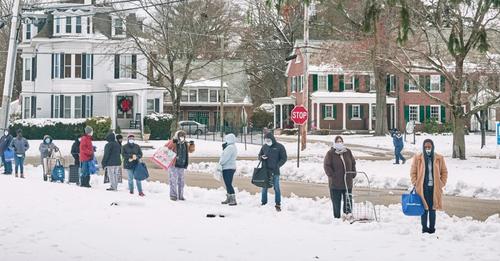 The EMA also claimed that the new strain of the coronavirus emerging in the UK wouldn't be able to infect people who have been inoculated with any of the vaccines approved in the West.
Meanwhile, the WHO revealed during Monday's press briefing that it was first made aware of the new mutation on Dec. 14, and added that there's no reason to panic – at least not yet.
Finally, Moncef Slaoui of Operation Warp Speed said Monday that there's "no hard evidence" that the UK strain is actually more transmissible. We discussed this earlier, when we noted that many Tories resisted Boris Johnson's decision to impose a "Tier 4" lockdown on London and the surrounding area until the government can get a clearer picture on the science. Boris Johnson also said Monday during a press conference that he was working to restore travel to every other country and Europe.
In the US, patients have begun receiving the Moderna vaccine, as it has been trucked across the country.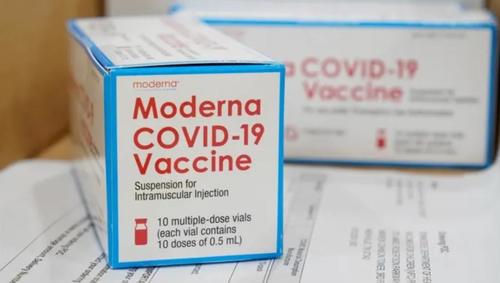 But before we get too panicked, it's worth remembering that the notion that the variation is more infectious is based on some advanced computer modeling.
* * *
First revealed last week by Health Secretary Matt Hancock, a mutated version of the coronavirus discovered in parts of the UK, South Africa and other locations has prompted a swath of countries to block travelers and commerce coming from the UK. Some are warning that there's still not enough data on the variation (which some scientists claim is 70% more infectious than the original) for the public to start panicking about whether this might impact the efficacy of the first wave of vaccines.
According to the latest data from the COVID Tracking Project, the number of new cases tumbled back below 200K on Sunday, though the 7-day average was 211,387. Deaths were reported at 1,618, while the 7-day average was 2,613.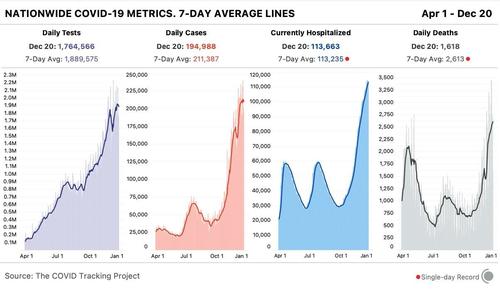 One reason the march higher in hospitalizations has stalled is due to the Midwest, which, thanks in part to the efforts of local officials, hospitalizations have started to fall from their peaks. Meanwhile, the three other regions are seeing deaths rates climbing to new records or – in the case of the northeast – the highest level since the spring.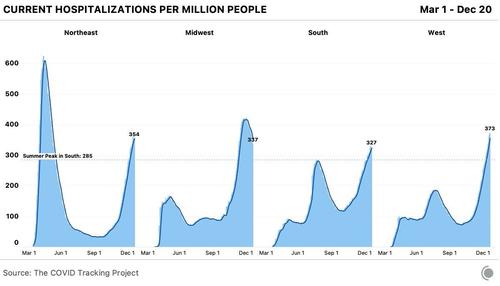 While most states have reported record tallies in the past few weeks, the pace has slowed over the past week.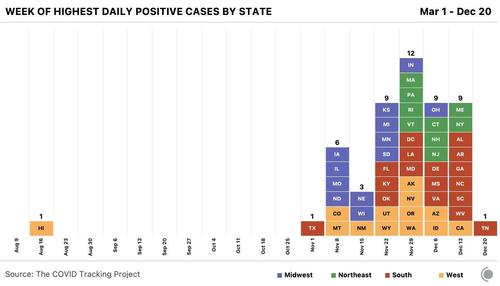 Switzerland was one of the first European countries to bar Britons from traveling to the country, while Ireland is already saying that it might expand its 48-hour ban. Sweden, meanwhile, said Monday morning that it would ban all non-Swedish people from entering Sweden from the UK. Additionally, at least five countries and airlines, including Germany and Turkey, are said to have banned flights from South Africa on Monday
As markets panic, some scientists are warning that these mutations raise new questions about the vaccines and their ability to protect people, while others are cautioning that it's likely these mutations won't have any impact on the vaccines and their ability to protect people. The WHO warned it could take days or more than a week to find out what impact this might have on vaccines, according to Soumya Swaminathan. "As we start using drugs and vaccines, viruses evolve to try to avoid those," Swaminathan said in an interview with Bloomberg TV. "At this point in time, I don't think we have any evidence to suggest that the vaccines under development will not work for the majority of patients."
Saudi Arabia halted international flights and closed its borders for one week over fears about the fast-spreading new strain of the coronavirus. And the kingdom may extend the suspension for another week depending on the nature of the virus spread, according to state-run Saudi Press Agency.
While Europe imposes new travel restrictions reminiscent of the springtime lockdowns, the head of the Warp Speed Operation Moncef Slaoui said he hopes the US will reach the threshold for herd immunity in "May or June".
Here's some more COVID news from overnight and Monday morning:
Seoul Metropolitan Government and its neighboring Gyeonggi and Incheon provinces will ban holiday gatherings of five or more people from Dec. 23 to Jan. 3. The restrictions would apply to about half of the country's 51 million people. Weddings and funerals aren't included in the new rules.
Indonesia's capital has extended its virus restrictions by another two weeks as cases continue to rise and to prevent any further spikes from the holiday season.
Prime Minister Justin Trudeau's government suspended flights between Canada and the U.K. for 72 hours effective midnight Sunday due to "the high number of cases of a variant Covid-19 virus observed in some areas in the United Kingdom."
Tokyo Gov. Yuriko Koike urges the capital's 14 million residents to stay home during the upcoming holiday season to prevent further spread of infections. "I would like people to prioritize life above everything else during the year-end and New Year," Koike said at a news conference. "I do hope families will stay home during the holiday season."
Colombia's capital Bogota will return to partial mobility restrictions where citizens are only allowed to buy staples, go to restaurants, shopping malls, among other spots, depending on the last digit of their ID, Mayor Claudia López said in a video posted on Twitter. The new measures will take place from Monday.
U.S. congressional leaders say they have reached an agreement on a $900 billion package to provide the first new aid in months to an economy hammered by the pandemic, with votes likely on Monday.
China records 23 new cases for Sunday, unchanged from a day earlier. Of the new cases, 21 were imported. The two local transmissions were in the northeastern provinces of Liaoning and Heilongjiang.
Clinical trials of Moderna's COVID-19 vaccine in Japan will start "as early as in January," a Takeda Pharmaceutical executive says.
Finally, Slaoui said 8 million doses of the new coronavirus vaccines from Moderna and Pfizer are expected to be shipped on Monday. In other news, South Australia imposed a 14-day quarantine on arrivals to Sydney on Sunday and banned travelers from affected suburbs as a coronavirus cluster in the city grew to around 70, while fears of a mutated strain intensify.
While there's no evidence showing that the mutated strain is more resistant to the vaccine, the central assumption now is "that all of next year's forecasts and views could actually turn out wrong," said Christoph Rieger, head of fixed-rate strategy at Commerzbank AG. "That is quite a scary thought indeed."