It seems it's only "cancel culture" when the mob wants to cancel someone on the right.
We say that because there appears to be no outrage after C-SPAN announced that "never Trumper" Steve Scully would be keeping his job at the network after an embarrassing incident last October where Scully admitted he lied about his Twitter account being hacked. 
The network wrote on January 5: "Steve Scully, who was placed on administrative leave in mid-October for Twitter-related controversies in conjunction with the second presidential debate, is returning to duty at C-SPAN beginning this week. His initial assignments will be off-air producing for C-SPAN television and resumption of his work on C-SPAN Radio's 'Washington Today' program and 'The Weekly,' a podcast/interview program."
"We view October's events as a singular episode in an otherwise successful 30- year C-SPAN career. And while it was appropriate in October for Steve to be immediately relieved of his duties leading our 2020 election coverage, we reiterate our belief that now, having completed a three-month administrative leave, he can continue to contribute to CSPAN's mission," C-SPAN wrote in a statement January 5.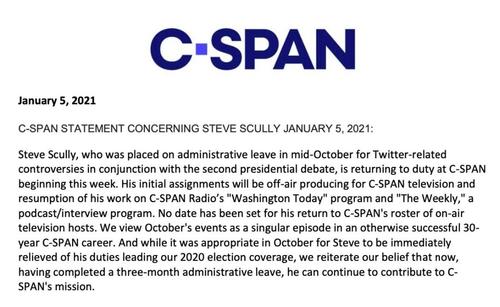 C-SPAN had suspended Scully indefinitely after he admitted to lying about his Twitter feed being hacked following an awkward incident in which he appeared to accidentally tweet an intended private message to former Trump aide Anthony Scaramucci.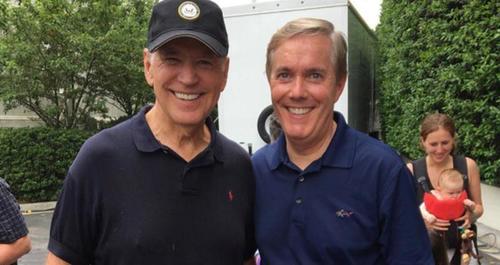 Scully's suspension came on the day he was set to moderate the now-canceled second presidential debate, which was to be 'a career highlight for the 30-year C-SPAN veteran' (and former Biden staffer).
In October 2020, after Scully tweeted "@Scaramucci should I respond to Trump," Frank Fahrenkopf, co-chairman for the Commission on Presidential Debates relayed Scully's lie that his Twitter account was hacked. C-SPAN similarly issued a statement, confidently claiming "Steve Scully did not originate the tweet and believes his account has been hacked."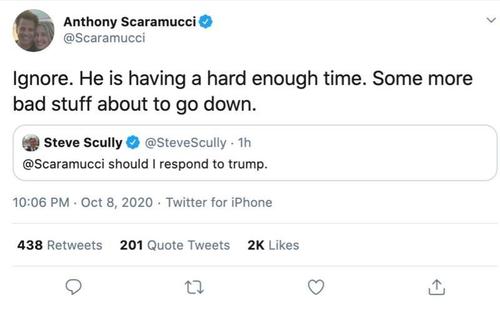 CSPAN Comment https://t.co/5gP8l6fAfX

— Pat Ward (@WardDPatrick) October 9, 2020
Shortly after Scully's 'hack' lie was peddled across the MSM by prominent voices, former Hillary Clinton staffer Yashar Ali noted that the C-SPAN veteran had previously blamed hacks twice before.
Tweets from 2012 and 2013 pic.twitter.com/jdeKqq7UEW

— Yashar Ali 🐘 (@yashar) October 9, 2020
Following that revelation, Scully apologized for lying. Via AP:
Scully said that when he saw his tweet had created a controversy, "I falsely claimed that my Twitter account had been hacked."

He had been frustrated by Trump's comments and several weeks of criticism on social media and conservative news outlets about his role as moderator, including attacks directed at his family, he said.

"These were both errors in judgement for which I am totally responsible for," Scully said. "I apologize."
He blames conservatives. https://t.co/C6XlDaiB4t

— Stephen L. Miller (@redsteeze) October 15, 2020
In his "apology," Scully blames Trump for Scully lying about being hacked.

It's a perfect microcosm of Trump Derangement Syndrome: journo who claims Trump is a liar immediately decides that collusion and lying about collusion are the antidode to Trump. https://t.co/8SpcTSv4aM

— Sean Davis (@seanmdav) October 15, 2020
Scully acknowledged that he let his C-SPAN colleagues down, along with fellow news professionals and the debate commission.
"I ask for their forgiveness as I try to move forward in a moment of reflection and disappointment in myself," he added.
A play in four acts. pic.twitter.com/8Gm8pPKhvG

— JERRY DUNLEAVY (@JerryDunleavy) October 15, 2020
C-SPAN at the time said: "He understands that he made a serious mistake," adding "We were very saddened by this news and do not condone his actions."
They left out "we look forward to re-instating him as soon as Joe Biden is elected president". 
Regardless, it seems like lying is a pre-requisite to be a journalist nowadays anyway. Enjoy your second act, Steve, and good luck keeping those pesky hackers at bay.