As Doug Kass writes this morning, "the market is overbought and statistically overvalued after experiencing the third best month (in November), in percentage terms, in history." He correctly notes that speculation is now running amok (EV, SPACs, etc.) and sentiment is at an extreme – whether seen by the CNN Fear and Greed Index sentiment studies…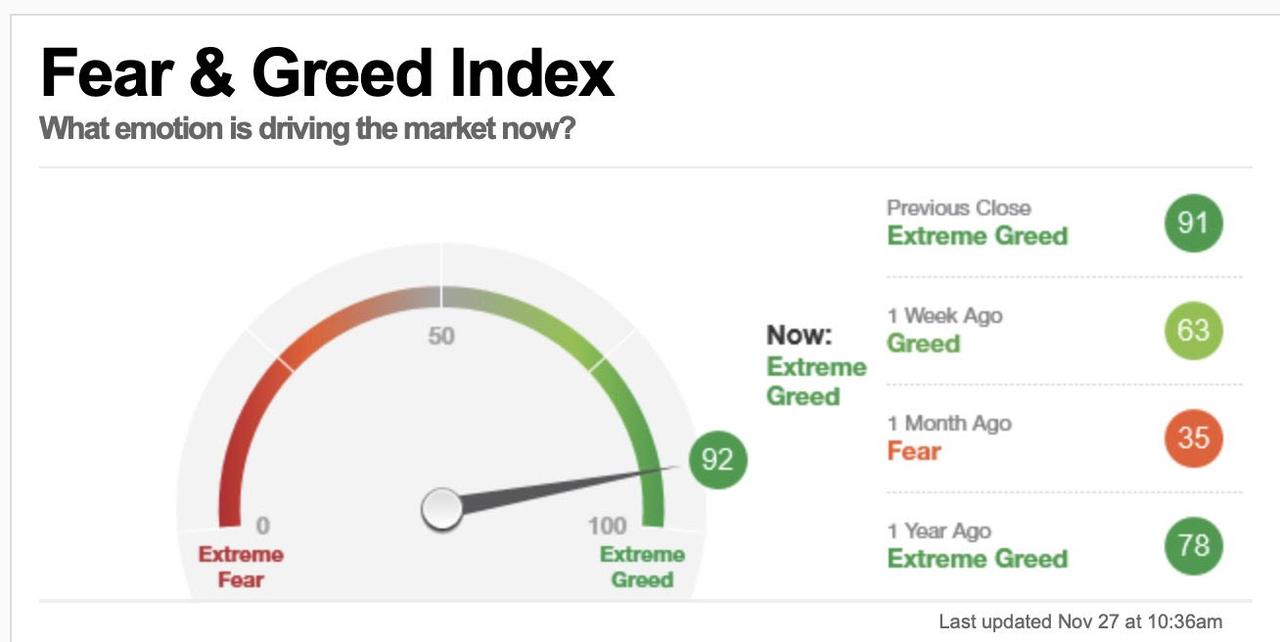 … or, as we previously noted, the record high gross and net hedge fund exposure as well as other data. This is in marked contrast to September/October when many were fearful of the election and its consequence on equities.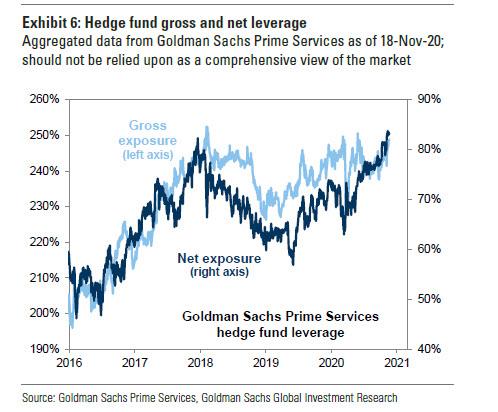 BofA CIO Michael Hartnett showed further evidence of the rampant stock mania citing the latest EPFR fund flow data which shows nothing short of a "buying bonanaza", with flows in the latest week as follows: $17.5bn into equities, $6.4bn into bonds, $2.2bn out of gold, $2.9bn out of cash.
Extending the lookback period to the post-Pfizer announcement on Nov 9 shows a remarkable surge in bullish sentiment over the past three weeks as follows:
Record inflow to equities of $89.0bn (prior high was Jan'18 )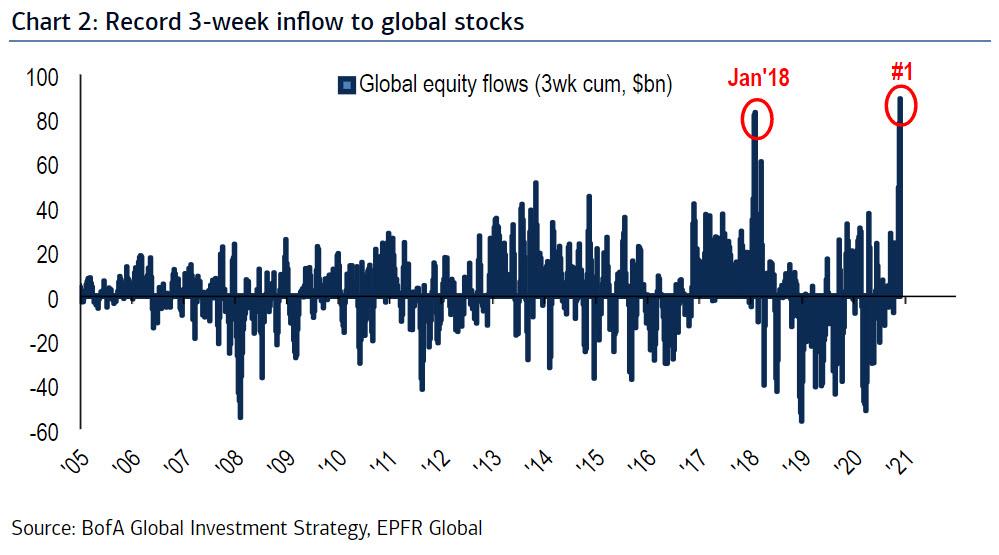 Record inflow to EM debt & equity of $28.0bn (prior high was Jan'18)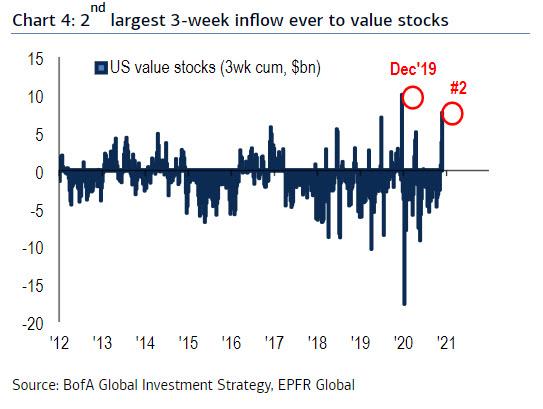 2nd largest inflow ever to value stocks of $7.6bn (all-time high was Dec'19)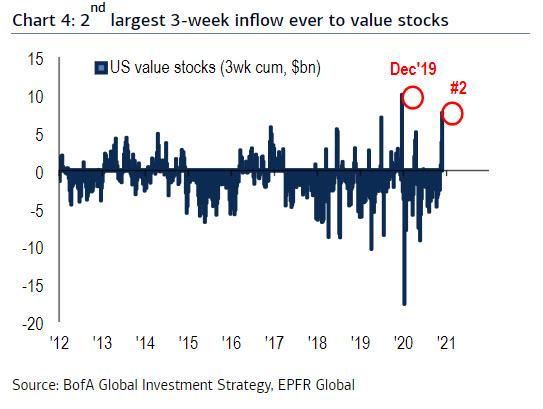 4th largest inflow ever to small cap stocks of $9.9bn (in past 4 weeks, all-time high was Jun'18 – Chart 5).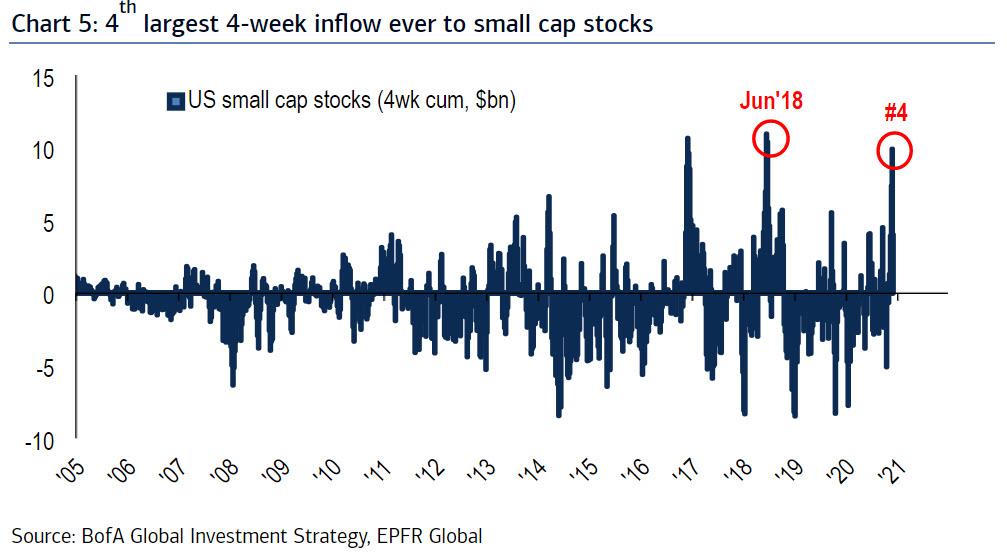 As a reminder, Hartnett recently said that amid the unprecedented euphoria, he would be "selling the vaccine" expecting a near-term peak (something which Morgan Stanley agreed with, as Michael Wilson also expects a modest correction before year end).
So far that has yet to materialize, even as the signs are clearly indicating that everything is extremely overbought:
BofA Bull & Bear Indicator: up from 4.5 to 4.7: "BofA Bull & Bear Indicator on the rise, likely accelerates coming weeks…stocks seeing record inflows, BofA FMS Cash Rule close to "sell signal" (FMS cash at low 4.1%), BofA Breadth Rule "sell-signal triggered Nov 11th."

BofA private clients: $2.8tn AUM…60.6% stocks, 20.6% bonds, 12.5% cash; private client flows show largest equity inflow since July ($0.9bn – Chart 8) this week.
2021: a year of vaccine not virus, a year of reopening not lockdown, a year of recovery not recession…a year of asset market rotation not asset market rally.
In short, the market appears to have digested all the good news not only for the rest of 2020 but 2021 and beyond as well. This may lead to indigestion as Kass concludes: "As the market's advance gained speed in the last two months, many of the positive conditions that I highlighted a while ago have reversed. Positioning is no longer defensive, the election outcome is now certain and, in recent weeks, the market advance has accelerated coincident with a Biden victory. Several vaccines, with fantastic results, have been announced and will enter the market in early 2021. A weak market and investors' uncertainty/fear have been replaced with all-time Index highs and investor ebullience, and even greed."