China's military has blamed the United States for a breakdown in military-to-military talks which were scheduled as part of the 2020 China-US military maritime consultative agreement (MMCA) meetings.
This comes after on Wednesday the US side blasted China for being a no-show for the Dec.14 through 16 meetings. Currently both sides are claiming that the other military delegation didn't show.
The agreed upon talks are connected with efforts to ensure a defusing of tensions, also toward the establishment and maintaining of a military 'de-escalation' hotline to ensure no unintentional close-call military encounters leading to spiraling conflict and war.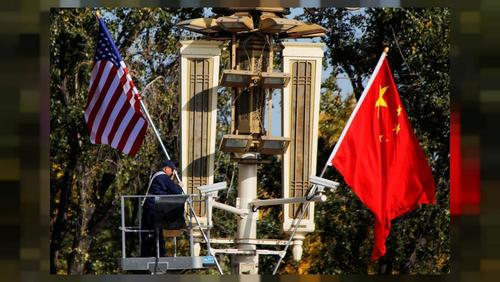 First, the US side had this to say:
The US military has slammed China for failing to appear at virtual, senior-level meetings slated for this week, with the top US admiral for the Asia-Pacific saying it was "another example that China does not honor its agreements".

"This should serve as a reminder to all nations as they pursue agreements with China going forward," Admiral Phil Davidson, the commander for US Indo-Pacific Command, said in a statement on Wednesday.
"We remain committed to the MMCA and call on the PLA to hold the MMCA dialogue in a manner consistent with the MMCA Charter and purpose as an operational safety dialogue," Adm. Davidson added.
But on Thursday a Chinese People's Liberation Army-Navy spokesman leveled the same charge right back, saying it's the Americans refusing to participate. "The U.S. side did not abide by the consensus reached between the two sides and called black white to make the accusation," the PLA's Liu Wensheng said.
"The US side insisted on forcing its unilateral agenda, arbitrarily reducing the length of the annual meetings and changing the nature of the talks," Liu said further of what was to be an online meeting. "The US side even tried to force China's participation without an agenda agreed by both sides."
As related by state media, the PLA official said further:
These unprofessional, unfriendly and unconstructive actions reflect the U.S. side's consistent bullying attitude, according to Liu.
"We hope the US side will earnestly respect the contents of the agreement and reach consensus with China on relevant issues as soon as possible to facilitate the smooth holding of the meetings," the statement added.
Tensions are already on edge given we've now entered the final weeks of the Trump presidency, with Beijing hopeful the Biden administration will reverse course on the White House's pressure campaign, also related to accusations that China is directly responsible for the spread of the global COVID-19 pandemic, a constant refrain of Trump's.