A monster storm explosively intensified in the northern Pacific near Alaska's Aleutian Islands on New Year's Eve, battering the region with hurricane-force winds, heavy seas, and torrential rains, according to Reuters. 
"It's the most intense storm ever recorded in the North Pacific, excluding typhoons," said Brian Brettschneider, a National Oceanic and Atmospheric Administration (NOAA) scientist with the National Weather Service (NWS). 
The storm is classified as a "bomb cyclone" after meteorologists recorded barometric pressure of 921 millibars, a record-low reading for the region, equivalent to the center of a Category 4 hurricane. 
Wind Speed Map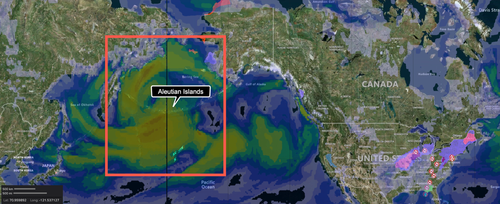 In western Aleutians, waves greater than 50 feet were seen with winds more than 80 mph, or on par with a Category 1 hurricane. The islands are barely populated, and the storm poses a limited risk to humans, but the area is a heavily used commercial shipping route between Asia and the US. 
Wave Height Analysis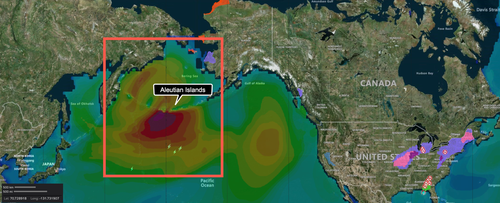 Brettscheneider said the real threat of the storm is aircraft or vessels in the region. 
Unlike hurricanes, these large and powerful storms go unnamed," Capital Weather Gang's weather expert Jeff Halverson wrote back in 2015. 
The National Weather Service's (NWS) Ocean Prediction Center (OPC) tweeted Thursday night: 
"Here is the latest surface analysis showing a strong storm with winds to #hurricaneforce moving toward the Bering Sea. The central pressure is 921 MB making it one of the strongest storms to ever impact the North Pacific. Winds are expected to reach 95 kts near the low center!" 
Satellite imagery of the storm is impressive. 
Global mosaic visible/IR imagery shows just how large the strong low impacting the North Pacific is. Notice how far the sprawling cold front (long band of clouds stretching SW) extends from the cyclone. pic.twitter.com/276m3z4Xlq

— NWS OPC (@NWSOPC) January 1, 2021
Late last night, NWS-OPC tweeted:
"The #HurricaneForce low near the Aleutians continues to produce extreme conditions. Buoy 46071 (circled in red) is observing seas greater than 50 ft. Note in the insert the 58 ft measurement."
The jet stream is likely to carry the weather disturbance into the Pacific Northwest next week.