While nowhere near as ugly as Wells Fargo's dismal results, moments ago Bank of America reported results that while beating on the bottom line, left quite a bit to be desired, mostly as a result of disappointing sales and trading results, particularly in FICC, which declined 5% "as weaker trading performance in macro products and mortgages outweighed gains in credit."
But before we get in the weeds, here's what the bank reported at the top line:
Q4 EPS 0.59, beating exp. 0.55= and up 8c from $0.51 a year ago.
Revenue 20.1BN missing exp. of 20.68bln, and down $0.2BN from $20.3BN a year ago.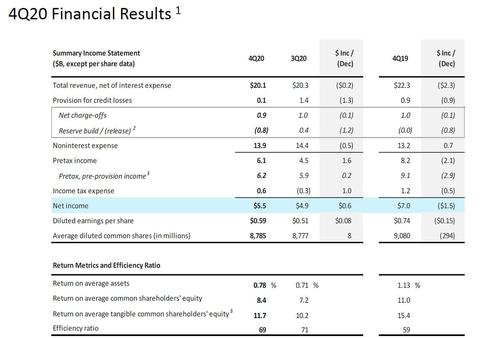 How did BofA net income rise even as revenue declined? Simple: the same trick that JPM pulled: the bank simply took a much lower loss provision expense, while releasing $800MM from reserves, to wit:
Net income of $5.5B increased $0.6B, or 12%, driven by lower provision expense
Revenue of $20.1B declined 1%, as lower non-interest income was partially offset by higher net interest income (Net interest income of $10.25B ($10.37B FTE) increased $124MM driven by higher investment securities balances).
Provision expense of $53MM plunged $1.3B, and Included a $0.8B net reserve release "reflecting an improved macroeconomic outlook." This compares to an expected $1.4BN build!
Along with that, net charge-offs of $0.9B were down $0.1B
BofA's laughable credit loss and reserve release adjustments are shown below. All we can say here is if the credit loss provision could theoretically have been negative, BofA would have made it negative.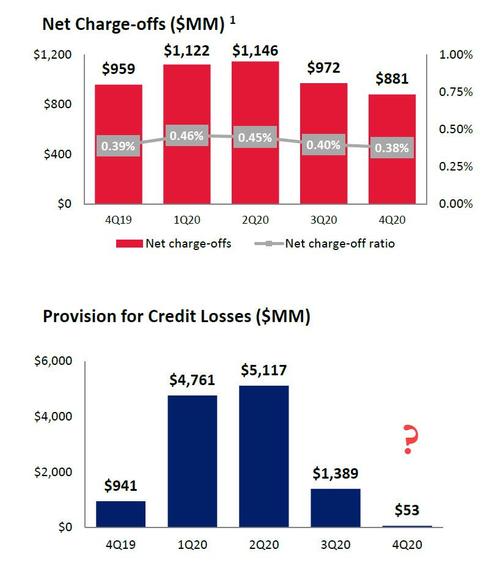 What was especially bizarre is that despite the collapse in credit loss provisions, BofA saw "modestly higher" credit card net charge-offs in the first quarter of this year as later-stage delinquencies are rising. And yet this was the basis to release almost $1 billion in reserves? Laughable.
Hoping that traders would ignore the nonsensical adjustments, BofA also said that as previously announced, the bank will resume share buybacks in line with Fed's stress tests, and will buy back some $2.9BN in stocks.
Alas, there was more bad news, with net interest revenue missing expectations, and at $10.25BN it was below the $10.31BN expected, while Net Interest Yield of 1.71%, down 1bp from the previous quarter, was also below the 1.74% expected.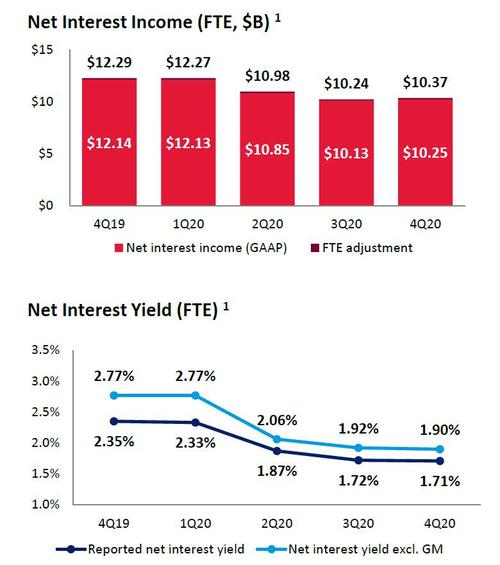 But wait there was more bad news, as BofA's total loans unexpectedly declined Y/Y to $935BN from $974BN, down 4%. This is hardly encouraging for those who look at loans and leases as an indicator of overall economic health.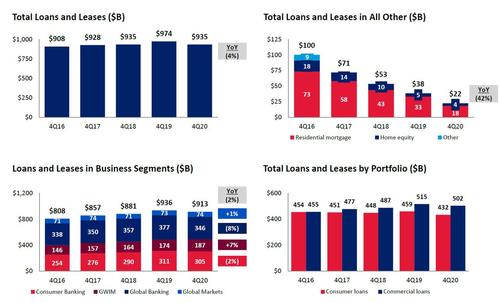 Loans in business segment fell 2% to $913 billion, driven by lower card balances and declines in commercial loans, while deposits rose 23% to $1.7 trillion…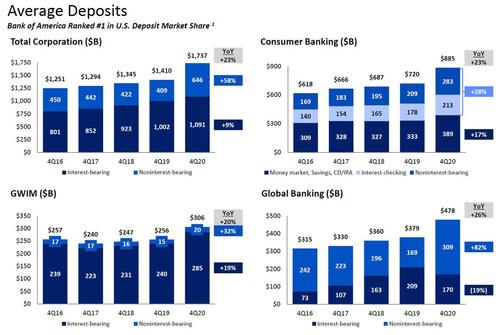 … as a result of the massive surge in QE which translated into greater deposit balances.
But the biggest red flag of all in BofA' earnings was the revenue from sales and trading rose only 7% to $3.06 billion in the fourth quarter, missing expectations of $3.15 billion. The biggest surprise was the unexpected weakness in fixed-income trading, which actually declined 5% to $1.7BN, "as weaker trading performance in macro products and mortgages outweighed gains in credit."
Meanwhile, equities revenue was solid, rising 30% to $1.3BN, "driven by strong trading performance in cash and derivatives and increased client activity."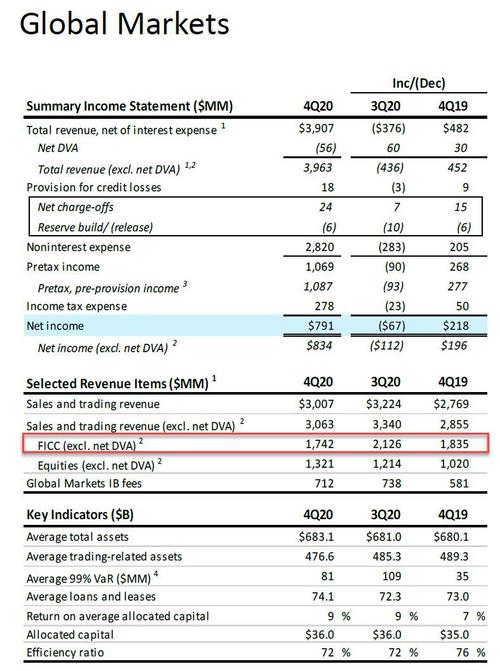 What is most surprising is that in a market dominated by 13 year old momentum traders, investors were not fooled by BofA's C-grade attempts to divert attention from what was really a very ugly quarter, and the stock was down a little over 1%.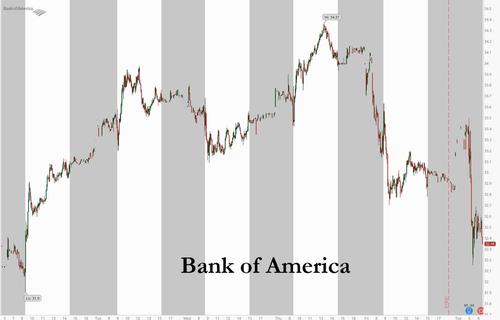 BofA's full Q4 earnings presentation is below (pdf link)