A little more than a week before Christmas, Boeing Chief Executive Dave Calhoun sent an internal memo to employees announcing that the company would suspend annual merit salary increases in fiscal 2021 for employees, managers, and executives, according to Reuters. 
Excluding executives and tens of thousands of engineers and machinists under union contracts, Boeing however awarded employees a one-time grant of Restricted Stock Units. 
"The grant, the first of its kind at Boeing in recent memory, will be awarded to about 82,000 employees and will vest three years from the grant date on Tuesday," Calhoun said.
The memo was certainly a mixed bag of news for employees as the company has cut thousands of jobs and slashed production as a recovery in air travel could be years away. 
"The next chapter of our history will be built on a culture of excellence anchored by shared accountability and ownership," Calhoun said.
He predicted 2020 airline traffic levels would end around 30% to 35% of 2019 levels, reverting to 2019 levels in about three years. 
"I know we will emerge from this a better company, one that is recognized for safety, transparency, and quality," Calhoun said. 
Boeing shares are down about 1% Wednesday morning.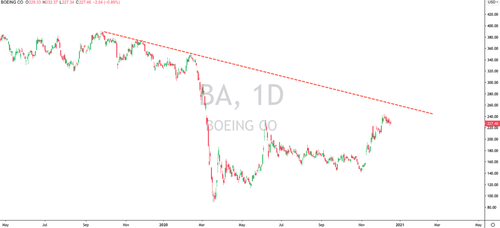 The US planemaker has hit turbulence this year from the virus-induced downturn in the travel and tourism industry, the 737 MAX crisis, and now 787 Dreamliner issues.