What 'Blue Wave'?
While 9 states are still waiting on final vote counts in the presidential race, it's already clear that Tuesday was not the blowout Democratic victory that Nate Silver and a legion of other idiot pundits had expected.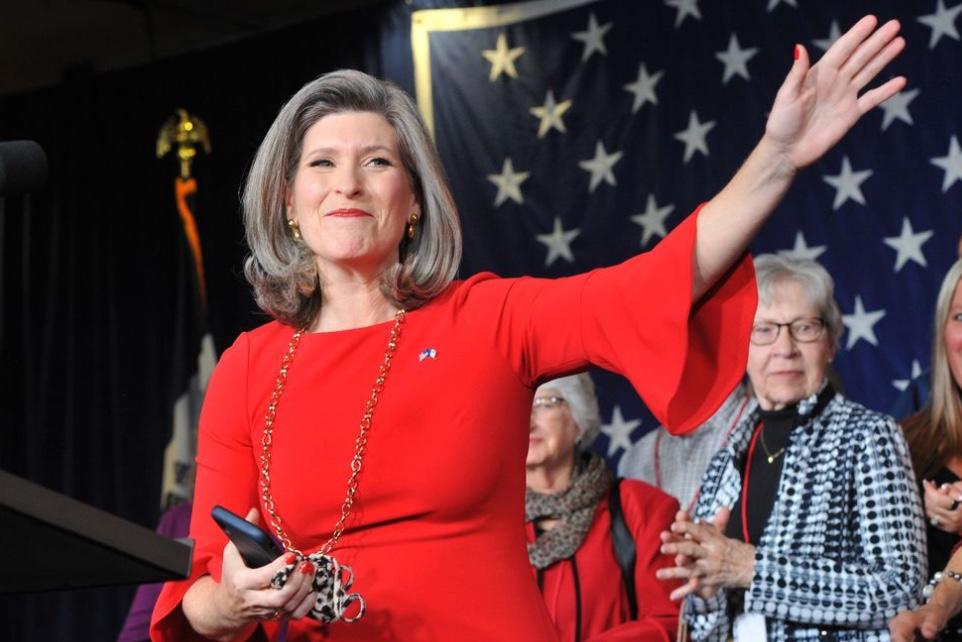 Joni Ernst
Despite the legion of celebrities and models urging their followers to 'get out and vote' by posting selfies with their 'I voted' stickers and/or (in one notorious campaign) posing nude for risque adverts (oh to have been a fly on the wall during that pitch meeting), all the 'vote now' merch in the world couldn't deliver the Senate Majority that Wall Street had pinned its hopes of a sweeping stimulus deal upon.
To be sure, the Dems managed to flip a couple of high-profile seats; but the majority of "threatened" Republican Senators (and remember, there were a lot of them) managed to fend off deep-pocketed Democratic rivals.
Here's a roundup of where things stand as of Wednesday morning in New York (courtesy of the NYT & Bloomberg):
Democratic Senate candidates were running slightly behind Biden in several states, making it difficult for the party to retake Senate control.
Republicans flipped one seat: Tommy Tuberville beat the Democrat Doug Jones in Alabama. Gary Peters, the Democratic incumbent in Michigan, is locked in a close race with his Republican challenger, John James; it will depend on the outstanding votes.
Democrats flipped two seats: John Hickenlooper defeated Gardner in Colorado, and Mark Kelly defeated McSally in Arizona.
In Iowa, Senator Joni Ernst, a Republican, won re-election. Republicans also won races in Montana, South Carolina — where Lindsey Graham held on to his seat — and Texas.
John Cornyn defeated Air Force combat veteran MJ Hegar. Republican Roger Marshall won the open Kansas Senate seat, defeating a well-funded Barbara Bollier in a race Democrats had hopes of winning if there was a wave election.
Georgia Republican Senator Kelly Loeffler, who was appointed by the governor, will face off against Democrat Raphael Warnock, senior pastor of the Ebenezer Baptist Church in Atlanta, in the runoff. In the other Georgia contest, Republican incumbent David Perdue was leading Democratic challenger Jon Ossoff, who narrowly lost an Atlanta-area House special election in 2017.
Democratic Senator Mark Warner was easily re-elected to a third term in Virginia and Republican Shelley Moore Capito won a second term in West Virginia, according to Associated Press projections. Incumbent Democrats Edward Markey in Massachusetts, Jeanne Shaheen in New Hampshire, Jack Reed in Rhode Island, Chris Coons in Delaware and Dick Durbin in Illinois also won re-election.
Along With McConnell and Capito, Republican James Inhofe won re-election in Oklahoma. In Tennessee, Republican Bill Hagerty won the seat being vacated by Republican Senator Lamar Alexander, who is retiring. South Dakota Republican Mike Rounds and Nebraska Republican Ben Sasse also were re-elected. In Wyoming, Republican Cynthia Lummis won election to the seat now held by Mike Enzi, who is retiring.
Several other races remain too close to call, including in Maine, where Senator Susan Collins leads the Democratic nominee, Sara Gideon. In a special Senate election in Georgia, the incumbent Kelly Loeffler is headed to a January runoff against the Democrat Raphael Warnock.
As we await the final results, President Trump has a much stronger chance of winning a second term than any of the 'professionals' anticipated, and although Twitter and Facebook affixed labels to some of his spicier tweets last night (including one accusing Democrats of trying to "steal" the election), the chaos that many had feared has given way to an eerie silence.
At this point, "virtually everything has to go right" for the Dems to take the Senate, said one veteran analyst with the Cook Political Report tweeted.
Also, I did not say it's impossible for Dems right now. It's just that virtually everything has to go right for them. And so far tonight, almost nothing has. https://t.co/u7lmlIueHq

— Jessica Taylor (@JessicaTaylor) November 4, 2020
The two big tossup Senate races that have yet to be called involve Susan Collins (of Maine) and Thom Tillis (of North Carolina), both of whom were holding on to leads in vote counts. Both would need to lose to deliver the four seats that Dems would need to take an outright majority (rather than a 50-50 tie with the VP casting the deciding vote).
When President Trump said during rallies in recent weeks that he expected the GOP to take back the House, professional analysts sniggered. However, they failed to anticipate even the possibility that the GOP could expand its caucus. The Senate races "closely mirrored" the race at the top of the ticket, with few voters splitting ballots, as President Trump helped carry some embattled senators, including Lindsey Graham, over the line.
But as bad as the situation is for the Senate, Democrats' performance in various tossup House races was even more abysmal. Though the Dems are expected to hold on to their majority, the GOP is expected to take more than 200 seats, leaving them with an emboldened minority. Pollsters had expected Dems to pick up more than a dozen seats; it's just the latest reminder of how far off the public opinion polls were in the runup to the election.
Politico's Jake Sherman put it best in a string of tweets where he labeled Tuesday "an abject disaster" for Democrats.
Playbook: What blue wave?

TUESDAY WAS AN ABJECT DISASTER for Democrats in Washington. To imagine the amount of soul searching and explaining the party will have to do after Tuesday is absolutely dizzying. The infighting will be bloody — as it should be.

— Jake Sherman (@JakeSherman) November 4, 2020
We fielded text after text from Hill Democrats Tuesday night and early Wednesday morning with existential questions about their leadership and the direction of their party.

— Jake Sherman (@JakeSherman) November 4, 2020
Ds TOLD US in the weeks and months leading up to EDay that they were on track to win the majority in Senate, and they don't appear poised to do that. Donors gave $90m to lose to @senatemajldr , $108 million to lose to @LindseyGrahamSC and $24 million to lose to @JohnCornyn .

— Jake Sherman (@JakeSherman) November 4, 2020
GOP Sen. STEVE DAINES won in MT. GOP Sen. THOM TILLIS is up in NC. GOP Sen. DAVID PERDUE is above 50% in Georgia, at the moment. Sen. SUSAN COLLINS is narrowly ahead in Maine — despite Democrat SARA GIDEON raising $69 million. Iowa Sen. JONI ERNST won her bid for 2d term.

— Jake Sherman (@JakeSherman) November 4, 2020
DEMOCRATS AND REPUBLICANS TOLD US that Dems would win a dozen seats in the House, and knock off a whole host of Republican incumbents, and that was completely wrong. Instead, Republicans — powered by the @NRCC and @CLF — beat a bunch of Democratic incumbents.

— Jake Sherman (@JakeSherman) November 4, 2020
The GOP added women to their ranks. They beat Minnesota Rep. COLLIN PETERSON after a few decades of trying. Republicans beat two Democratic incumbents in the Miami area — DEBBIE MUCARSEL-POWELL and DONNA SHALALA. NANCY MACE beat Rep. JOE CUNNINGHAM in South Carolina.

— Jake Sherman (@JakeSherman) November 4, 2020
Democratic Rep. MAX ROSE appears to be done in Staten Island. Democratic Reps. XOCHITL TORRES SMALL of New Mexico and KENDRA HORN of Oklahoma both have lost.

— Jake Sherman (@JakeSherman) November 4, 2020
AND, TO ADD INSULT TO INJURY, the chair of the DCCC, Rep. CHERI BUSTOS, is struggling to hang on in her Illinois district. Speaker NANCY PELOSI and her leadership team will have a lot to think about — and explain — in the next few weeks. Rs could have a net gain of 10 seats

— Jake Sherman (@JakeSherman) November 4, 2020
<@GOPLeader told @BresPolitico early this Wednesday morning: "We defied the odds. It's the night of the Republican women. … The Democrats never solved one problem in their majority. They promised they would govern differently, and they didn't."

— Jake Sherman (@JakeSherman) November 4, 2020
House Democrats are confused. Angry at the @dccc. Unsure where to go next. A mix of "what the **** just happened" and "don't blame me." Wild days ahead. Lame duck coming up. Leadership elections. Soul searching. Buckle up

— Jake Sherman (@JakeSherman) November 4, 2020
Bottom line: Republicans are headed for a net gain of around ten seats. Even members of Nancy Pelosi's leadership team are having a hard time hanging on to their seats. When the dust settles, the speaker is going to have some explaining to do. Maybe it's time for the Dems to put the 80-year-old Speaker out to pasture?