By Tyler Durden
The coronavirus has accelerated a trend in American holiday-season consumption: the shift away from packing malls on Black Friday, and toward shopping online, placing some orders as early as "Prime Day" (which Amazon held in October this year). Instead of braving the elements and the lines, a growing number of Americans instead place most, or all, of their holiday gift orders via Amazon.
In recent years, the trend was attributed to  bitterly cold weather and other impediments. But old habits die hard, and up until last year, millions of Americans continued to pack into stores on Black Friday, with many big box stores opening earlier and earlier (eliciting public backlash over pulling workers and shoppers away from their families).
But as COVID-19 infections peak and governors tighten restrictions on 'non-essential' businesses like retailers, analysts are bracing for e-commerce sales to finally eclipse brick-and-mortar sales for the first time.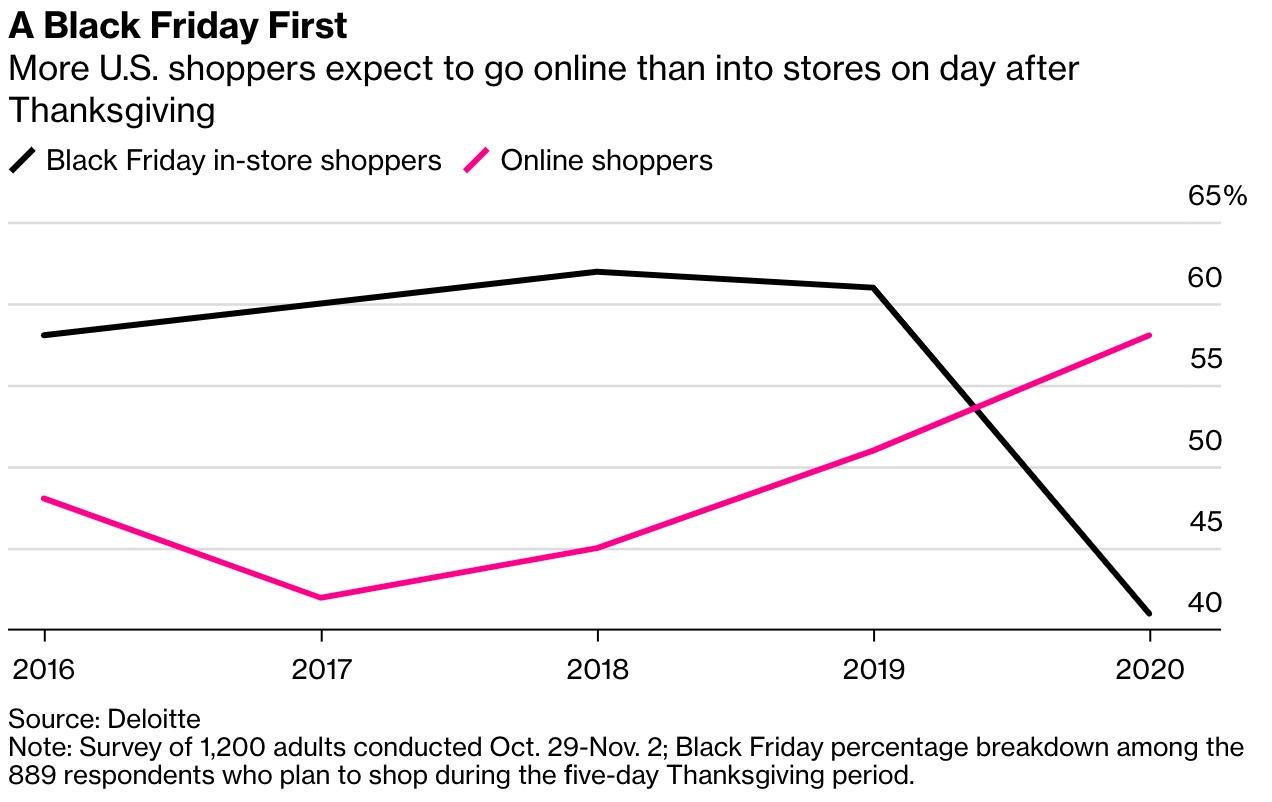 Why? Because according to a survey from Deloitte, for the first time ever, more American holiday shoppers are planning to spend a total of $189 billion, which would be a staggering 33% increase from last year. That's equal to two years' growth in one season. "This year is unlike anything else," said Ken Perkins, president and founder of Retail Metrics.
People are going to be really adverse to come into stores on Black Friday, so traffic will be relatively more modest. Curbside pick up will be extremely important this holiday season. Impulse buying will also fall off as online shopping tends to be very targeted.
Retailers (including specifically department stores) that rely on mall traffic have been particularly hard-hit this year. Just the other day, we reported that America's brick-and-mortar stores owe a staggering $52 billion in rents.
What's even more worrisome: department stores even reported steep declines in online traffic ahead of Thanksgiving, according to CFRA Research analyst Camilla Yanushevsky. That could be a sign that consumers are focusing on proven e-commerce platforms like Amazon and a select few others, while the laggards are doomed.
However, there are exceptions, as with every trend. Bloomberg points out that Williams-Sonoma and TJX Corp – owner of HomeGoods and TJ Maxx – could outperform as the rush to the suburbs has led to heightened demand for furnishings, while TJ Maxx's everyday bargains typically attract more shoppers in hard economic times (though according to the economic wizards on the Wall Street Journal's editorial board, the Dow's latest milestone has NOTHING to do with central bank liquidity injections and EVERYTHING to do with the "wonderful engine of prosperity" that is the American economy).
"Even with the vaccine coming, people are moving out of the city, into the burbs, and they need to fill their homes," one analyst at RetailMetrics said.
Other potential beneficiaries, according to Bloomberg, include Best Buy, Conn's Inc and Acco Brands, as demand for hot gadgets like the PS5 and new phones from Samsung and Apple leads to a surge in sales. Bloomberg also cited Mattel, Hasbro, Amazon and Walmart as other potential holiday season outperformers.
According to Bloomberg and CNBC, COVID has helped to separate the wheat from the chaff in the retail space, compounding the problems of retailers who neglected their digital business, while rewarding companies that did, via increased opportunities for synergies (like order online, pickup in store functionality).
This holiday season should put all that to the test.
As the start of the holiday shopping season arrives, some analysts are getting worried. JPMorgan Chase's Matthew Boss recently cut his estimate for Q4 same-store sales – one key metric for retailers that's closely watched by analysts – to below-consensus levels. If the shift to e-commerce is as dramatic as the Deloitte survey suggests it might be, then that might prove to have been a prescient move.
Also Read:
Source: Zero Hedge
Image: Pixabay
Subscribe to Activist Post for truth, peace, and freedom news. Send resources to the front lines of peace and freedom HERE! Follow us on SoMee, HIVE, Parler, Flote, Minds, MeWe and Twitter.
Provide, Protect and Profit from what's coming! Get a free issue of Counter Markets today.