Submitted by Planet Free Will,
On the same day Trump extended an emergency declaration at the southern border, Biden's pick for secretary of the Department of Homeland Security, Alejandro Mayorkas, says that he will "study" whether the border wall constructed under the Trump administration will remain in place.
"President-elect Biden has committed to stop construction of the border wall. It would be my responsibility to execute on that and I have not looked at the question of what we do with respect to the wall that has already been built," Mayorkas said Tuesday during his Senate confirmation hearing.
"I look forward to studying that question, understanding the costs and benefits of doing so, being open and transparent with you and all members of this committee, sharing my thoughts and considerations and working cooperative with you toward a solution," he said.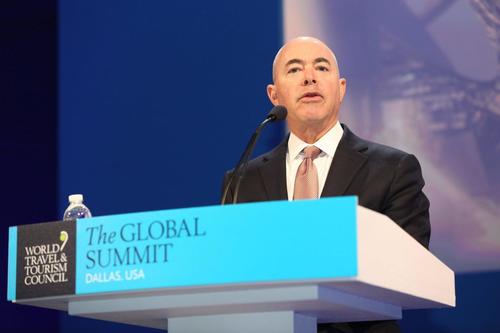 The incoming DHS Sec. says that he plans to work on "harnessing innovation and technology" for future border security as he believes a border wall may not be the most effective way to stop people from entering the country.
President-elect Biden has stated that he would not construct "another foot" of border wall between the U.S. and Mexico when he assumes office.
"There will not be another foot of wall constructed on my administration, No. 1," Biden said in August. "I'm going to make sure that we have border protection, but it's going to be based on making sure that we use high-tech capacity to deal with it. And at the ports of entry — that's where all the bad stuff is happening,"
As we highlighted earlier, President Donald Trump on Tuesday extended his declared emergency at the southern border to be in effect until February 2022. The order set in motion funding for the now 453 miles in length southern border wall after congress had folded on devoting money to the project in 2019.
"The executive branch has taken steps to address the crisis, but further action is needed to address the humanitarian crisis and to control unlawful migration and the flow of narcotics and criminals across the southern border of the United States," the President said in a statment, adding:
For these reasons, the national emergency declared on February 15, 2019, and the measures adopted on that date to respond to that emergency, must continue in effect beyond February 15, 2021. Therefore, in accordance with section 202(d) of the National Emergencies Act (50 U.S.C. 1622(d)), I am continuing for 1 year the national emergency declared in Proclamation 9844 concerning the southern border of the United States.
If further construction of the border wall ends under Biden, the U.S. southern border would remain largely open between Texas and Mexico.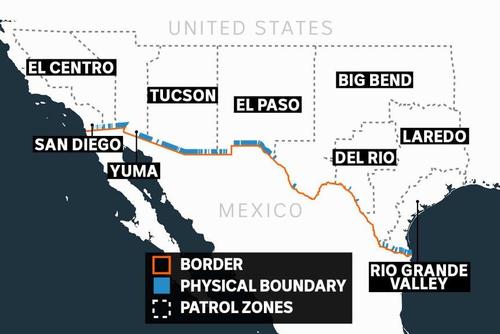 While both Biden and his incoming DHS Secretary tout a "high-tech" solution to securing the border, it is unclear what type of technology could prevent caravans of migrants, such as the one currently heading north through central American to the U.S., from breaching the largely open border.
Caravan from Honduras busting through Guatemala Border in route to the USApic.twitter.com/ZSdFqGLzxb

— Drew Hernandez (@DrewHLive) January 16, 2021
Director of U.S. Immigration and Customs Enforcement (ICE) Thomas Homan said Monday that Biden's immigration policies could cause "a surge at the border that we've never seen before."
"The criminal gangs have already figured out the transportation routes. The caravans are already loaded up and coming and more is going to come. You're going to see a surge at the border that we've never seen before because of the words of Joe Biden," Homan told Fox News.
The poor economic conditions in Honduras is sending a wave of economic-migrants up through Central America in anticipation for the Biden Administration's welcoming immigration policies which could place a moratorium on deportations and fast track millions of migrants to citizenship.
Honduran migrant: President-elect Biden is "going to help all of us." pic.twitter.com/LkrVCsXcSb

— The Hill (@thehill) January 18, 2021