While President-elect Joe Biden has pledged to take action 'on Day One" regarding a wide range of campaign promises, the reality is that most of them will take weeks, if not months, to fulfill.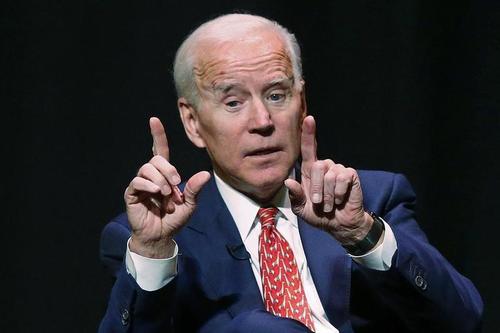 Bloomberg frames it as "largely a rhetorical flourish, meant to underscore a readiness to take office than an actual to-do list" (before pointing out that Trump's "Day One" promises took between four and 112 days to fulfill).
While some of Biden's promises can be accomplished with the stroke of a pen, others will require him to prod the bureaucracy to act. Some will rely on his ability to strike deals with Republicans in Congress. And still others are likely to be dead on arrival. –Bloomberg
That said, the Biden administration will have a much easier time enacting their agenda following the two Georgia runoff elections earlier this month which handed Democrats control of the Senate.
Here's a partial scorecard of Biden initiatives and 'what it would take' to get them done. (See full list at Bloomberg):
The economy and taxes:
"Only Congress can set tax law and spend federal money, so Biden will need to work with Capitol Hill to get just about anything done on the economy. With their new majority, Democrats can use the budget reconciliation process to bypass the filibuster and pass fiscal policy on a simple majority vote — but there are limits on how many times Congress can use that tool."
Biden promise: "On Day One, if I'm president of the United States, you're going to see the end of Trump's tax cut for the top 10th of 1%." (Speech to the Philadelphia AFL-CIO, September 2019.)   

What it would take: "Changes in the tax code require legislation, and major tax reform is unlikely in the short term because it's not a top priority for Democrats during the coronavirus pandemic."

Biden promise: "Let's pay them a decent wage, at least $15 per hour, ending the tipped minimum wage and sub-minimum wage for people with disabilities, and strong benefits so they can live a middle class life." (Biden-Harris economic recovery plan)

What it would take: "Much of what Biden calls for in his jobs plan would require Congress to act — including a minimum wage increase, expanded bargaining rights and paycheck anti-discrimination laws. He does have some tools at his disposal, like appointments to the National Labor Relations Board, rules for federal contracting and Medicaid regulations on home health care workers."
Climate, energy and the environment:
"The president has considerable influence over environmental policy, but it's often slow and indirect. He can negotiate nonbinding agreements with other countries. He can also order regulatory change; it just takes a little time."

Biden promise: "We're going to get to work, delivering results right on Day One. We're going to reverse Trump's rollbacks of 100 public health and environmental rules, and then forge a path to greater ambition." (Speech in Wilmington, Delaware, July 14, 2020)

What it would take: "Biden might begin the process on Day One, but results could take months or years. While the Clean Air Act gives the executive branch authority to set emissions limits, those regulations can subject to a lengthy process of scientific study and public comments."

 

Biden promise: "The United States will rejoin the Paris Agreement on Day One of my presidency." (Remarks on the fifth anniversary of the Paris Climate Agreement, December 12, 2020)   

What it would take: "The Paris accord is an executive agreement, meaning it doesn't require ratification by the Senate as a treaty would. Biden can petition to rejoin the agreement on Day One, with re-entry to take effect 30 days later."
Immigration:
The president has authority over how the immigration laws are enforced — Obama, for example, made a priority of the deportation of violent criminals and deferred action on so-called "Dreamers" who entered the country illegally as children. Wholesale changes in citizenship would take an act of Congress, but Biden can undo Trump's executive orders on enforcement.

Biden promise: "On Day One, Joe Biden will rescind the un-American Muslim travel and refugee bans…. Biden will re-establish the United States as a welcoming destination for those seeking to pursue the American dream, including immigrants from the Arab world." (Statement, August 29, 2020)

What it would take: "Trump's ban on travel from predominantly Muslim countries has now been expanded to 13 nations. Because the ban was imposed by presidential proclamation, Biden can simply rescind it. Allowing more refugees requires consultation with Congress every September."

Biden promise: "I'll send a bill to Congress on Day One that will create a road map to citizenship for the 11 million undocumented individuals already living in and strengthening the United States." (Statement, October 21, 2020)

What it would take: "Every president since George W. Bush has tried for a major immigration overhaul, but all have failed to get it through a divided Congress. Biden said Friday he would introduce his plan "immediately" after taking office but did not outline details. Citizenship for undocumented immigrants could be a stumbling block."
Health:
The coronavirus pandemic has put an unprecedented focus on the president's power over public health. But public health remains primarily a state function, so the federal role has been largely limited to encouraging personal safety measures and the development of a vaccine.

Biden promise: "We're going to act. On Day One we're going to act to get Covid under control. On Day One of my presidency I'll put in action a plan that I've been talking about for months, masking, social distancing, testing, tracing, a plan for full and fair and free distribution of therapeutics and vaccines when we get one." (Speech in Pittsburgh, 11/2/2020)   

What it would take: "Biden has expounded on his campaign promise to include an executive order requiring masks in federal buildings and in interstate transportation. Last week his transition team said he would also change the Trump administration policy of keeping half of vaccine doses in reserve so people are assured of a second shot. "The government should stop holding back vaccine supply so we can get more shots in Americans' arms now," a spokesman said."

Biden promise: "Americans are safer when America is engaged in strengthening global health. On my first day as president, I will rejoin the WHO and restore our leadership on the world stage." (Biden tweet, July 7, 2020)"

What it would take: "Rejoining the World Health Organization is the easy part, but experts say it will take sustained work to repair relationships and re-assert U.S. leadership in global health."
National security:
The president's role as commander-in-chief gives him broad powers to run the military and conduct foreign relations, and Congress has largely delegated to him the authority to impose economic sanctions on other countries.

 

Biden promise: "The last godda** thing we need in that part of the world is a buildup of nuclear capability. In consultation with our allies and partners, we're going to engage in negotiations and follow-on agreements to tighten and lengthen Iran's nuclear constraints, as well as address the missile program." (Interview

What it would take: The deal first signed in 2015 will be hard to revive. Iran began to breach the limit on uranium enrichment after Trump re-imposed sanctions. Tehran says it can reverse those efforts, but it expects its economy be made whole.
Domestic policy:
Domestic policy is largely the province of Congress, but the president does have some tools at his disposal.

Biden promise: "To gun owners out there who say, well a Biden administration means, they're going to come for my guns. Bingo. You're right if you have an assault weapon," (CNN interview, Aug. 6, 2019)   

What it would take: "Biden, who helped pass a 10-year assault weapons ban as a senator in 1994, has also made clear that most gun-control efforts require Congress. "No one has fought harder to get rid of assault weapons than me, but you can't do it by executive order," he told civil rights leaders this month. Still, Biden could expand enforcement and tighten up background checks."

 

Biden promise: "President Obama used his clemency power more than any of the 10 prior presidents. Biden will continue this tradition and broadly use his clemency power for certain nonviolent and drug crimes." (Statement on Biden criminal justice policy.)   

What it would take: "The presidential clemency power is one of the most absolute — with neither Congress nor the courts having any control over its use. There are a record 14,282 formal clemency petitions pending with the Justice Department, which Trump has largely ignored in favor of a more political process."