Authored by Dave DeCamp via AntiWar.com,
Bloomberg reported on Friday that Joe Biden's advisors are preparing for potential negotiations with Venezuelan President Nicolas Maduro, a sign Biden will break from President Trump's policy.
Sources told Bloomberg that the Biden administration will push for "free and fair" elections in Venezuela, offering sanctions relief in exchange. The Trump administration's current policy is that it will accept nothing less than Maduro's surrender.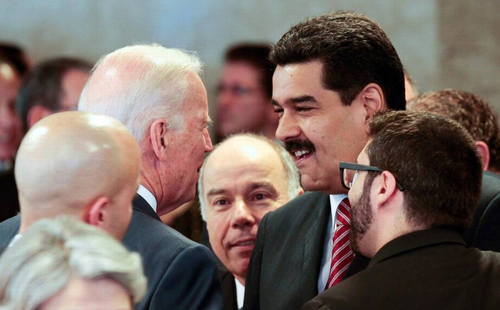 As detailed in the Bloomberg report:
"The president-elect's team will review existing sanctions to determine where to expand restrictions with the help of international allies and what measures might get lifted if Maduro moves toward the democratic objective, the people said. Maduro's foreign backers, including Russia, China and Iran, are expected to play a role, as will Cuba, which is keen to improve relations with the U.S."
Since January 2019, the US has recognized opposition leader Juan Guaido as the president of Venezuela, despite Maduro still being in office. According to Bloomberg, Guaido's team has been trying to arrange a phone call with Biden since late November, without success.
Guaido's failed coup attempts and calls for US intervention to oust Maduro lost him what little support he had in the country. Even among the hawks in Washington, Guaido is no longer seen as a viable opposition leader.
The Trump campaign had previously attacked Biden for being soft on the Venezuelan strongman:
Joe Biden just claimed he "confronted" Maduro. This … doesn't look like a confrontation. #DemDebate pic.twitter.com/VEOwv4RIhK

— Trump War Room (@TrumpWarRoom) September 13, 2019
On Friday, the Trump administration issued new Venezuela-related sanctions over the country's parliamentary election that was held on December 6th. The US claims the elections were fraudulent and blacklisted two people and a company it said were involved.
US sanctions on Venezuela have exacerbated the country's economic crisis and has had a devastating impact on the civilian population. The sanctions are so heavy Venezuela is essentially under a US blockade as Washington is able to pressure shipping companies not to trade with Caracas.