Summary:
Bahrain second country to approve COVID vax
Moderna CEO says 500MM doses likely next year
More than 10 states broke COVID records yesterday
Pennsylvania reports more than 11K new cases as outbreak surges
CCP official claims 600MM vaccine doses are ready to go
New York hospitalizations top 4K
Texas reports 4th-straight day of 10K+ new cases
Delaware issues stay home advisory
Colo. warns of more than 4.4K COVID deaths this month
Norway says residents in nursing homes being given vaccine priority
* * *
Update (1430ET): The tiny gulf state of Bahrain has officially become the second country in the world to grant approval to Pfizer's COVID-19 vaccine for emergency use. The NHRA, Bahrain's national health authority, said vaccines would initially be used on "high risk groups" though it's unclear how much supply the country has access too, as Bahrain didn't say how many vaccine doses it has purchased.
"Bahrain has approved the of Pfizer/BioNTech COVID-19 vaccine that will be used for high-risk groups," Bahrain's National Health Regulatory Authority said.
Of course, as Al Jazeera points out, Bahrain's hot climate will make it difficult to transfer and store Pfizer's vaccine, which must be stored at extremely cold temperatures.
The UK became the first country earlier this week, a move that was criticized by some as rushed.
* * *
Update (1215ET): One day after Pfizer cut its 2020 vaccine delivery target, Moderna CEO Stephane Bancel is saying that Moderna is 'very comfortable' with the idea that it will deliver 500MM vaccines in 2021…but to reach 1BN, it will need more resources.
MODERNA SAYS 1B DOSES IN 2021 WOULD NEED MORE RESOURCES: RTRS
MODERNA VERY COMFORTABLE IT WILL REACH 500M DOSES IN 2021: RTRS
Pfizer left its 2021 target unchanged, but dropped its 2020 target by 50%. Today, the company said it's nearly done manufacturing enough doses to meet the new 2020 target.
* * *
Friday marks the end of what has been a brutal week for the US COVID-19 outbreak, with lockdowns imposed by LA Mayor Eric Garcetti, followed by California Gov Gavin Newsom's decision to ratchet up restrictions in four out of five of the official regions (the Bay Area apparently being the lone exception).
Then yesterday, just minutes before the close, Pfizer dropped an unsettling warning about issues with raw materials that cut its delivery target for year-end by 50%.
According to the COVID-19 Tracking Project, the headline number for new daily cases came in at 163k on Thursday, which is slightly lower but roughly in line with the record numbers seen earlier this week.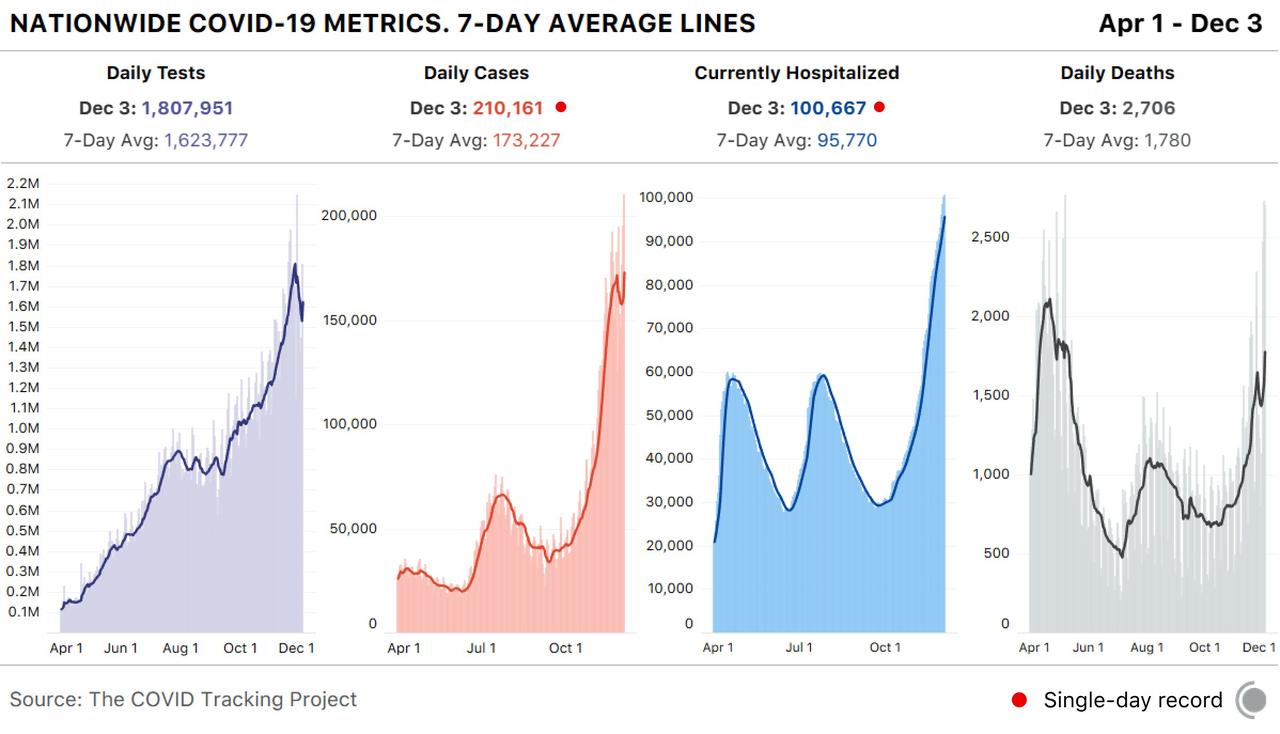 More than 10 states broke their daily records yesterday, according to the CTP: AK, AR, AZ, DE, IN, MA, ME, NJ, PA, RI, and VT. CTP clarified that while AZ appears to show a higher daily count on Dec. 1, that was actually due to a data backlog from the Thanksgiving holiday week.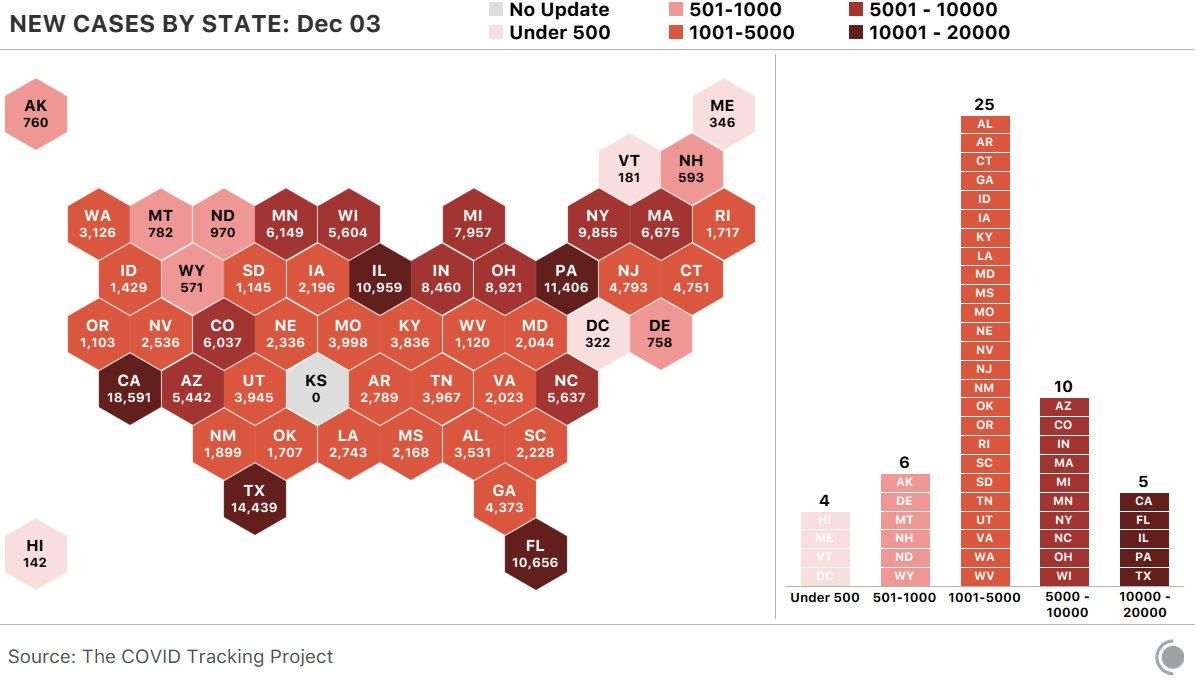 Pennsylvania has officially joined the camp of states that are nearing a 'tipping point' in terms of the rapidly surging numbers, after reporting 11,406 cases yesterday.
As we wait for Friday's numbers, which will likely confirm that the past week has been the worst week yet for the US as we near the harsh winter months, expected to trigger what CDC Director Robert Redfield has warned could be the worst health crisis ever.
Outside of the US, the biggest story on Friday appears to be news out of China that the CCP already has 600 million doses of COVID-19 vaccines ready to go. A top CCP official tasked with overseeing China's vaccination programs offered up the claim during comments to the press on Friday. Remember: Since each patient needs two doses, that would be enough to vaccinate 300 million people, less than a quarter of China's population. China has already admitted to vaccinating at least 1 million individuals under its "emergency" authorization, pushing international scientific standards to new extremes.
Here's a roundup of COVID-19 news from overnight:
New York's hospitalizations topped 4,000 for the first time since May (Sources: Newswires).
Texas saw its fourth straight day of 10K+ new virus cases, the longest streak since the peak of the initial outbreak in July (Source: Johns Hopkins).
Delaware issued a stay-at-home advisory, halting in-person learning at schools, prohibiting winter sports competitions and requiring people to wear masks indoors if mixing with another household.
Colorado said the virus could kill as many as 4,400 in the state this month (Source: Newswires).
A Glaxo-backed vaccine showed strong immune response in an early trial (Source: Newswires).
Tokyo Gov. Yuriko Koike asked citizens to avoid unnecessary outings and refrain from venturing out as much as possible to help stanch a new surge in coronavirus infections (Source: Bloomberg).
Residents in nursing homes will be given priority when vaccinations start, Health and Care Services Minister Bent Hoie says in a press conference in Oslo.