Exemplifying just how bad things in New York have gotten – and just how willing many are to simply get out of Bill de Blasio's city – a condo on NYC's famed Billionaire's Row sold for a record 51% discount this week.
The property is a 58th floor apartment in New York's One57 building, according to Bloomberg. The building was once viewed as a symbol of a luxury development boom in New York – a "boom" that ran face first into the Covid pandemic, as we have written about on Zero Hedge for the last year. 
The condo in question is a 4,483 sq. foot parcel that was purchased in 2014 for $34 million. It was sold this week for $16.75 million. 
The deal is the biggest loss by an owner at the building since it has been erected. In 2020, there were four other sales in the building in which the owner took a 40% loss, at least, according to Bloomberg.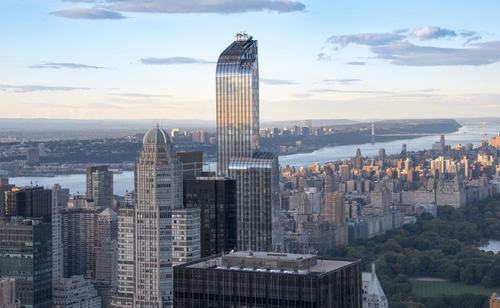 Development for One57 started in 2009 and the building became iconic in representing Manhattan's luxury condo boom that has played out since the Great Recession.
Jonathan Miller, president of Miller Samuel said: "It's a pricing reset for this building. It shows that the market is continuing to adjust for these properties and it suggests that there's potential for more."
Gary Barnett, chairman and founder of Extell, said: "Clearly, over six years ago the buyer understood the value of this unit, Unfortunately, this was an estate sale and they decided to just dump it."
"It will affect the value in all the surrounding buildings," he concluded.
Similarly, Forbes had estimated this summer that unsold units at The Getty Residences, at 503 West 24th Street, had seen sharp price discounts of more than 40%, as demand collapses.