The ECB's "war on cash" has been raging for years.
It began most directly in 2016 when The ECB made its decision to end production of €500 banknote.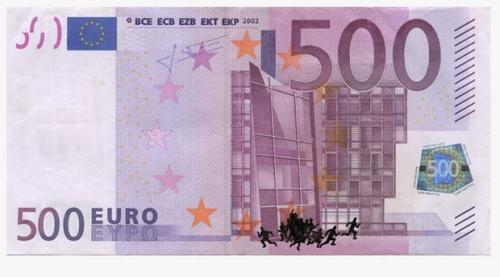 As we said at the time, not a bad way to launch a global ban on paper currency ahead of a global NIRP regime, and all, of course, in the name of fighting "tax evasion, financial crime, terrorism and corruption."
Since then the 'war on cash' escalated to negative interest rates… across the entire continent (and up into investment grade credit) and most recently directly into a push towards a digital euro.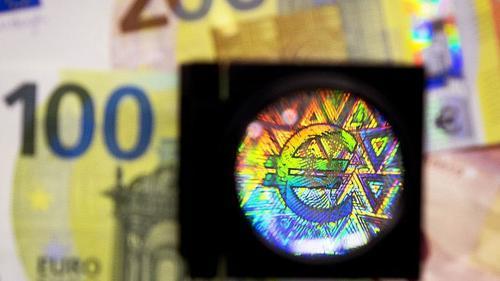 This is happening as the growth rate of Europe's currency in circulation just jumped into the double digits, the fastest pace this decade, strongly hinting that the ECB will be incentivized to track and control all circulating currency… ideally by converting it into digital.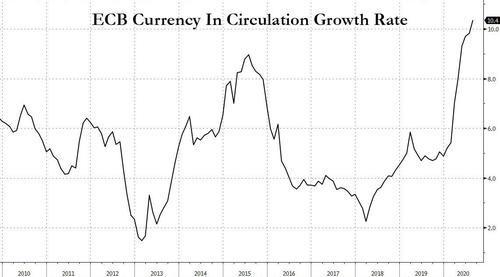 In a report setting out the pros and cons of launching a digital euro, the ECB said that it "could support the Eurosystems objectives by providing citizens with a safe form of money in the fast-changing digital world." By which, of course, it means preserving the ability to deposit – and withdraw – digital funds from European accounts at will, while in the process making banks redundant.
(THREAD) As technological changes are transforming how we pay, a digital euro could offer a universally accepted, risk-free and trusted means of payment to complement cash. We've analysed its possible benefits and challenges in our report https://t.co/RiwOCers68 1/3 pic.twitter.com/FLv1eRAkBL

— European Central Bank (@ecb) October 2, 2020
The push towards central-bank-backed digital currencies dovetails with Klaus Schwab's vision of a post-COVID 'Great-Reset'-ed world that we must accept to "avoid revolutions" which in fact will take place because of this man.
All of which leads us to a rather interesting situation as The Austrian National Bank has started an information campaign to support cash, seemingly putting it on a direct collision course with the ECB.
On January 1, 2002, the euro replaced the schilling as cash and has become an everyday companion for almost 20 years. But, as Deutsche Wirtschafts Nachrichten (DW) reports, the current campaign by the Oesterreichische Nationalbank (OeNB) underlines the importance of cash, which is still the most popular means of payment in Austria and accounts for 79 percent of all payment transactions, according to the dpa. On average, Austrians have EUR 121 in their wallets. OeNB Director Eduard Schock refers to current data from the European Central Bank (ECB):
"The results of the ECB's SPACE study published last week also show how important cash is in people's everyday lives."
Together with Germany, Spain, Portugal, Malta, Greece, Cyprus and Italy, Austria is one of the most "cash-heavy" countries in Europe.
But, as DW goes on to note, cash is more than just a means of payment. Cash is a part of everyday life, it creates identity and helps you to have your own finances under control. As of today, the OeNB is launching an information campaign in print and online media and highlights other special properties of euro cash:
Cash is Europe. 340 million people across Europe pay with euro banknotes and coins every day. They have become an integral part of everyday life and make trading, traveling, studying, living and working abroad easier. The common currency is one of the most tangible symbols of European integration.

Cash is technology. There are many high-tech elements in a euro banknote that make the euro one of the most counterfeit-proof currencies in the world. A special advantage: The authenticity can also be checked without technical aids with the simple test steps FEEL – SEE – TILT. The high security standards of the euro banknotes are having an effect: The number of counterfeit money in Austria and throughout Europe is falling.

Cash is learning. Whether during training, at work or in retirement: money always plays an important role. But you also have to learn how to deal with your own money. Banknotes and coins help you to have a better view of the expenses and thus to keep an overview of your own finances.
But the ECB is pushing a campaign to reduce the importance of cash.
The EU's monetary authorities want to introduce a digital euro that will gradually push back cash.
Is this the start of a rebellion?