Australia is using its formative military alliances as the only leverage it has in the worsening trade spat with China which has grown into a full-blown crisis for Aussie commodities exports.
It also comes after Secretary of State Mike Pompeo traveled to India and southeast Asian countries last month seeking to shore up coordinated regional resistance against Chinese economic and military influence and hegemony.
"Australia plans to sign a military exchange deal with U.S. ally Japan so troops from both sides could pool their firepower if needed to counter China, which has become enmeshed in disputes with Australia over the past two weeks," reports state-funded Voice of America.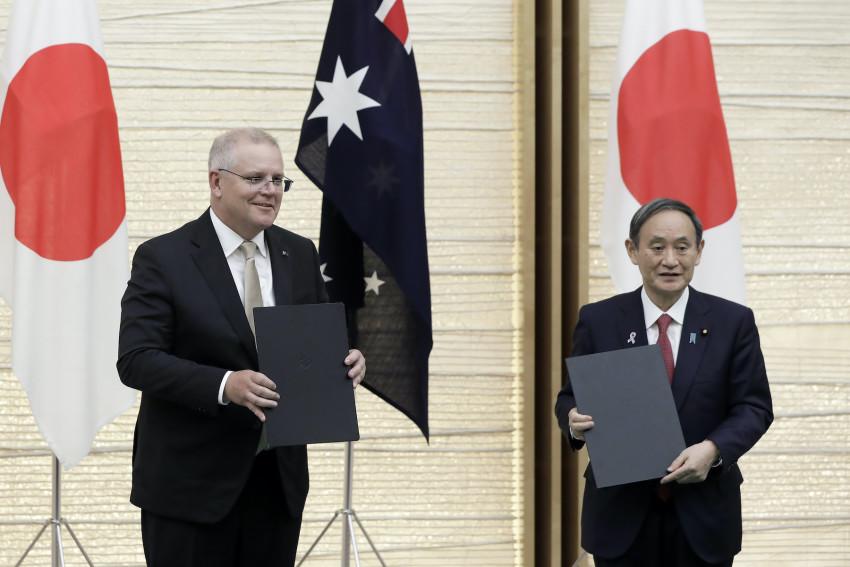 "Both sides said after a senior-level meeting November 17 they would sign a reciprocal access agreement next year," VOA continues. It would allow for each to train and operate from the other's sovereign territory.
The agreement is seen as greatly bolstering the common readiness of a loosened defense pact known as the Quad which has as its purpose information and intelligence coordination and cooperating on military exercises. India, Japan, Australia and the US formed the group in 2007.
Assuming the deal when signed gets successfully approved by Japan's parliament it would mark the first time since WWII that Tokyo formally and willingly approved of inviting foreign troops to operate on its soil. Previously Japan's prime minister, Yoshihide Suga, said it would be toward the two regional militaries cooperation for "a free and open Indo-Pacific," according to Kyodo news.
Meanwhile a bizarre tweet from the US National Security Council after China slapped import taxes of up to 212.1% on Australian wines, which took effect last Saturday and has made Aussie wines basically unsellable in China:
Australian wine will be featured at a White House holiday reception this week. Pity vino lovers in China who, due to Beijing's coercive tariffs on Aussie vintners, will miss out. #AussieAussieAussieOiOiOi!

— NSC (@WHNSC) December 1, 2020
Weeks ago Australian Prime Minister Scott Morrison flew to Tokyo to firm up details. He stated at the time that "Japan has a very special relationship with Australia.  It is not just an economic one, it is not just a trade one, it is not just a cultural and social one.  Importantly, it is a strategic one. We play a very important role together in working in the Southwest Pacific together."
China's state media, which often reflects the internal government official statements of high Communist Party officials, condemned the deal, saying it "clearly targets China" and "further accelerates the confrontational atmosphere in the Asia-Pacific region."   
At the same time the US Navy's Seventh Fleet, which is headquartered in Japan, has issued statements praising and welcoming the impending deal.