Here's how the Associated Press responded to the latest terrorist beheadings to rock France which has placed the country in a state of 'maximum security alert': the major US-based international news organization essentially blamed France itself. 
This despite that in the two decapitation attacks and stabbings which came within two weeks of each other (leaving multiple innocent French citizens dead), the perpetrators made it very clear they were committing the brutal murders in the name of Islam as revenge against President Macron and France's supposed 'anti-Islamic' stance and statements, specifically free speech related remarks made in defense of Charlie Hebdo cartoons which depicted Muhammad in a mocking fashion.
AP Explains: Maybe France's skirt is just too short pic.twitter.com/pzLIBsZ3sK

— Ben McDonald (@Bmac0507) October 31, 2020
Astoundingly, AP's verified Twitter account appeared to offer some level of 'justification' for the killings that included blame of the country's "staunch secular policies" and the "tough-talking president" who appears "insensitive" to Muslims.
While linking to an article the prominent news outlet wrote: "AP Explains: Why does France incite anger in the Muslim world? Its brutal colonial past, staunch secular policies and tough-talking president who is seen as insensitive toward the Muslim faith all play a role." 
The backlash was so immediate and fierce that the AP soon deleted its outrageous tweet, replacing it with this:
This replaces a tweet about France and the Muslim world that asked why France "incites" anger. The word was not intended to convey that France instigates anger against it.

— The Associated Press (@AP) November 1, 2020
Though short of an apology, the fact that it was deleted constitutes a rare, embarrassing moment for the press agency. However, the follow-up message did little to alleviate suspicions that this is yet another case of media elites trying to downplay or ignore Islamic terrorism.
More worrisome, the outlet is in reality "inciting hatred against France and its people" – as one journalist observed.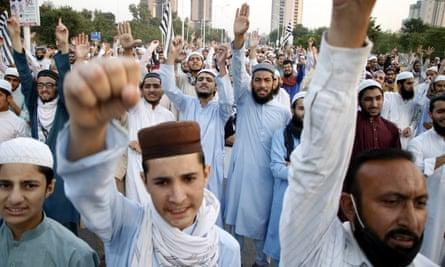 The article itself that the original tweet link to also seemed to lay blame for the slayings on France's secular traditions and on the government and people themselves. 
Many angry commenters underscored that it was a blatant and unbelievable case of victim blaming, while simultaneously failing to condemn the murderers and essentially ignoring their own statements and motives. One emphasized that it was no less than a "justification for decapitation". 
This paragraph from the @AP is astonishing for where it selects to place its emphasis. It glances at the beheading, but only as a means of teeing up the real rebuke of Macron for not renouncing cartoons. There's not even a hint of awareness that decapitations must stop first. pic.twitter.com/Pan4DcL1Kd

— Thomas Chatterton Williams 🌍 🎧 (@thomaschattwill) November 1, 2020
Especially in the case of French school teacher Samuel Patty's murder, his killer made it abundantly clear what his motives were.
The 18-year old murderer was shot and killed by police just after the Oct. 16 attack. But just prior to the shoot-out he posted a gruesome image of the aftermath of the beheading to social media as a "message" to others who promote the Charlie Hebdo cartoons or "insults" to Muhammad.