Authored by Mary Clark via The Epoch Times,
British supermarket group Asda on Wednesday urged its customers to shop considerately and not buy more than usual after new lockdown curbs were introduced across Britain to stem the spread of the CCP (Chinese Communist Party) virus.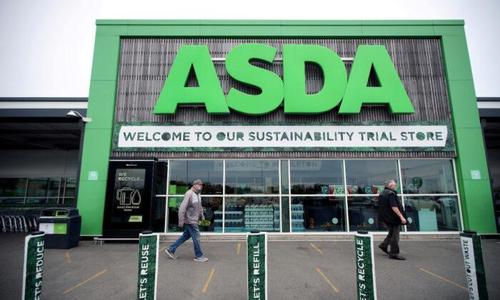 Under England's latest lockdown rules, people must stay at home with certain limited exceptions, only shops offering essentials such as food can open, and all hospitality venues including restaurants, apart from those offering take-away and delivery services, must close.
Scotland, Wales, and Northern Ireland, the UK's three devolved administrations, have enacted similar rules and, with the hospitality sector shut, there's pressure on supermarkets to meet demand.
Asda, however, said in a statement that it "currently has strong product availability across its stores and depots," adding that "colleagues are working around the clock to keep the shelves stocked."
'Shop Considerately'
Asda asked customers not to stockpile but rather to "play their part by continuing to shop considerately and not buy more than they normally would."
The supermarket's request comes just a day after Ocado's online shopping website had a virtual queue of more than 10,000 people, Sainsbury's, to manage demand, temporarily limited access to online groceries services, and Morrisons' online booking for grocery deliveries was showing "no more slots available."
Asda also said it saw a spike in visits to its website after the lockdown was announced.
But it's stepping up its digital capacity to help more customers shop online during the crisis.
"We have increased our weekly delivery slots to over 800,000, so we're already far better prepared for sudden increases in demand than we were with the first and second spikes," a spokesperson for the group told The Epoch Times on Tuesday.
The group said its online capacity had soared by 90 percent since March 2020 and that it expected weekly slots to reach 900,000 by April this year.
It also said that, from February, it will double its partnering with Uber Eats to offer a fast 30-minute delivery service on 350 Asda-branded products provided by 200 of its stores.
Asda is Britain's third-largest supermarket group after market leaders Tesco and Sainsbury's, and is currently owned by U.S. giant Walmart.
However, in October the Issa brothers and private equity group TDR Capital agreed to buy a majority holding in Asda in a deal giving it an enterprise value of £6.5 billion ($8.8 billion).
The deal, under which Walmart will keep a minority stake, requires regulatory approval and is expected to complete in the first half of 2021.