Authored by Tavi Costa and Kevin Smith via Crescat Capital,
Dear Investors:
Crescat Global Macro and Crescat Long/Short hedge funds are having a pullback month to date. We wanted to bring this to your attention because we think it presents an excellent buying opportunity for those considering adding money to Crescat for the end of this month. The opportunity is being caused by the recent run-up in equity markets. We show below a set of timing indicators that are as good as they get against the long stock crowd. We strongly believe that the fundamental, macro, and now technical reasons, never looked so appealing to capitalize on short positions in a select basket of highly overpriced securities that Crescat has identified via its fundamental equity model. 
In our November research letter, we shared a Crescat macro model that combines 15 fundamental valuation factors to show how US stocks have recently reached their most overvalued levels since 1900. The problem with speculative excess and the risks it poses to unprepared investors is simple to understand. Ultra-easy financial conditions create major manic tops in markets. As we show in the chart below, with both the tech bubble of 2000 and the housing bubble of 2007, the GS Financial Conditions Index reached cyclically low levels that distinctly marked these market tops. Financial conditions today, driven by historic low interest rates and tight credit spreads, are the loosest yet, the easiest of the past thirty years, at the same time as valuations and leverage are the highest.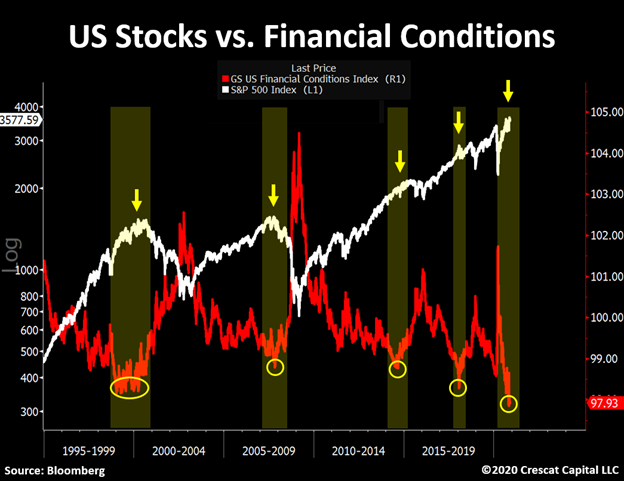 These excesses are clearly unsustainable and mark a potentially timely setup for a major market reversal. According to Bank of America, over the last two weeks, already fully-invested retail investors had their largest inflows into the stock market ever. Meanwhile, Goldman Sachs showed this week that hedge funds have their highest leverage since right before Volmageddon (250%) and are their most net long (84%) since they have been tracking the data (five years). Goldman also reported that the median short interest as a percent of market cap for the S&P 500 just plunged to the lowest it has been in the 16-year history of that data.
We can see below that speculative long call option positioning today relative to puts is the highest it has been since the peak of the tech bubble. Note also in this chart how the bull market has been losing steam since late 2017 as measured by the declining 14-day RSI, even as the overall market has pushed higher, a bearish signaling divergence.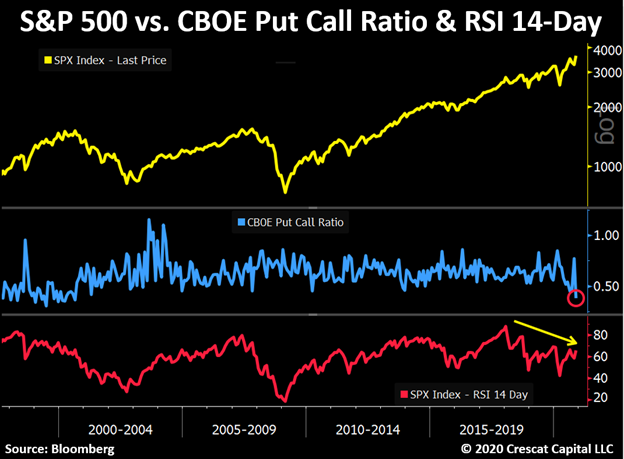 In another sign of the unsustainable excess today, the percentage of S&P 500 Index members that are above their 200-day moving average just reached a new extreme for the uber-high valuation environment of last five years. Note how the three prior peaks in this indicator during this regime circled in the chart below preceded substantial corrections: Volmageddon in February 2018, Q4 of 2018, and March 2020. During each of these periods, Crescat's two hedge funds mentioned above profited substantially.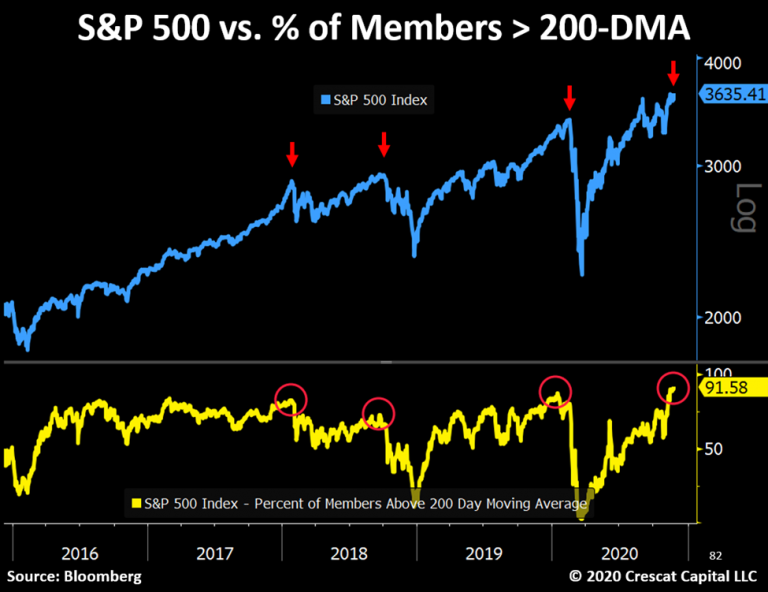 We are hereby warning of the dangerous risks of chasing this extremely frothy bull market. Forward thinking investors should take a cue from smart-money corporate insiders who sold more stock in one day last week than on any other day since 2004 as also noted by Goldman. At Crescat, we remain committed to tactical short positioning today in our Crescat Global Macro and Crescat Long/Short hedge funds alongside precious metals long exposure.
The setup for our long gold and silver positions in these two funds and in our Crescat Precious Metals fund and SMA is equally exciting today. The gold and silver mining stock long sleeve of all three Crescat hedge funds has been creating massive alpha and absolute return even as this market has been pulling back since its early August highs. Since then, the Philadelphia Gold and Silver Index has pulled back 19% while Van Eck Junior Gold Miners ETF is down 25%. Since its August launch, the Crescat Precious Metals Fund at almost the exact same time is up over 90% net. Imagine what is possible when the gold bull market resumes as our analysis indicates it will. Our activist fund can and will short gold and silver stocks at key times indicated by our macro analysis, but such a time is not now. This fund has been long precious metals equities entirely since inception. In this fund and the similar sleeve of our other hedge funds, we are focused on the extremely undervalued and high growth exploration segment of the industry today. Our stock picking in this segment is enhanced thanks to Crescat's geologic and technical advisor, renowned exploration geologist, Quinton Hennigh, PhD.
Our analysis shows that it is still extremely early in a new precious metals bull market, and the exploration segment in particular is where the most alpha and beta combined is likely to be extracted over the next several years. Gold has already corrected almost as much as during the February and March crash of this year. This time, there is a major difference in market behavior indicating a still early-cycle macro environment for gold and silver. Rather than leading to downside in this pullback, silver has been holding up incredibly well. In fact, the silver to gold ratio is only down 1/3 of the move it had back then.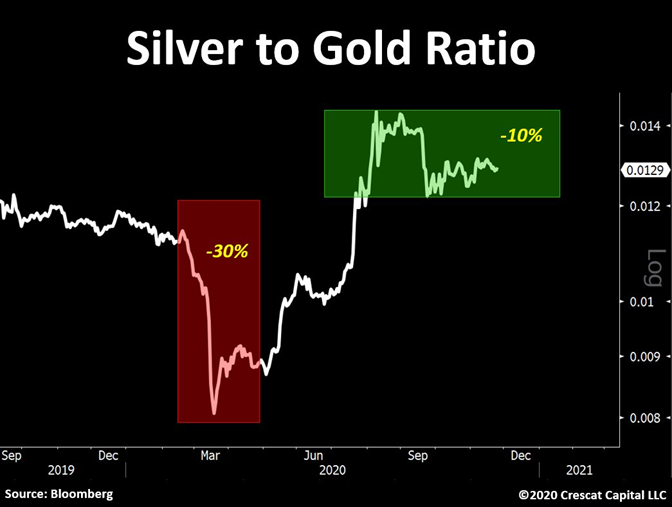 With such a severe twin deficit problem in the US economy, further government debt monetization is almost certain. For this reason, the recent appointment of the former Fed chair, Janet Yellen, is relevant to our thesis as we should continue to see an effort towards combining monetary and fiscal policy. Moreover, we have noted that as the Fed's balance sheet has recently turned up again, it has been one of the most important macro drivers for precious metals. Meanwhile, since the recent positive news about the vaccine, the media has repeatedly called for the end of the bull market for gold. We think these narratives are just noise. The macro reasons to be long precious metals today remain intact.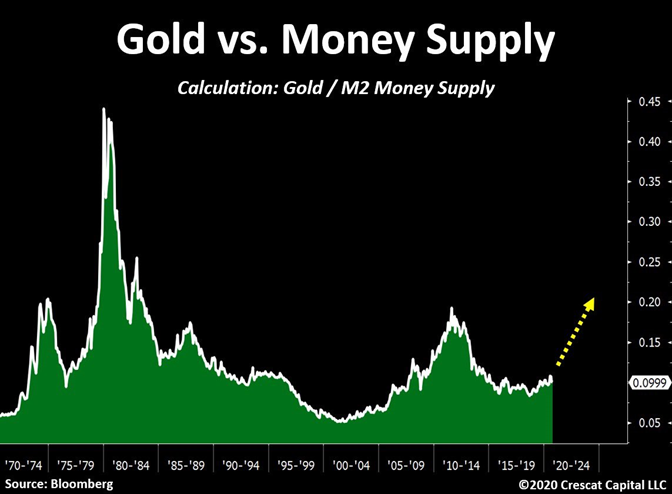 As the chart above shows, the price of gold relative to M2 money supply still looks historically attractive with significant upside likely ahead.