It was no secret that leading up to Saudi Arabian Oil Co.'s IPO in 2019 that the company touted its low emissions compared to other producers.
Chief Executive Officer Amin Nasser said while the company was doing its roadshows: "Not because our crude is cleaner than other crudes globally. It's because of our standards. Even though our numbers are great, climate change is critical for the world."
But now, it appears the company may have "failed to provide a complete picture", according to a new Bloomberg report. The report says that Aramco fails to account for emissions generated from many of its refineries and petrochemical plants. 
Inclusive of the omissions, Bloomberg estimates that the company's carbon footprint would "nearly double", and that Aramco would add as much as 55 million metric tons of CO2 to its annual tally. 
Now that investors "need to be able to put a price on the climate risks that they are running in their portfolios," as one commodity researcher put it, the carbon footprint numbers can easily turn into a "red flag". 
When Bloomberg reached Aramco for questioning, the company replied: "We have a clear and deliberate path to increase the scope and details of [emissions] disclosure." It said its current number "reflects emissions from those assets where Aramco has the accountability and ability to manage and control emissions."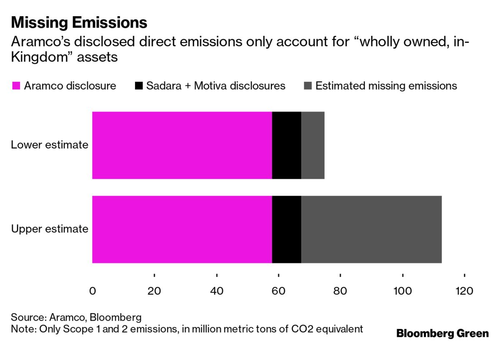 The company gets away with its current disclosures by pointing to the process of extracting the oil in Saudi Arabia. It will often cite studies that show that extraction of Saudi oil generates the second lowest amount of emissions in the world.
But this fails to capture the emissions that are generated from refining the crude, a crucial process for making the "black gunk" into sellable products like jet fuel or gasoline. The company instead only chooses to report emissions from facilities it wholly owns and that are inside of the kingdom.
It can use tricky accounting to obscure the numbers because many of its refineries are joint ventures, overseas, or both. When Bloomberg accounted for those emissions, it showed a "range for 2019 emissions between 75 million tons and 113 million tons." The company, in response, said "We do not comment on emissions on an asset-by-asset basis."
Those numbers would put Aramco near emissions parity with names like Exxon Mobil, despite the fact that Exxon extracted and refined about a third of what Aramco did in 2019. This means Aramco is cleaner, but not to the degree the company has led on.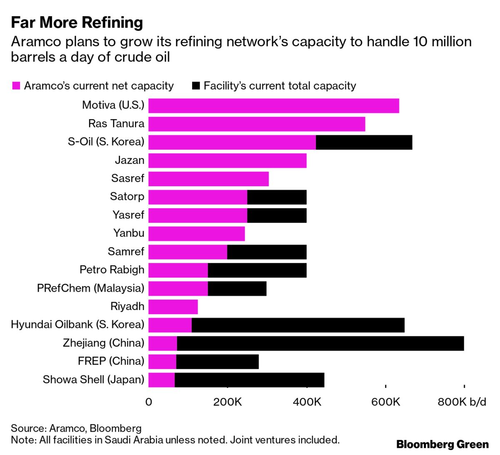 Many companies, including Exxon and Aramco, often have more detailed forecasts for emissions internally than they disclose. But most of the time, figures for individual assets and properties stay under the radar unless prompted by a government agency, the report notes:
The Aramco-owned Motiva refinery in Port Arthur, Texas, for example, reports annual emissions to the U.S. Environmental Protection Agency. It has a capacity to refine more than 600,000 barrels per day and produced 5.4 million tons of emissions in 2019. Those figures weren't included in the company's 2019 data, since Motiva is located outside Saudi Arabia.
Meanwhile, the ESG bug is catching up not only with U.S. investors, but also in Saudi Arabia, where its exchange recently announced plans to launch an ESG index. 
While investors are looking for more environmentally friendly investments, Aramco is on the verge of doubling "its refining network's capacity to handle as much as 10 million barrels a day by 2030."
Bloomberg notes that "much of those emissions wouldn't have been disclosed under the company's past reporting practices".