Authored by Paul Joseph Watson via Summit News,
Facebook has announced it will leave the decision on whether or not to uphold Donald Trump's suspension to its "oversight board," a body that includes a Muslim Brotherhood activist and a leftist who once publicly made Barron Trump the butt of a crass joke.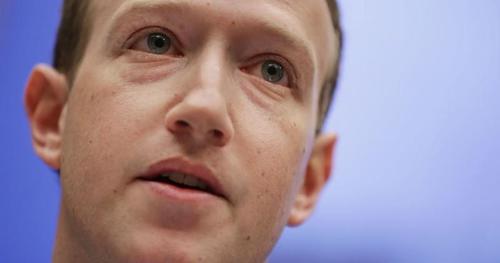 Who could possibly predict what's coming next?
Facebook suspended Trump for 2 weeks after the Capitol building incident and has now extended the suspension, although it hasn't yet gone as far as Twitter in permanently removing Trump's account.
In a statement released today, the social media behemoth said it would put the decision on whether to restore Trump's access (and potentially permanently removing his account) in the hands of it's "independent" Oversight Board.
"Given its significance, we think it is important for the board to review it and reach an independent judgment on whether it should be upheld. While we await the board's decision, Mr. Trump's access will remain suspended indefinitely," said Nick Clegg, Facebook's VP of global affairs and communications.
While Facebook and the mainstream media continue to refer to the Oversight Board as "independent," it is full of anti-Trump technocrats, academics and activists.
As we highlighted last year, one of the board's most influential members is Pamela Karlan, a leftist who infamously made Barron Trump the punch line of a joke during President Trump's impeachment hearings.
This woman is on Facebook's new "independent" @OversightBoard and will decide who to ban, and what content gets censored for "hate speech." pic.twitter.com/FfumKJ3xtL

— Mark Dice (@MarkDice) May 6, 2020
"The Constitution states that there can be no titles of nobility," said Karlan during the rant.

"So while the president can name his son Barron, he can't MAKE him a baron."
Melania Trump responded to the attack on Barron, a minor, by telling Karlan she "should be ashamed" of herself. The Trump administration called Karlan's statement "disgusting" and she subsequently apologized.
Karlan also once described herself as a "snarky, bisexual, Jewish women" and was described by the New York Times as a "full-throated, unapologetic liberal torchbearer."
Another member of Facebook's Oversight Board is Tawakkol Karman, an enthusiastic supporter of the Muslim Brotherhood, an Islamist organization that has been blamed for terrorist attacks in the Middle East.
Facebook forms a "supreme court" which will decide what content to allow or remove from the world's largest social media platform. One of the members of the supreme court is notorious Muslim Brotherhood activist Tawakkol Karman. pic.twitter.com/m2PHDvhi9c

— Kevork Almassian (@KevorkAlmassian) May 7, 2020
They both sound so "independent"! Trump is surely guaranteed to get his Facebook account back.
As we previously highlighted, despite Parler being banned from the Internet over its alleged role in the Capitol building attack, it subsequently emerged that the siege had in fact been overwhelmingly facilitated by Facebook.
*  *  *
New limited edition merch now available! Click here. In the age of mass Silicon Valley censorship It is crucial that we stay in touch. I need you to sign up for my free newsletter here. Support my sponsor – Turbo Force – a supercharged boost of clean energy without the comedown. Also, I urgently need your financial support here.