Alibaba's US-traded ADRs are rising in premarket trade on Wednesday after co-founder and chairman Jack Ma, one of the richest men in China, finally resurfaced after months of radio silence that sparked speculation about whether he had been "detained" by CCP authorities.
ADRs were up 7.7% to $271 at 0411ET, while Alibaba's Hong Kong-traded shares surged 8.5%.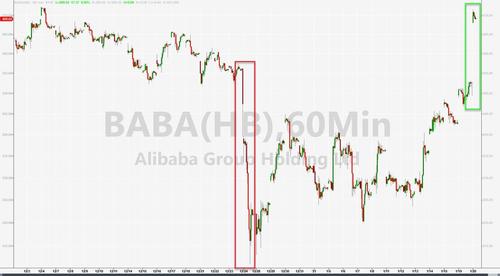 For those who haven't been following the story, Ma made a few remarks at an obscure tech conference late last year where he accused Party authorities of stifling innovation in China's burgeoning tech sector. President Xi and the rest of the Politburo apparently took these criticisms very personally, since they swiftly turned around and kneecapped Ma by scrapping a domestic IPO for Ant Financial, an Alibaba spinoff that Ma was leading to market, before launching an "anti-monopoly" push against China's biggest tech giants, having apparently decided that Ma and his ilk – the Chinese tech billionaire sect – had gotten too big for their britches, so to speak.
The investigation is squarely focused on Alibaba, which has understandably caused much stress for the company's shareholders over the past few months. That probe was announced on Dec. 24, as Chinese authorities said that the company was responsible for "the disorderly  expansion of capital" as well as other monopolistic depredations.
Early this month, it was reported that Ma hadn't been seen in public for 2 months (having last been seen in November) and that he had even been removed from his own TV show, "Africa's Business Heros", attending no further tapings following the scrapping of the Ant IPO.
As the FT reported, Ma resurfaced in a video praising China's teachers.
"My colleagues and I have been studying and thinking, and we have become more determined to devote ourselves to education and public welfare," said Mr Ma, according to a transcript of his remarks posted on a news portal backed by the government of China's Zhejiang province, where Alibaba is based.

[…]

"In the video, a smiling Mr Ma did not address his whereabouts over the past three months. Alibaba did not immediately respond to a question on his location. It included a segment that showed Mr Ma visiting a school last week in the rural outskirts of Hangzhou that his foundation had rebuilt. Mr Ma said in the video it was the "duty and responsibility of our generation of business operators" to support China's rural teachers and education. "There was a proof of life need here," said Duncan Clark, author of a book on Mr Ma and head of a Beijing-based advisory firm. "They clearly needed a setting which had nothing to do with finance or anything sensitive. It doesn't get more politically correct than rural education." A spokesperson for the Jack Ma Foundation said Mr Ma had "participated in the online ceremony of the annual Rural Teacher initiative event on January 20."
During Ma's almost three-month absence from public view, many of his allies claimed he had left the country, while others said he was still in China and communicating freely, though he was trying to keep a low profile to try and help patch things up with the CCP. Judging by Ma's words here, it looks like the reconciliation is well under way, as Ma has apparently been brought to heel.