Reuters is reporting that Russian police have begun arresting supporters and allies of Kremlin critic Alexei Navalny as they await his return from Berlin to Moscow. 
He has reportedly boarded a Pobeda airlines plane in Germany to fly back to Russia for the first time since his alleged poisoning in August. This despite Russian authorities threatening arrest over a prior criminal case. German investigators along with Navalny himself have claimed Russian intelligence was behind an assassination attempt on direct orders from Vladimir Putin.
Navalny en route to Moscow. Joked a lot when boarding the plane: "Me? Arrested?"

"And I'm sure everything will be absolutely great." pic.twitter.com/JoYPOQ7tgT

— Mary Ilyushina (@maryilyushina) January 17, 2021
Specifically Russia's Federal Prison Service (FSIN) has charged Navalny with violating the terms of a suspended prison sentence still being served over a relatively minor 2014 conviction by staying in Germany.
Navalny told reporters upon boarding the plane: "Me, arrested? I'm an innocent person."
"I'm sure that everything will be absolutely fine, I'm very happy today," he added.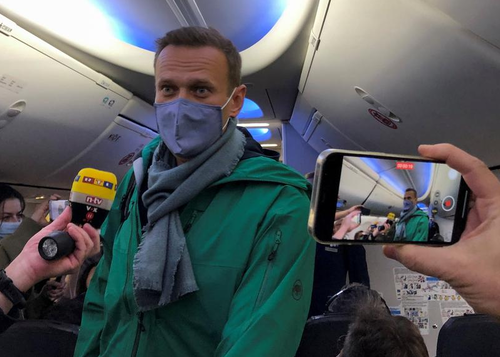 Russian authorities have long sought to question and investigate him in connection with allegations he was poisoned. BBC is reporting of the scene on the ground as it's expected he'll be taken into Russia custody:
Metal barriers have been erected inside the airport, Vnukovo, and Russian media are reporting that several activists – including key Navalny ally Lyubov Sobol – have been detained there.

Mr Navalny's spokeswoman Kira Yarmysh posted on social media pictures of police cars at the airport.
«Никому не интересный блогер» возвращается в Россию. Заборы в аэропорту, автозаки, запрет на вход в здание без билета, люди, согнанные встречать Бузову (кому вообще в голову пришла эта безумная идея?!) pic.twitter.com/XGidV0BUnV

— Кира Ярмыш (@Kira_Yarmysh) January 17, 2021
It's further being reported that airport authorities have erected  a high opaque screen ahead of his arrival, presumably to prevent reporters and supporters from witnessing the high profile arrest.
Last month Putin personally weighed in on the saga, dismissing Navalny simply not important enough to be a target of Russian intelligence services. "It's a trick to attack the leaders of Russia," Putin said an an annual media question and answer session. "But that absolutely does not mean he needs to be poisoned," he noted. "Who needs him?"
In perhaps the most provocative and mocking statement, Putin added, "If someone had wanted to poison him they would have finished him off."